disclosure: this post may contain affiliate links. please visit my disclosure policy for more details.
Another Sadie Moss series that will no doubt sink its claws into me and refuse to let go–not that I'm complaining! I became a huge fan of Sadie's from the first book of hers I read (click here for that review!) and in my opinion, her books just keep getting better.
Saved by Blood had me from the first page. Once I started reading, I couldn't stop, and I had it read in a day. I loved everything about this story. From the characters to the storyline to the unique supernaturals involved–including the monsters–everything about this book was great.
Willow is trying to rediscover herself after a failed marriage. She's working as a waitress at a bar by night and a bakery in the morning. Her passion is baking and she has dreams of opening a bakery of her own one day. While life isn't all sunshine and rainbows, she's making the most of what she has in the best way she can. And aside from fighting off the advances of random drunks, her life is pretty normal, albeit a bit lonely. All that changes one night when she's attacked and left for dead by something made of nightmares.
Enter our heroes–Jerrett, Malcolm, and Sol–three super sexy, vastly different vampires brought together to form a kind of brotherhood. When they stumble upon Willow, she's knocking on death's door and they have two options–turn her or let her die. As I'm sure you can figure out, after a short internal debate for one of the brothers, they decide they can't let her die. The story that follows is, of course, an interesting one.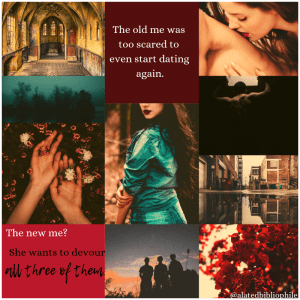 This book was entertaining, sexy, at times a little bit frightening, and it had some amazing characters. One of the things I loved most about this book was the fact that one of the characters–Sol–is blind. You would think that'd be a handicap, but he sees in ways that his brothers can't and it adds such a unique and fascinating layer to his character. It was also impossible to choose a favorite guy in this book, which is why the whole #whychoose thing is amaaaazing.
I loved this book and I would highly recommend it for any fans of paranormal romance who don't want the heroine to have to choose between the guys. I can't wait for the next book!
Happy reading!

* This post includes affiliate links, which means if you purchase anything using that link I'll make a small commission. This comes at no extra cost to you, but it helps me out a lot <3
My reviews for other books by Sadie Moss:
Bound by Magic (Magic Awakened #1)
Game of Lies (Magic Awakened #2)
Consort of Rebels (Magic Awakened #3)
Follow me for more book-related reviews, news, and more!