disclosure: this post may contain affiliate links. please visit my disclosure policy for more details.
W O W.
This book was absolutely i n c r e d i b l e. Honestly, I'm not sure if my review will do this book justice, but I'm going to try.
If you know me at all–or if you've read any of my reviews over the last few months–then you know that one of my all-time favorite worlds in fiction is post-apocalypse. So then you take romance, which is arguably my favorite genre to read, and add in the post-apocalyptic setting, and I am down.
This was one of the most creative stories I've read. It takes place after a breakout of the zombie virus five years prior–which, for some reason, only targets the females of the population–and for all she knows, Esperanza is the last living female on earth. Through a few deadly challenges that she miraculously manages to survive, she finds herself in the company of four men, who, though intrigued and attracted to the first woman they've seen in years, don't want to kill her–or worse, rape her–like every other man she's had the misfortune of running into. Instead, these men welcome her into their little group of misfits, giving her the first real taste of family she's had since she'd been separated from her father and brother.
The love that grows between Esperanza and the men is such a lovely thing. She has an instant connection with all of them, but when she begins a relationship with one of the men, she's convinced she has to set aside her feelings for the other three and only be with the one. The emotional turmoil she and the other men go through when their feelings only continue to grow stronger was written beautifully. I loved how the author made their situation dire–as it obviously would be when you're running from not only the walking dead, but psychopathic humans intent on causing you harm in some form or another–but he also represented the characters' growing affections and love so well. They form this sweet little family that's somehow tough as nails while still being loving and comforting.
And Esperanza … she's awesome. I have to say, I was a little worried that she was going to have a completely jaded personality and be just a tad overly tough, you know what I mean? But she was a perfect blend of soft and badass. Her character really came to life for me, and by the time I finished the book, I honestly felt like I'd made a new friend. Obviously, I loved the guys, as well, but Esperanza was definitely my favorite character.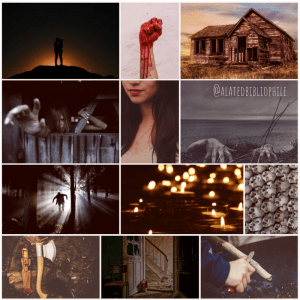 Honestly, I just adored this story. I'm pretty floored that this was a debut novel; the writing is nearly flawless and the entire book was so imaginative and creative that I felt completely immersed in the world that Mr. Lee built. I'm so impressed and holy crap, that effing cliffhanger at the end! Oi. I cannot wait to read the next book! A.J. Lee is definitely going to be an author I'll be following.
I highly recommend this book for any fellow post-apocalyptic/zombie/reverse harem fans. And if you do end up reading the book, come back and let me know what you think in the comments!
Happy reading!!
* This post includes affiliate links, which means if you purchase anything using that link I'll make a small commission. This comes at no extra cost to you, but it helps me out a lot <3
Follow me for more book-related reviews, news, and more! 🙂