disclosure: this post may contain affiliate links. please visit my disclosure policy for more details.

(Please keep in mind that this is the SEQUEL to The Darkest Frost, so if you haven't read that, go BACK and READ IT NOW. Go ahead. I'll wait…)
Okay, did you read the first book? Good. Now grab a cup of coffee and settle in… 😉
Wow. After finishing the second (and final) installment of The Darkest Frost, I am breathless. These books are the exact storyline I didn't know I needed; there is mystery, romance, suspense–all centered around a paranormal universe the author carefully constructed and made not only extremely fascinating, but also highly believable.
While I absolutely love the paranormal romance genre and have read many, I have never read one quite like this. The main storyline is so unique and entertaining, I found myself glued to the words, eagerly awaiting what would happen next! This book (as well as its first part) is also filled to the brim with excitement and twists and turns around every corner. I found myself thinking I had it figured out one page, and by the next I had no idea what to think until the truth was finally revealed. I wasn't sure who to trust, whether or not the characters were truly authentic, or if I was merely being paranoid 🙂
This book is not for the faint of heart, and I loved being able to continue guessing all throughout! Not to mention, the men are sexy as hell, the intimate scenes are incredibly hot, and the heroine of the story is so likable and bada** at the same time, you can't help but love her!
So, if you're looking for a paranormal romance unlike anything else you've read, filled with humor, twists, hot love scenes, a bada** heroine, mystery and intrigue…look no further!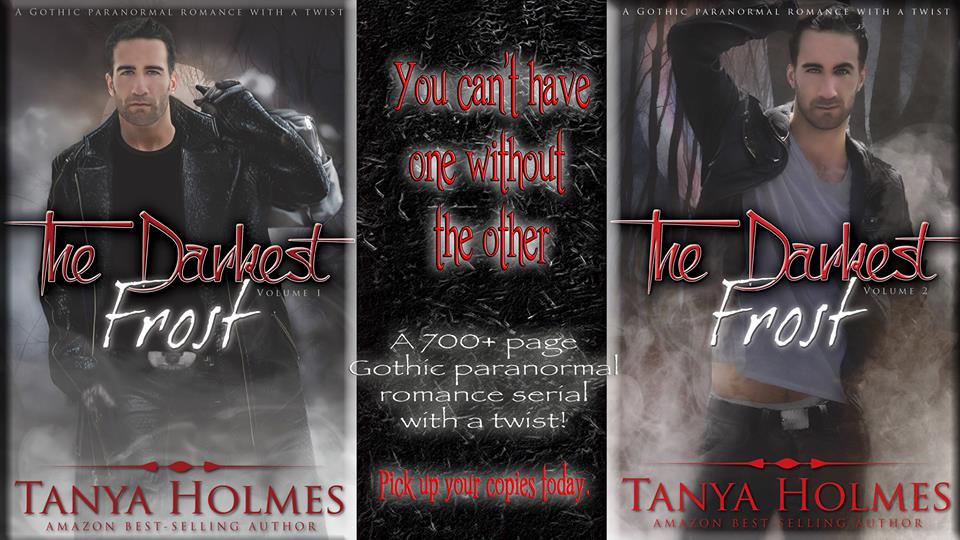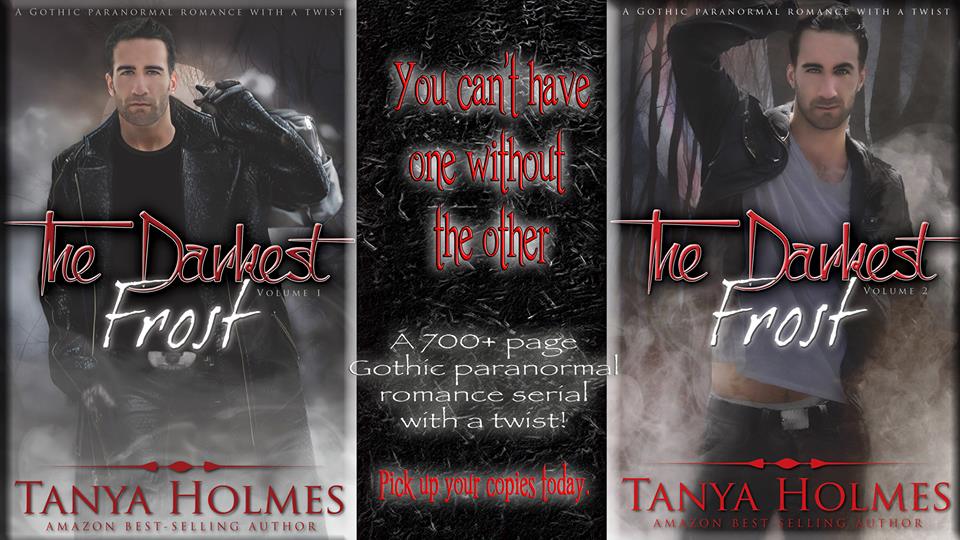 Mysterious, steamy and captivating. THE DARKEST FROST, Vol 2 by Tanya Holmes is now LIVE! Don't miss out on the amazing conclusion to this epic Gothic Romance. Grab your copy today! 
⇉ Amazon US: http://amzn.to/1U3jFgS
⇉ Amazon UK: http://amzn.to/1MlxJOy
⇉ Paperbacks: https://www.createspace.com/5672986