I received an advanced/review copy of this book. This does not affect my opinion of the book or the content and honesty of my review.
This post contains affiliate links you can use to purchase the book. If you buy the book using that link, I will receive a small commission from the sale. This comes at no extra cost to you, but it helps me out a lot!
This book is suitable for 18+ due to mature content.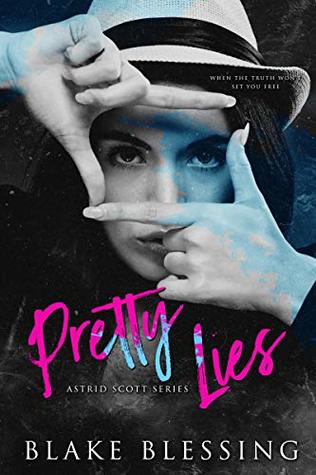 Pretty Lies
by
Blake Blessing
Series:
Astrid Scott #1
New town. New school. Same lies.

This is my senior year, and not only have my parents moved me to a new place where I know nothing and no one, they are determined to make me fall in line with the life they want me to have.

Not the life that I want. But what fits perfectly into their world.

I'm looking for any possible way to escape this prison and leave them behind. Which has been harder than I thought.

An opportunity to escape appears. And I'm going to take it. I'm going to use four so-called perfect guys in this new town to make it happen. The ones that have it all, or so everyone thinks.

And they're going to be my ticket out.
Genres:
Romance
,
Reverse Harem
,
Young Adult
,
High School
,
Bully
Format:
ARC
,
eBook
,
Review Copy
disclosure: this post may contain affiliate links. please visit my disclosure policy for more details.
I'm a big fan of Blake Blessing's writing (see my reviews for her previous works here, here, and here). While I will say I enjoyed her previous books a little more than this one, I still wasn't disappointed in this story.
Astrid is a little different from most heroines. She's kind of shy, but she's not a pushover; she doesn't have a plethora of friends, but she isn't exactly someone I would classify as a loner. Her home life isn't great and it's pretty obvious from the start that she's been abused in some way. She comes across as slightly cowed and timid, but there's a lot more going on in her heart and her mind than meets the eye, which I loved. So many people think they know what she's about and they have no clue. I significantly enjoyed how unique Astrid is. So many times in the book world, shyness equates to timidness, and that certainly wasn't the case for our feisty little heroine. Sure, she has some things she needs to work on–don't we all?–but in all, I thought she was authentically written and made for a fun and interesting character to read.
One of my favorite things about this book is how vastly different each of the love interests are. One is a mechanic/aspiring rock star, one is the smartest guy in school, one is the most popular guy in school, and one is an art student at the nearby university. Together, they make kind of an odd group, but somehow, it works. There are a few misunderstandings and a bit of prejudice with two of the guys in particular, but they come to a kind of understanding by the end of the book. They're at least willing to set aside their differences for Astrid–for now. 😉
This book is set in high school, so there are the stereotypical mean girls, the boys that don't understand why the heroine isn't falling head over heels for them so they decide to bully her instead, and the angst of teenage growing pains. Personally, I love YA/NA books in the high school and/or college setting, so all of these "cliches" are a welcome addition to whatever I'm reading. I absolutely abhorred being a teenager and you couldn't pay me enough to go back to those years, but I love reading about them, lol. This book definitely satisfied my desire for the teenage angst and the swooniness of the beginning of love <3
Also … there's a huge twist at the end of this book that I did. Not. See. Coming. And I can't wait to see how it plays out in the next book!
So, if you're a fan of young/new adult and don't want the heroine to have to choose between her love interests–and enjoy shocking little plot twists–then you should definitely check this book out!
As always, if you enjoyed it, let me know in the comments below <3
Happy reading!
Pre-order Ugly Truths, book 2 in the Astrid Scott Series, here:
Purchase Blake's other books here:
Sign up for my newsletter!