This book is suitable for 18+ due to mature content.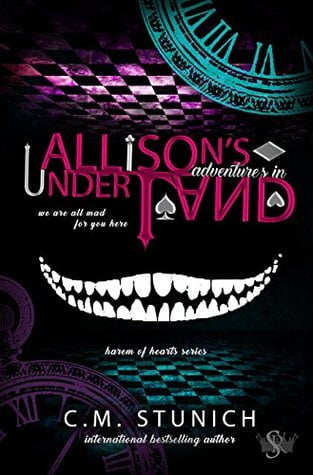 Allison's Adventures in Underland
by
C.M. Stunich
Series:
Harem of Hearts #1
Um. Um. Um. Are you reading this? If you are, I need your help.

I was at a party; I was running; I fell. And get this—this is the part you'll never believe—I fell down a rabbit hole. Like Alice in those old books.

Except in those books, there wasn't blood everywhere. In those books, the characters weren't all male, attractive, and interested in me. Forget everything you know about the Mad Hatter, the White Rabbit, the March Hare …

This isn't Wonderland; this is Underland. Violence, sex, drugs, and magic … that's all there is in this place. There's me, Allison, and there are the men that want me, the enemies that hunt me, and the darkness that's quickly rolling in.

And only I can stop it. So if you're reading this, will you help me? Please. I just want to escape this place and go … home.

ALLISON'S ADVENTURES IN UNDERLAND (Book 1 of 3 in the "Harem of Hearts" series) -- is a full-length reverse harem/new adult/dark romance novel, a gritty retelling of "Alice's Adventures in Wonderland". Don't expect a children's tale; these characters are nothing like their more innocent counterparts. This book contains: drugs, cursing, violence, sex ... and love found in the darkest shadows.
Genres:
Dark
,
Fantasy
,
New Adult
,
Paranormal
,
Reverse Harem
,
Romance
Pages:
320
Format:
eBook
disclosure: this post may contain affiliate links. please visit my disclosure policy for more details.
This is one of the weirdest books I've ever read in the best way possible. I enjoyed the heck out of it. I've been hearing about this story for a while (considering it's been out since last year) and just didn't get to reading it until recently. Honestly, I wish I had read it earlier just so I could've gotten in on the hype sooner, but then again, would I have blogged about it at that point? Possibly not. And this is definitely a good one to blog about.
I've always been a big Alice in Wonderland fan, and that includes several of its many adaptations. I'm also a huuuge fan of C.M. Stunich. In fact, her Rock Hard Beautiful series was my first ever reverse harem read, and in my opinion, she pretty much sets the bar for a good reverse harem story. So, with that said, here're my thoughts on Allison's Adventures in Underland …
First off, Allison is a snarky, sarcastic, somewhat tomboyish young adult who I immediately related to. I may not be quite as outspoken, but I definitely found a bit of a kindred spirit in Allison, lol. Part of what I loved about her is that she questions things that normal heroines readily accept in most romance novels. She's not a pushover and just because she's told something is acceptable doesn't mean she's on board with it, and no one is making her do something she doesn't want to do. Also, she's constantly wondering what Dee is talking about, which are some of the funniest interactions in this story. Case in point:
"That's the problem with assumptions," Dee says, whistling as he starts off down the path. "They make an ass out of you and shins—two of which we all have." He pauses for a second before turning around to look at me. "Unless of course you're an amputee which then you could have one shin or none shin and then the only person that's an ass is you." I just stare at him because, like, what the fuck is he saying?
Allison discovers she's the Alice–something pertaining to a prophecy that you either believe or you don't, though considering she actually makes it to Underland (formally Wonderland), then you better start believing. In short, the Alice is supposed to save Underland and restore it to its former glory. Where Wonderland was bright and beautiful, Underland is dark and full of drugs, sex, backstabbing, and murder. This certainly isn't a book for the faint of heart, and the characters are definitely not the ones we all grew up with.
There are assassins, a shapeshifting jabbberwock, a shapeshifting bandersnatch, a perpetually high butterfly, and many other odd characters that take the originals and twist them into some very intriguing concepts.
I don't want to say too much about this book because I essentially went in blind and I feel like that's probably the best way to read it. There were so many clever twists added to this story, as well as some great sexual tension and chemistry. So far, Tee and Dee are my favorites, but I'm excited to get to know the other characters more in the next book (due out this year! Yay!).
Just like most of her other novels, I adored this book. It's different and it's raw and gritty and definitely won't be liked by everyone, but if you have a bit of an open mind and aren't afraid to try something new, give this strange story a shot. You just might enjoy it!
Happy reading!
* This post includes affiliate links, which means if you purchase anything using that link I'll make a small commission. This comes at no extra cost to you, but it helps me out a lot <3
Follow me for more book-related news, reviews, and more! 🙂