disclosure: this post may contain affiliate links. please visit my disclosure policy for more details.
This was such an engrossing read for me. It had just enough depth that made it interesting, and the heroine was quippy and sardonic, which is just how I like them 😉
Rachel Collins is a low-level witch on a mission to find and save her sister from the vampires who murdered her parents. While she's interrogating a vampire one day, her path crosses that of a very handsome and surprisingly kind wolf shifter named Venn. It turns out he and his friends are also looking for someone connected to the vampires and Venn agrees to help Rachel–nicknamed Rae–find her sister, but to get to the point where they can go looking for Rae's sister, they first have to retrieve something in relation to Venn's missing friend.
As they work together, Venn and Rae can't deny their growing attraction to each other or the way they feel pulled to be together. Rae is also finding an unlikely home amidst these ragtag bunch of misfits, and for someone who has depended solely on herself for a long time, the idea of having a family to rely on is not only intimidating but can also feel quite terrifying.
Ravenite was a fun read. Once I started reading, I felt like I couldn't stop, and I absolutely loved the chemistry and tension between Rae and Venn. They were like two magnets drawn to each other by an unseen force. Rae fought against it out of fear of getting hurt and/or hurting him by being involved in such dangerous territories, but no matter how hard either one resisted, they just kept coming back to the other.
There was a nice flow to the story and plenty of action to keep me glued to the pages. I also enjoyed each character individually, which is somewhat of a feat in itself considering I almost always have that one character that drives me nuts–but I felt like each character was an interesting contribution to the group's dynamic. All the different shifters were fun to read about, too. It isn't the first time I've read about them, but it's still nice to get something a little different here and there.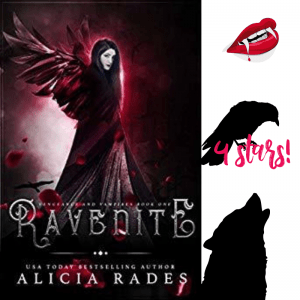 All in all, I enjoyed this one. It ends on a bit of a cliffhanger, so I'm anxious and excited to sink my teeth into the next one (see what I did there?). If you're a fan of the young adult and paranormal genres, give this one a shot! Coming out on the 25th of this month 🙂
Happy reading!
* This post includes affiliate links, which means if you purchase anything using that link I'll make a small commission. This comes at no extra cost to you, but it helps me out a lot <3
Follow me for more book-related news, reviews, and more! 🙂