disclosure: this post may contain affiliate links. please visit my disclosure policy for more details.
If you've been following my reviews since I started writing them–or if you've stalked my posts at all–then you know that one of my ultimate favorite reverse harem series is The Stardust Series by Julia Clarke and Autumn Reed. That series was one of the first RHs I read and the characters just resonated so deeply for me and I adored the story. If you'd like to read my review for the last book, Polaris, click here. Bear with me though; it was one of the first reviews I wrote when I first started taking review writing seriously and it's a little rough. (One of these days I'm going to write reviews for the whole series once I re-read it again!)
So, I was beyond ecstatic to read an ARC for Julia's newest novel, Time of Enchantment. Not only is it a reverse harem, but it's paranormal–squee! As you know if you've read any of my other reviews, these just so happen to be two of my favorite genres of romance … pair that up with one of my favorite authors and I was sold.
Ana is definitely one of my favorite female characters I've had the pleasure of reading. She's sweet, super intelligent, driven, and unbelievably kind. I loved her in the prequel novel, Charms of Attraction (available in the Realms and Rebels paranormal and fantasy reverse harem anthology), but obviously only had a glimpse of her character since the story is told from her sister, Katerina's perspective. Learning Ana's thoughts and her very different personality from Katerina–even though Kati is just as amazing, simply in another way–was so much fun. I connected a little more with Ana if only because our personalities are much more similar. Ana is the quieter sister; preferring to stand back and let others take the spotlight while she is more focused on her studies and being somewhat of a background fixture. She also has some insecurities stemming from what she deems her uninteresting and lackluster magic as well as her unfortunate luck with men, and she will be the first to tell you she believes Kati is the more interesting, more beautiful of the two. While Ana does have a smidgen of insecurity, she's also confident in her own right–especially regarding her education and knowledge. She's incredibly intelligent and has worked tremendously hard to get to where she is, and while I don't share her interests in science, I can certainly appreciate having a passion for it. Ana's creativity and fierce passion for life–especially after discovering the love she's always longed for–is not only inspiring but was such a joy to read.
Of course, every great love story has a great love interest. In Ana's case, she has four …
There's Easton, the wolf shifter she'd previously had a fling with, then had her heart broken when he left and she never heard from him again. Now that he's back in her life, she has to decide if letting him in is the right decision or if she's setting herself up for more heartache. Beckett, the mysterious and aloof professor for whom she is the TA. Beckett immediately grabbed my attention. Not only does he have one of the coolest names, but he's intelligent, well-read, and he has a beard. Score. Also, I seem to have an issue with the guys that kind of come off as asshole-ish, which I've mentioned in previous reviews. For some reason, I tend to be immediately drawn to them and I have no clue why. Then we have Will and CJ, two best friends who just so happen to be–sigh–cowboys from the past. Will is extremely laidback, adventurous, and outgoing. He's always cracking a joke and flirting relentlessly and honestly just being this adorable ball of light in Ana's life. He's so sweet and caring and he always knows what to say to make Ana laugh. CJ is much more reserved and kind of shy; he spends the first part of his time in the company of Ana and the other guys completely tongue-tied around her, which is so dang cute and endearing. He's also an incredibly talented artist who's loving, sensual, and sensitive to boot. It's honestly impossible to pick a favorite out of these four; I love them all for different reasons–which is why it's a good thing this is a reverse harem 😉
Between these four men, Ana finds the love and happiness she's always so desperately wanted. It's obvious how much each one loves and adores her, and they're all so giving with their time and with showing her love and affection. There were also a few extremely sexy love scenes written between her and each man, and whew. Julia definitely outdid herself with those! There was one scene in particular where I was actually sweating, and I swore my kindle was going to burst into flames! *fans face*
The emotions this book evoked were so well-done, also. I felt so bad for Ana when she was trying to figure out who she was and what her purpose could be. I almost felt like I was reading a journal rather than a book, these characters felt so real to me. Ana's feelings of happiness and joy are palpable, and when she's sad or disheartened, I felt that way too. There's also a section in the book that had my chest aching and tears springing to my eyes and while I knew everything would most likely work itself out, I couldn't help but have the overwhelming feelings that went along with such emotionally significant scenes.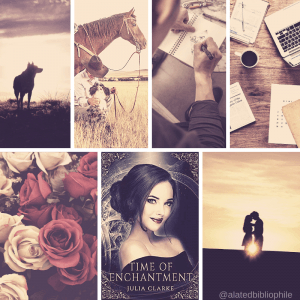 Needless to say, this was a 5-star read for me. I loved everything about it. I felt a special connection to the characters, I was incredibly immersed in the story, and the different abilities that were brought into this book were fascinating to read about and brought something fresh to the table. I highly recommend this book for you paranormal romance lovers out there (as long as the thought of multiple lovers appeals to you). I would recommend this book in a heartbeat, and I can't wait for it to be released so everyone else can read this fantastically written story! If you do end up reading it, please let me know. I'd love to hear your thoughts! 🙂
Happy reading!

* This post includes affiliate links, which means if you purchase anything using that link I'll make a small commission. This comes at no extra cost to you, but it helps me out a lot <3
Follow me for more book-related reviews, news, and more! 🙂
* graphics made by me