I received an advanced/review copy of this book. This does not affect my opinion of the book or the content and honesty of my review.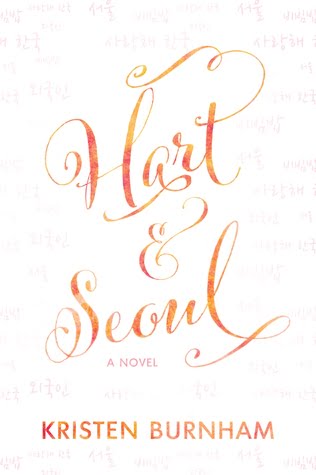 Hart & Seoul
by
Kristen Burnham
Girl meets boy. Boy falls for girl. Girl discovers boy is a runaway K-pop idol in hiding.

Merilee Hart has been doing her best to keep things together since her mother left, her art a welcome escape from her depressing new reality. But things seem to go even more awry the moment her next door neighbor's enigmatic and mysterious nephew arrives from South Korea. Lee is moody, cocky, and utterly infuriating.But when Merri's closest friends betray her and her father crushes her dream of going to art school, Merri finds herself drawn to Lee, who seems to live within even greater shadows than her own. And just when she thought things couldn't get crazier, Merri's world is upended when she discovers Lee's big and bizarre secret…he is none other than a runaway member of the K-pop mega-group Thunder.

It's not long before Thunder's fans, the Storm Chasers, begin to close in on Lee, ready to do whatever it takes to return their favorite idol to his rightful place in the band. Faced with the prospect of even more heartbreak and caught up in an international whirlwind that has a life of its own, Merri realizes that she must find a way to mend herself, gain control of her life, and pursue her dreams—her heart and soul depend on it.
Genres:
Young Adult
,
Romance
,
Contemporary
Format:
ARC
,
eBook
,
Review Copy
Buy on Amazon
Goodreads
disclosure: this post may contain affiliate links. please visit my disclosure policy for more details.
Summary
After a few months' stint in Australia with her dad, Merrilee returns home just in time to see her neighbor's nephew move in next door. After a rough first meeting, and betrayal at the hands of her closest friends, they begin to strike up somewhat of an odd friendship. Lee is mercurial, cocky, and a huge pain in Merri's butt–yet she still finds herself wanting to get to know him and attempt to peel back the many layers he's erected around his heart.
The closer the pair become, the more secretive Lee seems, until Merri is met with the biggest shock of all–Lee is a hugely popular member of the K-POP band, Thunder. When his crazed fans discover where he's been hiding, major complications arise and put a great strain on Lee and Merri's blossoming relationship.
There are some false accusations and hurt feelings that fuel a blow up which precedes Lee's trip back home, leaving Merri to wonder if the last time she'd ever see him will be tainted with bitter memories.
Review
Oh. My. Gosh. Let me just start by saying this: I'm a big fan of K-POP and K-drama, so when I read the blurb for this book I jumped at the opportunity to read and review it. And I have to say, I wasn't disappointed in the least. It's been a long time since I've read a book where I honestly didn't have anything I disliked while reading it, but I have nothing bad to say about this book.
The Hero
Lee … sigh. Lee is one of the best heroes ever. In a way, he reminds me of Daoming Si from Meteor Garden (2018)–and yes, Dylan Wang (the actor who played Si) is totally who I pictured while reading this book, despite the fact that neither Si nor Dylan are Korean, lol. Anyway, he's got that a-hole vibe at the beginning–which, if you've read my reviews, you know that I LOVE a good a-hole hero!–and he's so cocky and takes great pleasure in giving Merri a hard time. At first, I was afraid he wasn't going to have any qualities that were redeemable enough for me to grow to like him, but boy, did I not need to worry. Lee is most definitely a tortured soul and there's so much more to him than meets the eye, which I should have realized at the start. I mean, why else would a super popular K-POP star hide out at his aunt's house in America if there wasn't something troubling going on in his life?
Lee is also extremely closed off and it seems to take FOREVER for Merri to finally get to know him below purely surface level. Once this part of his story is revealed, it's easy to understand why he's been so unapproachable and difficult. Like I said, there's so much more to him than meets the eye. He goes on to show Merri how protective and loving he can be; how many demons he's still fighting and how desperately he just wants to live life his own way. Lee's emotional turmoil and the consequences of such are so heartbreaking to read–but they're incredibly important to be aware of.
The Heroine
Merri is easily one of my favorite heroines ever. She's an artist, she's sensitive, and she has such a passionate soul. She's a little snarky and so quick to anger when it comes to Lee, which, in all honesty, lol, is somewhat justified for the most part at the beginning. Merri has a lot to overcome, between her mom abandoning her and her dad to her friends' betraying her, and now her dad wanting her to give up her dream of going to school for art. Not to mention, her growing fascination and attraction to her new neighbor.
Merri is independent, caring, intelligent, compassionate, and sarcastic. She's strong willed and determined to follow her dreams, despite the lack of support from her father. Seeing the growth in her character, as well as the pure emotion she feels–which is so beautifully written–was one of the best coming of age arcs I've read in some time. I love how there's actually some depth to this heroine and that she's big enough to admit when she's done wrong–and she's not a sniveling mess around the hero!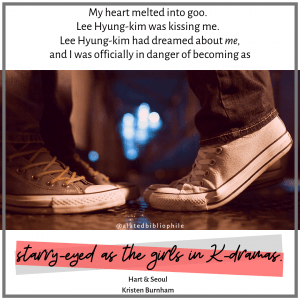 The Story
Ugh. This book, this story … it's just amazing. I loved the subject matter, I loved the characters and the drama, and I loved the smart way Merri handled Lee after they had their blow up. View Spoiler »I love that just because Lee confessed he was in love with her didn't mean she was ready to tell him the same thing. Lee really hurt her and she wasn't quite ready to be that vulnerable with him. I couldn't help but inwardly cheer for her during that part because it was so perfect. Sure, I'm a hopeless romantic and I always want the characters to fall in love, but I love that she was smart enough to realize that some trust had been broken and it needs to be rebuilt before that next step is taken. « Hide Spoiler
Like I said in the beginning, I love K-POP and K-drama, so this was right up my alley. Everything about this book kept me wanting more; the drama between the friends, the angst, the developing relationship between Merri and Lee, Lee's backstory–all of it.
While obviously K-POP (and to an extent, K-drama) plays a large role in this book, you don't have to be a fan of the genre to enjoy the story. At the heart of it are two young people simply trying to find their own ways in the world and attempting to grapple with their growing feelings for one another. It's also a wonderful story of overcoming your past, fighting insecurity and heartbreak, and learning to stand on your own two feet. Romantic love is a huge part of this story, but so is self love and discovering who your true friends really are.
Conclusion
This is a definite 5 star read for me. I just loved it so much! I'm hoping the author continues Lee and Merri's story because there's still so much that can be done with it. I'd like to see how they handle Lee being on tour and how much their relationship will develop and grow. Also, what's going to happen when Lee has to enlist in the military–which is a requirement in Korea? Mostly, I just want more of these two because there's such potential for an incredible, all-consuming love that I would love to see develop.
I highly, highly recommend this book for anyone who enjoys young adult novels with some romance. And if you do read it, please let me know what you think in the comments!
Happy reading!!
Sign up for my newsletter!
Rating Report
Plot
Characters
Writing
Pacing
Cover
Overall: