disclosure: this post may contain affiliate links. please visit my disclosure policy for more details.
Okay, so if you've been reading my blog at all for the last couple of months, you know that I've been seriously into the reverse harem genre recently. It's actually getting to the point where I've almost read everything that's available right now, so when an RH ARC opportunity is presented, I make sure I take advantage of it. And really, one of my favorite things about being so involved in the indie community is the fact that you have access to so much really good material–whether that's through KU (kindle unlimited), ARC opportunities or review copies. There is so much talent in this community and I consider myself exceedingly fortunate to have the opportunity to review so many books that are just as good–if not better–than those in the mainstream market.
This is yet another book written by an author who is new to me, but I now consider myself a fan. I love Sadie's writing style and she's created a heroine I quite enjoyed getting to know. Lana is strong while maintaining vulnerability and she's trying to survive in a world where non-magic people–known as Blighted–are looked down upon and treated as if they're nothing. Years prior, there was the Great Death, which wiped out two-thirds of the magically inclined–called the Gifted–that gave way to the horrific treatment of the Blighted by the Gifted.
Lana is a mercenary, making her living by taking random jobs from the Gifted in hopes of surviving another day and keeping a low profile. It isn't until a job gone bad on her twenty-fifth birthday that she discovers she has magic, too. And not only does she have magic, but she's now bound to four drop-dead gorgeous men, each with an astronomically different personality that calls to hers in separate ways. Jae is a mage; he's cool and collected and nothing–except his family–seems to rock his boat. He's the one comfort Lana clings to when she's first told what's going on, and she gloms onto his peaceful presence as she desperately tries to navigate this new world. Fenris is a wolf shifter; he's like a giant puppy–he's constantly warm and always smiling. He always has a joke or silly quip up his sleeve and his friendliness makes him so easy to love. Corin is a human; he's the boy from her past with scars so deep from when she disappeared from his life the last time that she isn't sure she'll ever break through his carefully constructed walls. And then there's Akio; the incubus. Also known as the resident asshole. What is it with me and loving all these assholes in these books? Akio is sexy as sin. Lana doesn't want to be drawn to him, but she can't help herself. Not only that, but she's worried what she's feeling for him has more to do with his curse than what she's actually feeling.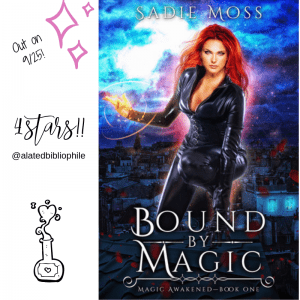 I greatly enjoyed this book. The world-building was fascinating and I felt like there was a great deal of character development despite it being just the first book. Also, Lana's roommate is Ivy, a TV-loving ghost. She's not in the book a lot, but I enjoyed the parts she was in; she was a nice added quirk to the already interesting storyline. And, I mean, who wouldn't like a pop culture junkie ghost, anyway? 🙂
There was a lot of inner-politics within this story that was both intriguing and infurating, and there was just enough action to keep me glued to the pages. I'm excited to see where the author goes with this storyline. It ends on a bit of a cliffhanger, which is to be expected since it's a continuing series, and I have a significant amount of trepidation for where Lana finds herself now. I don't want to say anything in detail about it for fear of spoilers, but I definitely want to know what happens next, lol.
I highly recommend this book! Also, can we talk about this cover? I love it. It's so bright and eye-catching. Makes it so much better that the insides are just as good, too 😉
Happy reading!

* This post includes affiliate links, which means if you purchase anything using that link I'll make a small commission. This comes at no extra cost to you, but it helps me out a lot <3
Follow me for more book-related news, reviews, and more! 🙂