disclosure: this post may contain affiliate links. please visit my disclosure policy for more details.
This was a unique perspective on the whole "aliens walk among us" trope. I've gotta say, it's definitely one of my favorites for how it's presented. The aliens aren't what I expected, especially the hero of the story. The author takes what you have come to expect from this genre and turns it into a fun and quirky new science fiction/fantasy genre that I was completely engrossed in. It was also unique in the fact that it takes place in our current timeframe instead of being a futuristic timeline. While the aliens in the book–particularly Zander and his sister–have visited many different planets, many different periods of time, and don't actually have any particular idea what timeframe they're in at any given basis, the heroine lives in this decade. I loved reading a time I recognize and imagining how I would react to aliens just randomly showing up in my life.
Sally is the kind of girl I would want to be friends with. Sure, she's got some baggage and can be a little annoying just like any other gal, but I loved her. I thought she was real and funny and snarky and reacted to her situation in a believable way. Her friendship with Marcy is adorable and reminded me of the friendship I share with my best friend. Marcy is the kind of friend who isn't afraid to give it to you straight when you need it, but she's also got your back 100% and wants you to be happy.
I also want to point out that this author writes some absolutely hysterical scenarios in this book that had me laughing out loud. For instance, this part where the heroine gets totally drunk and makes absolutely no sense:
I snapped my head back to Zander, glaring. "I want you," I growled, "to fibble the flots."

"To do what now?"

"To flibble. The flots."

"Excuse me?"

"Flots."
There are so many hilarious quips and one-liners all throughout this novel that made it even more enjoyable than it already was. I already liked the book, but the humor is what brought the star rating up on this book for me. It was just silly kind of humor that I'm not sure anyone else would appreciate as much, but I certainly found it hilarious. lol.
And then Zander … there is some serious chemistry between our girl and Zan. I'm hoping the relationship grows in the next book, because, wow. I just love him. He's goofy and kind of airheaded and doesn't really get human culture at all, which is hilarious on its own. He's also extremely intelligent and is an incredibly deep person who enjoys discussing philosophy at length while trying to dissect human emotions–oh, and solve all the world's (or should I say worlds'?) problems while he's at it. You know, the usual.
Together, Sally and Zander make a great team, even if Zander has a nasty habit of crashing all of Sally's dates with her uber sweet but somewhat possessive boyfriend–coincidence? I think not. But that's just one of my many theories. ;P And when Zander's sister enters the picture … oi. I have kind of a love/hate feeling for Blayde. She's tough and a badass and has a "takes no shit" kind of attitude … and I kind of love her for it, but I also hate the way she treats Sally. But then again, it's sort of understandable when you take into account that it's been just Zander and Blayde for God knows how long. In any event, I have a feeling I'm going to grow to like her more in the next book(s).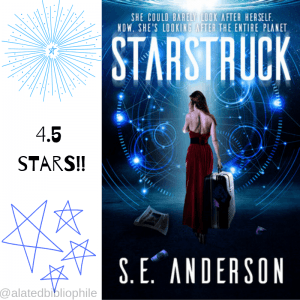 I devoured this book almost in one sitting. It took roughly a day and the next morning to finish reading it, and the only reason I stopped was because I just couldn't keep my eyes open any longer, lol.
I highly recommend this book for any fans of sci-fi, fantasy, or anyone who wants a good laugh. I honestly can't wait to get to the next book in the series and I have a feeling this will quickly become one of my favorite series I've read. If you read it, let me know what you think!
Happy reading!

* This post includes affiliate links, which means if you purchase anything using that link I'll make a small commission. This comes at no extra cost to you, but it helps me out a lot <3
Follow me for more book-related news, reviews, and more! 🙂