disclosure: this post may contain affiliate links. please visit my disclosure policy for more details.
It's no secret that I love Julia Clarke. She's one of those authors that I'll read just because I know she wrote it. In fact, her last book, Time of Enchantment, was one of my favorite reads of 2018 (also one of my favorite reads of last year was the final book in her Stardust series that she co-wrote with Autumn Reed). So, when I read the summary for The Reverse Play, I knew I had to read it. It's completely different from her previous books, yet the same writing style that I've come to love from her.
Let me just tell you–I know next to nothing about football. So, I was slightly nervous about reading this book because I was afraid it would have some "technical stuff" that would fly right over my head and would impede my enjoyment of the actual storyline. Well, I needn't have worried. Ms. Clarke wrote this book in such a way that there was a nice blend of necessary football jargon while still making it an enjoyable read for someone like me, who has no athletic bone in her body, lol.
Blake is one of my favorite heroines I've had the pleasure of reading. Not only is she a football coach, but she's also a gold medal winner for Team USA. This girl is a badass. She's incredibly strong–she has to be, being a woman in a field predominantly filled with men–but she also handles herself with grace, a hint of vulnerability, and a charming amount of humor. She has this way of showing her insecurities and weaknesses without it coming across as a "poor me" mentality. She knows she's in the minority in the football world, but she holds her head up high and exudes confidence in her hard-earned knowledge and skill. Blake is a beautifully written and highly relatable character and I greatly enjoyed getting a peek inside her mind while reading from her perspective.
Now, the love interests … Holy freakin' moly. Colt, Tristan, and Xavier couldn't be more different from each other, but they have an exceptionally strong bond. They're the best of friends as well as roommates; more like brothers than just friends. Something I wanted to touch on is that they have this little ritual–either before or after each game; I can't remember which right off–where they grab each other's shoulders and press their foreheads together. It's such a cool little addition to their friendship and gives the reader a glimpse into just how close these men are.
As the story progresses and Blake battles her attraction to not one but all three of these men, you can't help but feel your heart ache for her. She's finally getting a chance to follow her dreams, but her heart keeps pulling her toward these guys who are not only incredibly easy on the eyes but also are each genuinely wonderful to her. She knows it's wrong–and against the rules–to want to be with any (or all) of them, but she also can't help the way she feels when she's with them. It's a precarious situation, and while I love seeing her in this position that few women work in, I also hate how she's found these men who are perfect for her but she can't pursue anything with them because it's considered unethical. Agh! Chalk that up with some drama within the team, a concussion or two, and flirty glances and lingering touches and I'm already dying to find out what happens next. *screams internally*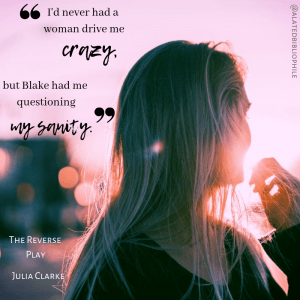 Oh, and I should mention–Blake's dad is the best and so adorable. He's so supportive and it's such a sweet thing to read. And then there's Bastian, Blake's best friend, who has a ridiculously huge crush on Colt. He's hilarious and is pretty much setting the bar for best friend sidekicks in romance novels. The relationship Blake has with him and her dad is so sweet and special and it was another one of those things that added a little extra something to an already lovely story.
So, in conclusion (ooh, I sound so serious) … I loved this book. It's my first five-star read of the year and I honestly have no negatives to say about it. I wish I understood a little bit more about football, but maybe Blake will help me out with that 😉 I highly recommend this book for any of my romance lovers out there–especially if you like sports romance and/or reverse harem!
And as always, if you do end up reading, please feel free to pop back over here and let me know what you think in the comments 🙂
Happy reading!

* This post includes affiliate links, which means if you purchase anything using that link I'll make a small commission. This comes at no extra cost to you, but it helps me out a lot <3
Follow me for more book-related reviews, news, and more!