I received an advanced/review copy of this book. This does not affect my opinion of the book or the content and honesty of my review.
This book is suitable for 18+ due to mature content.
Resolutions
by
Lucy Eden
Mike is my best friend.
My tall, gorgeous, and bearded best friend.
We both share a love for music, Monty Python, dirty jokes and my grandmother's homemade cookies.
I also have a giant crush on Mike.
And he has no idea.
I tried to tell him at a New Year's Eve party last year, but I lost my nerve, and he ended up with someone else.
Armed with a broken heart and a massive hangover, I wrote a list of New Year's resolutions intent on turning myself into New and Improved Jane who doesn't let life pass her by.
With resolutions to check off the list and limited time to finish, I accepted Mike's offer to help.
But spending all this time with Mike is bringing up feelings that I'd spent a better part of a year keeping under control. Mike has a girlfriend and I can't risk losing my best friend, but sometimes the way he looks at me makes me think, maybe, he feels them too?
I'm probably just daydreaming, as usual…
This free newsletter-exclusive novelette has NO cheating and is a standalone, friends-to-lovers romantic comedy full of alphas, steam, sarcasm and Monty Python references.
Genres:
Contemporary
,
Romance
,
New Adult
Format:
eBook
,
ARC
,
Review Copy
Goodreads
disclosure: this post may contain affiliate links. please visit my disclosure policy for more details.
This was such a cute book. I love the friends to lovers trope and this one was done exceptionally well.
Jane has a huge crush on her best friend, Mike. They've been the best of friends since they met when she spilled her beer all over him–effectively knocking over his drink and spilling it, too. There were sparks from the beginning, but something always seemed to get in the way. After a few years of being friends, Jane decides she's going to tell him how she feels at a New Year's Eve party, but just as she's built up the courage and makes her way over to him, Mike is locking lips with another girl. Crushed, Jane puts aside her feelings for her best friend and drunkenly writes a list of resolutions, hoping to ignore the way she feels about him until her feelings leave her altogether.
Almost a year later, Mike finds the list Jane had written and decides he's going to help her complete each item before the year is over with. After all, what are friends for? 😉 So begins some new adventures as they work together to complete the list and steadily grow closer. As Jane's feelings continue to grow, she can't help but feel conflicted. Not only is Mike her best friend, but he also has a girlfriend. Though…she can't help but notice his lingering looks, the way he uses every excuse to touch her, and his not-so-subtle innuendos.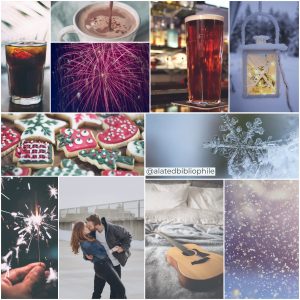 I had never read anything by Lucy Eden prior to this novelette, but I have to say that I'm now most definitely a fan. I greatly enjoyed the writing style, there were plenty of sweet and funny moments, and I loved the characters. I felt that Jane was relatable and Mike was the perfect amounts of sweet, sexy, and alpha male. I was impressed with this one and I'm looking forward to reading more by Ms. Eden.
I highly recommend this book for anyone who enjoys romance, friends to lovers, and nerdy but cute references 🙂
Follow me for more book-related reviews, news, and more! 🙂
**NEW**
Sign up for my newsletter here!