disclosure: this post may contain affiliate links. please visit my disclosure policy for more details.
I'm doing something a little different today. Welcome to WWW Wednesday! This was originally created by MizB at A Daily Rhythm and taken over on Taking on a World of Words.
The three Ws are:
What are you currently reading?
What did you just finish reading?
What are you planning on reading next?
ARC
(Keep in mind that I'm reading several ARCs, but I'm only going to feature one at a time on this post)
Lies, lies, lies…
The lies from Harvard Academy's Elite had fallen upon deaf ears. With the truth revealed, Sam was the only person I could turn to and trust.
But a girl once so broken, was only bent. As I returned, stronger than before. The de Lacharriere's could play their silly little games and spew their lies.
One thing remained true, I was getting free of my father's clutches. Even if that meant having to side with the enemy.
The four guys who broke my heart with little white lies, would have to heal me with their ugly dark truths.
*Light High School Bully Romance* Reverse Harem* Book 1 is Little White Lies* #WhyChoose
Get it from Amazon here: https://amzn.to/32OyA58
Non-ARC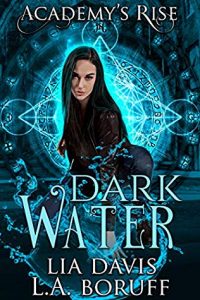 As firstborn, my sister, Meda, will be High Alpha to all the lycans and vampires in the world—The Collective. She's just found her mates and one of the three is heir to a huge witch Circle, which will one day unite the three major paranormal races.
I dodged a major bullet there. Thank Lucifer. I'm not a leader. I'm not someone to look up to. I like to do my own thing and go my own way.
Unfortunately, I'm pretty sure I'm fighting a mating bond myself. As if I needed three guys hanging on to my every freaking word.
And now, I'm having visions of what's to come. It isn't pretty.
My sisters and I must race against time to figure out what the vision means and how to stop the pending evil from destroying everyone we love.
Failure isn't an option.
Get it from Amazon here: https://amzn.to/3064BbS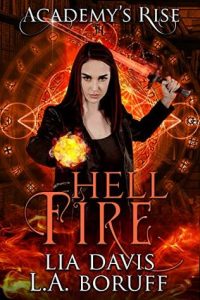 I'm Meda, the oldest triplet born to the King of the vampires and the High Alpha of the lycans. Heir to the Collective throne. My sisters and I are used to being in the spotlight. Unfortunately, our birth also comes with a prison sentence.
Leaving the compound unguarded? Not an option.
Going to an out of state college was laughable.
My parents' solution was to expand the Collective Academy to include a University—a whopping mile from home. My sisters and I are being allowed to live in the dorms, you know, so we'll feel normal.
My fire magic takes a strange turn, prompting me to seek the help of an old witch friend. I haven't seen Sterling in months and when he shows up at the dorm with his two best friends, a feral need uncurls inside me.
Sterling, Dorian, and Peter are my mates. Like true, fated mates. A complication I don't need with my fire power on the fritz.
On top of everything else, I'm having blackouts where I lose hours, sometimes a whole day. I need to fix my magic, not worry about how to deal with new mates.
When students go missing and show up dead, the evidence points to me. Suddenly I'm beyond grateful I've got three intelligent men on my side as I try to prove my innocence.
Get it from Amazon here: https://amzn.to/2QfNyiX
I have quite a few ARCs I need to get through. I've been super behind ever since my papaw died in January, but as far as pleasure reading goes, I have a couple I'm eyeing and we'll see which one wins out, lol.
Mercilessly beautiful cruel. Relentlessly sensual vicious. Utterly delicious vile.
Marrying into the famous Godalming slayer-clan was supposed to be my family's big break. Our clan is fractured, my brother is dead, and my mother's spirit was broken by the ordeal. I'd do anything to make her proud and see her truly smile again.
I'd even spend a year in the snobby, prestigious Libra Academy with Lord Godalming's gorgeous son.
I don't know what I did to earn Will Godalming's seething hatred, but he'll do anything to get rid of me for good, even if he sometimes seems like the only one who understands me. Sura Enver is almost irresistible with a cruel streak a mile wide, but he's hiding dark secrets under those knockout looks. And when I put a dying vampire out of her misery, I end up at the very top of an ancient warrior's hit list. No sane slayer angers Càel the White Wolf, the fiercest knight of the vampires' Clouded Court.
They're unstoppable. Wicked. Malignant. And each wants to make me suffer. Between the torment of Libra's eat-or-be-eaten rules and the rising threat of a new vampire king, enemies prowl on all sides.
But they're messing with the wrong slayer.
Ill Will is the first book of Victoria's Trilogy in the Bonds of Blood universe, a steamy, medium-burn reverse harem bully romance in a college-age academy setting. This book is for mature audiences and contains triggers.
Get it from Amazon here: https://amzn.to/307LkXB
I was born of nothing.
I'm a Void, a rare supernatural capable of absorbing powers at the brush of my skin.
Feared. Hated. Untouchable.
Thibault Academy is full of supernaturals that want me dead, and the most powerful of them, the Paragons, will stop at nothing to ensure I go back to the hell I came from. They're cruel, heartless, and have created an unlikely alliance to take me down.
If I want to learn how to control the nothingness, I'll have to survive them.
I was born of the void, but I'll die from the power.
This is a reverse harem bully romance.
Get it from Amazon here: https://amzn.to/2LYzxRj
Join a brooding antihero, a master criminal, a cheeky raven, and a heroine with a big heart (and an even bigger book collection) in this hot new steamy reverse harem paranormal mystery series.
When the local Banned Book Club lose their meeting room, Mina volunteers to host the group at Nevermore Bookshop (against Heathcliff's muttered protests, of course). Little does she know this old biddies book club is about to turn murderous.
First, someone poisons Mrs Scarlett, then members of the book club start dropping like flies. Who in the village will turn to murder just to stop people reading a few dusty old books?
Mina's got to figure it out quick, or her beloved teacher Mrs Ellis is next to die. Luckily, she's got Moriarty, Heathcliff, and Quoth to help. That is, if she can figure out her feelings for her three fictional men before the magical bookshop is torn apart by sexual tension.
They want her.
She can't choose.
But maybe… she doesn't have to.
The Nevermore Bookshop Mysteries are what you get when all your book boyfriends come to life. New from USA Today bestselling author Steffanie Holmes. Read on only if you believe one hot book hero isn't enough!
Get it from Amazon here: https://amzn.to/302AOkm
So, what about you? What are you reading?





Sign up for
my newsletter
!
Become a Patron!
Check out my Amazon storefront for several book lists, including a list of freebies!:
Alated Bibliophile Storefront