disclosure: this post may contain affiliate links. please visit my disclosure policy for more details.
This was first started by A Daily Rhythm and then brought back by Taking on a World of Words.
---
The three Ws are:
What are you currently reading?
What did you just finish reading?
What will you read next?
---
---
[ARC]
Wesley Greenway:
I'm a complete f*ck up. I'm now thirty, and I've watched all my family and friends grow up and fall in love. They have noisy houses, babies and… happiness.
I hear the silence, night after night in my Minneapolis apartment. Music and tattooing are the only things that keep me sane. And love? Who needs it? I have a "lust and leave" 'em attitude. It's served me well… until now.
Until one night in October… I get drunk and make a huge mistake with music's hottest bachelor.
There's just one thing, though: I'm not gay. It's just a mistake.
A mistake that blows all my sanity to the wayside.
Miles Madison:
I've lived a charmed life. I'm one of the most popular rockstars in America. I've won awards and worked with some seriously hot acts. I've done whatever I've ever wanted without recourse… until now.
My life is shaken up with scandal, and has left me without a band and without a manager; my career is totally up in the air. For all the fame and fortune I have, I'm now alone. And love? Forget it. I can't take the risk.
Until one night in October… I have a lapse of judgment and make one of the biggest mistakes of my life. But that mistake gives me hope that all is not lost.
If only I can get Wes to admit that this mistake between us wasn't a mistake at all.
It's the best thing that's ever happened to either one of us.
Be Your Mistake is a "Bisexual Awakening" standalone contemporary MM romance set in the same "world" as my MF Be Yours Trilogy, but can be read entirely separately. This story is suitable for adults only.
---
(Book #3)
All of my hard work has paid off and now I have a family to call my own – my best friend Avery and my three boyfriends; Harley, Ash, and Blaise.
But with more people depending on me, the stakes have never been higher.
I've stepped out from the shadow of the Jackal. I've laid claim on the men I want and I'm not letting anything get in our way.
Easier said than done. We're being stalked by serial killers and sociopaths at every turn, there's a history teacher trying to bang my boyfriend, and I can't forget the nightmare-inducing gifts arriving at my door.
Once a lone Wolf, now I'll do anything to keep the pack safe.
---
---
(Book #2)
I've won over the queen of the school but now her brother hates me and he's out for my blood. He thinks I'm a spy, he thinks I've aligned myself with the sociopath drug addict who walks the halls with murder on his mind.
Every choice I make is being watched, there are more eyes on me than the privileged guys who want me gone.
If I survive the halls of Hannaford Prep I still have to face the Jackal.
The game is only just beginning and now I need to make my move.
---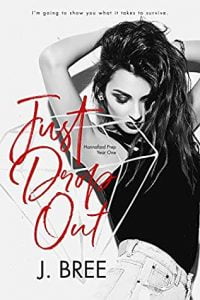 (Book #1)
After surviving foster care and a high school that breeds gang members and drug dealers I've finally found my path to freedom: emancipation and a full ride scholarship at the ultra-exclusive Hannaford Prep.
All I have to do is survive.
After attracting the wrong sort of attention from the richest boy in the country, pissing off the hottest guy in school and being humiliated in front of my favorite rock idol I am now the target of the most popular, and cruelest, group in the freshman class.
They want my blood.
They can have it.
I'm stronger than any spoilt rich kid.
But can I survive the game the Juniors have started with me as the goal? Now every boy at Hannaford wants to have me.
All except the three I want.
Ash, Harley, and Blaise don't care about the game, all they care about is destroying me.
---
---
[ARC]
So close.
We were so close to getting free.
A few more deals here. A few more nasty secrets there.
All in the name of the cause of course.
Then she walked in at the wrong place, wrong time.
Should we kill her?
Keep her?
Making the right decision was critical, but we were literally at a crossroads.
That's how the top tier of Alpha Delta Omega inducted our unofficial fourth member.
But we weren't who we said we were. And danger threatened us on every corner.
She should be very afraid of us.
Or should we be afraid of her?
---
Sign up for
my newsletter
!
Check out my Amazon storefront for several book lists, including a list of freebies!:
Alated Bibliophile Storefront
Save to your board!