disclosure: this post may contain affiliate links. please visit my disclosure policy for more details.
I'm extremely sleep deprived and it's all Blake Blessing's fault.
Ha. Just kidding 😉 But I did spend a couple nights staying up way too late to read this book. (And before I lose my book blogging cred, I can easily polish off a book in a day, but I don't always have the ability to do so.)
Ugly Truths picks up where Pretty Lies left off. We get to find out if Astrid's mom is still an abusive bitch and if her dad is holding up his end of the bargain that they made at the end of book 1. We also get a deeper look into Jonah's life and exactly why Beck has hated him so much for so long.
Between college plans, family difficulties, bullying, unexpected fights, and a plethora of shocking revelations, sexy flirtations, and some drama, this book pretty much had it all. I will say I definitely enjoyed this book more than the first, but that's not too surprising considering the first book was just setting the story for the series and didn't go as in depth as this one did.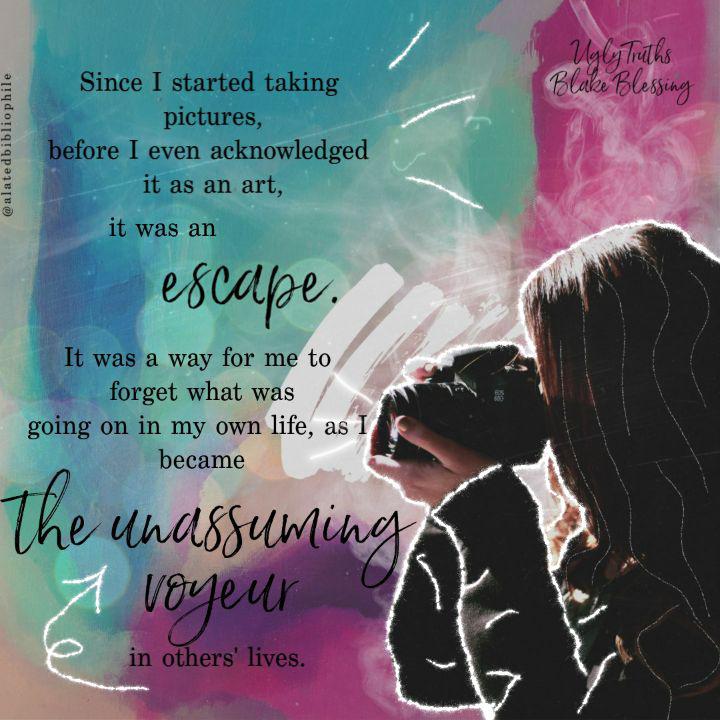 I wasn't sure what to make of Astrid in the first book. She was a mess of contradictions (as I wrote in my original review: She's kind of shy, but she's not a pushover; she doesn't have a plethora of friends, but she isn't exactly someone I would classify as a loner.) but I couldn't help but like her. Now, with having the initial nervousness and shyness subsiding with her guys, it was great to see the bonds strengthen and the flirting grow. I think there's going to be quite a bit of jealousy between at least two of the guys as the series progresses, so that's going to be interesting to see how it plays out.
Astrid really grew on me in this book. She's a bit more mature, knows what she wants as far as her relationships with the guys–she's already decided if she can't have them all romantically, then she refuses to choose–she won't take crap from her mother or her dad, and she's genuinely trying to better herself. All in all, her character went through a great growth period and I loved it.
Uggghhhh. These guys. I love each one of them so much. Just when I think I have a favorite, another guy jumps on the pages to try to change my mind, lol. This results in me constantly thinking, "oh, I love him so much," no matter which guy is in the scene. Obviously, I adore all of them and when I can't honestly tell you which one stands out as a favorite, you know the author has taken great care to give each one his own genuine personality and individual qualities that make it impossible to choose. I've come to recognize this as pretty standard in Blake's writing because I. Can. Never. Choose. and I'm definitely not complaining, lol.
One of my favorite parts of this book was learning more about the Jonah/Beck dynamic and finally getting to understand Beck's feelings toward Jonah. Let's just say Jonah gets himself in a little too deep in some trouble and he has to learn to set aside his pride and rely on his new friends to get him some help.
There were a couple shocking reveals that I didn't see coming but made so much sense and added a huge amount of depth and emotion to this story, and there were also a couple new character additions–one of whom I unashamedly totally have a crush on. (This is me hoping and crossing my fingers that Angel gets added to Astrid's men. *fans face*)
Anyway, if you're a fan of the bully genre in a young/new adult setting and have an open mind to multiple love interests, you've gotta check this series out. I have a feeling it's going to keep getting better and I can't wait to see what Ms. Blessing has in store for us!
Happy reading!!
Sign up for my newsletter!
Shop my favorite things on Amazon here: Alated Bibliophile Storefront