disclosure: this post may contain affiliate links. please visit my disclosure policy for more details.
I'm a huge fan of Ashley Jade's. I've been a fan since I first read Complicated Hearts and I think she's one of the biggest talents in the indie publishing scene right now. So when I first found out she was writing an academy/bully series, I was absolutely ecstatic. Nobody writes angst and asshole-ish behavior like Ashley Jade, and since I've always loved the academy subgenre–and I've been particularly into the bully subgenre recently, as well–I was beyond ready for this book!

Jace is … wow, dude. He is an Asshole with a capital A. He is absolutely awful to Dylan through most of the book and I can't even tell you how many times his behavior pissed me off, lol. The thing about Jace, though, is that he has a fairly legitimate reason for the bullying–at least in his and his family's mind. It's a little easier to give him some more forgiveness once you understand the why behind his actions, even if it doesn't completely redeem him.
I won't lie; Jace is one of the most incredibly written "bullies" I've read. He's sexy, brooding, angsty, mean, and so, so complicated. There's so much more than meets the eye with this character and each new facet to his personality left me more intrigued than the last. He isn't soft, he's not hearts-and-flowers, and it does take a bit to warm up to him, but the wait is definitely worth it!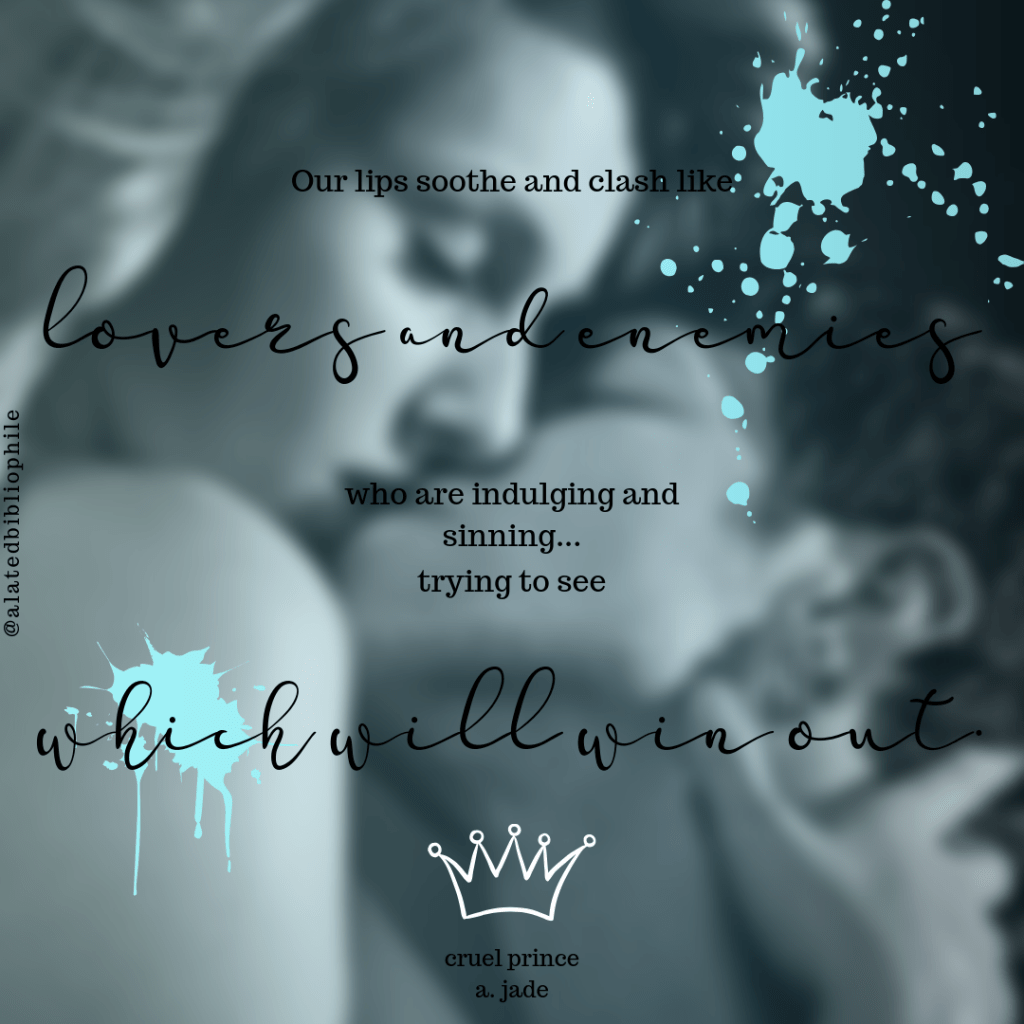 I greatly enjoyed Dylan. She's no pushover, but she isn't in your face either. As is the case with most of Ms. Jade's heroines, she's flawed–which I love–and doesn't try to be anyone other than who she is. She's had a rough life for several different reasons and losing Jace as her best friend was basically the straw that broke the camel's back. She's completely oblivious to why her childhood best friend and first love hates her so much, but she's determined to figure it out.
There comes a time where she seems to somewhat accept the non-relationship they have, which I actually enjoyed seeing portrayed in this storyline. I mean, obviously, once you reach that point where you recognize this relationship is going nowhere, you've got to let go and attempt to move on. Considering this is fiction and it does have a happy ending, the plans do change, but I definitely enjoyed seeing a side other than "I'm going to keep fighting even if it looks like there's no iota of hope left." If for nothing else, it added another layer to the story that I found to be both intriguing and raw.
I also want to mention Dylan's best friend, Sawyer, who is easily the coolest best friend character in any book I've ever read. Ms. Jade wrote her incredibly beautifully. She's a Christian girl who makes it known that she loves Jesus, but she's about the furthest away from pious or holier-than-thou that you can get. She curses, she's relatable, and she's a great friend. The best part is simply that she acted like a real person instead of someone who felt the need to judge her friends/peers for their faiths–or lack thereof. It was so nice to read about a Christian character that didn't have my teeth setting on edge from the hypocrisy or bigotry.
This is easily one of the best books I've read this year. I had pretty high hopes when Ashley first announced she was writing this series, but I have to say that she blew me out of the water with this book. It was somewhat reminiscent of Bully by Penelope Douglas, which I mean in the best way possible because Bully is kind of the quintessential bully romance for me.
This book is not an "easy" read. You're going to get bombarded with drama, a crap ton of angst, and a lot of heartache–but keep holding on. You're also going to get tons of steamy, kindle-melting scenes, some hysterical weed-induced randomness, and a love that burns hotter than any hate. Trust me, it's so worth it in the end <3
Now, I can't wait for Sawyer and Cole's story 🙂 Oh, be still, my heart!
Happy reading!
Sign up for my newsletter!
Looking for book lists? Check out my Amazon storefront
or explore my book lists on my blog here!