disclosure: this post may contain affiliate links. please visit my disclosure policy for more details.
If you're at all familiar with me or my reviews, then you're probably aware of the fact that I'm a pretty big fan of Blake Blessing. I was first introduced to her writing through the first book in this series, Marks of the Mazza, which I thoroughly enjoyed; then there was Full Glasses and Burju Shoes, a standalone contemporary romance with so much emotion, I went from crying to laughing in the span of .5 seconds. So, when the ARCs of Bonds of the Mazza were made available to me and the rest of her ARC team, I was thrilled! And I definitely wasn't disappointed in the continuation of this story.
It picks up where the first one leaves off, with Isolde struggling to learn more about what all is entailed with being a Mazza and taking refuge in Yunez's safe house with her men. Well, both the action and the sexiness are amped up quite a bit in this book. Not only do we see her bonds with the guys deepen and grow, but there's also some pretty intense flirting coming from Rand and Yunez–both of whom I love–and it seems like the number of people attempting to capture Isolde for some reason or another increases by the minute. While the main thing that will protect her is coming into her Mazza powers–something that can only happen when she completes the bonding with each man–Isolde refuses to bond simply out of fear or what she sees as misplaced duty. If they're meant to be bonded for life, then she doesn't want anything less than love. Honestly, I would feel the same way if I were in her shoes and I have to commend her for sticking to what she feels is right as far as the bonding is concerned because this is a bit of a sore spot with the guys. Speaking objectively, I can see where they're coming from, as well; especially when Sage is the main one dragging his feet and it's obvious to everyone else but Sage and Isolde that they're madly in love with each other.
Along with upping the action and the sexiness, there's also a fair amount of laugh-out-loud funny scenes, including the appearance of a new character who just so happens to own a brothel and is so flamboyantly hysterical, I loved him immediately. Of course, there are also the appearances of some unsavory characters–more than a few who straight up pissed me off, particularly with their treatment of the guys.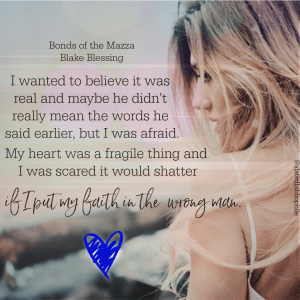 Speaking of the guys … while most of the time you're pretty much begging for Sage–and sometimes Isolde–to get his head out of his butt, we get a glimpse of his true feelings and just how deep they run in this book. I have to admit that even though some of the will they/won't they is frustrating, I loved it. I love the asshole-turned-devoted-boyfriend trope and this book gave me so much of those vibes, I freaking ate it up. I will say there were times I wanted to smack Sage's and Isolde's heads together, but for the most part, I looooved it. Not to mention, usually, when there's that much stubbornness at the beginning, you know the payoff is going to be great. 🙂
All in all, I greatly enjoyed this book. The story is so creative and interesting and the connections Isolde has with each of the guys are so sexy and sweet. Also … that FREAKING cliffhanger!!! Oh. My. Gosh. I had slight suspicions about part of it, but the other part I didn't see coming at all and it's such a twist from what I was expecting. I can't wait to see where Blake goes with this story next!!
I highly recommend this series for all paranormal/urban fantasy fans!
Happy reading!
Follow me for more book-related reviews, news, and more!