disclosure: this post may contain affiliate links. please visit my disclosure policy for more details.
Another month, another wrap-up!
(Please keep in mind that heat level and ratings are based on my own personal opinion. It's possible–and totally likely!–that you may disagree with me. Also, I try to include trigger warnings, but I may have missed some, so if you're concerned, I would encourage you to check out Trigger Warning Database and/or Book Trigger Warnings.)
With it being Halloween month, I did my best to stick to anything with paranormal, monsters, or horror elements. Hope you enjoy!
Black Queen: Stray by Lidiya Foxglove
I'm the Queen of Destruction. He's the sexy rival whose life I wrecked ten years ago. Now he's back…and fated to be with me.
Pets. Servants. Threats. That's all shifters have been to humans since they discovered our existence. A prophecy claims that three powerful shifter queens will bring peace and justice…and oh shit, that's me. I'm just a cat shifter who works undercover as a spy with my trusty knives, but now the fate of shifter-kind is on my shoulders. As my powers awaken, so do the consorts who are meant to protect me.
Waylon, the troublemaker—the last guy I wanted as my destiny.
Ian, the sweet and loyal wolf shifter I've loved since childhood.
Ansel, the charming falcon who knows how to make a girl happy.
Florian, lean, tattooed, hard and cold as ice.
As fast as I'm finding allies, I find enemies, but I must learn to embrace my powers and fulfill the prophecy, because in a kill-or-be-killed world, I'm damn sure not going to be the one who loses.
This is a slow/medium burn reverse harem for 18+. If you like badass heroines and protective shifter men, prepare to immerse yourself in a version of our world that is full of hope and darkness.
Blurb from StoryGraph.
---
I enjoyed this book. It's a little different take on the shifter "monster," including an entire classism and racism issue where humans are seen as superior and shifters are viewed as their slaves. Super interesting concept with great diverse shifters and fated mates–one of my favorite tropes 🙂 Definitely a worthwhile read for anyone who enjoys paranormal reverse harem.
Trigger warnings: slavery; prejudice; classism
Heat level: (I can't remember lol)
Rating: 3.5
StoryGraph | Goodreads | Amazon
The Ghost Junkies by Elizabeth J. Rekab
Melissa Lowery is failing physics, shunned by the cheerleading squad, and crushing on her best friend, Aaron, who has an annoyingly beautiful girlfriend. Oh yeah, and she sees the ghost of her dead father. Talk about screwed up.
Soon, a fellow ghost seer named Seth convinces Mel to test her abilities in a haunted cabin where he introduces her to a whole new world. Literally. He teaches Mel how to slip into the realm the ghosts come from—a vivid, euphoric place called "The Veil" that sure as hell beats Jaxonville. But when the living in town start going crazy and the dead whisper about a mysterious Shadow Man, Mel realizes that the Veil may hide more secrets than she realizes… secrets that she must uncover before the whole town is consumed by darkness.
Set in 1997, THE GHOST JUNKIES is a nostalgia-filled, paranormal thrill ride that will keep you on the edge of your seat until the very end.
Blurb from Goodreads.
---
Another enjoyable, though creepy and somewhat juvenile story. I am definitely not in the demographic for this book as it's a young adult novel, but I could still enjoy the story and the nostalgia. As an early 90s baby, it was super fun to read a book set in the 90s timeframe 🙂 I would definitely recommend this book for anyone who's interested in a slightly creepy young adult read. It was perfect for Halloween!
Trigger warnings: gruesome depictions; horror; assault
Heat level: none
Rating: 3.5
StoryGraph | Goodreads | Amazon
Her Soul to Take by Harley Laroux
Leon
I earned my reputation among magicians for a reason: one wrong move and you're dead. Killer, they called me, and killing is what I'm best at.
Except her.
The one I was supposed to take, the one I should have killed—I didn't.
The cult that once controlled me wants her, and I'm not about to lose my new toy to them.
Rae
I've always believed in the supernatural. Hunting for ghosts is my passion, but summoning a demon was never part of the plan. Monsters are roaming the woods, and something ancient—something evil—is waking up and calling my name.
I don't know who I can trust, or how deep this darkness goes.
All I know is my one shot at survival is the demon stalking me, and he doesn't just want my body—he wants my soul.
Her Soul to Take is book 1 in the Souls Trilogy. Although all the books are interconnected, they are stand-alone and can be read in any order.
Blurb from StoryGraph.
---
I absolutely adored this book. I'd seen it recommended all over booktwt and booktok and decided I needed to add it to my Halloween reads, and holy cow, I'm so glad I did! It was the perfect read for the Halloween season 🦇 The series is all interconnected standalones and I can't wait to read the next book!
Trigger warnings: consensual non-consent (CNC), breathe play/choking, bloodplay, spit, needle play (body modification fetish), pain play, fear play, public play, bondage, restraint, spanking/impact play. (taken directly from the StoryGraph page)
Heat level: 🌶🌶🌶🌶
Rating: 4.5
StoryGraph | Goodreads | Amazon
I Married a Lizardman by Regine Abel
As a third daughter on the farming colony of Meterion, Susan's future prospects aren't too promising. A pretty face, top-notch skills, and hard work mean nothing if your dowry doesn't include fertile lands. With her twenty-fifth birthday approaching, and no suitors even remotely sniffing in her general direction, Susan will be forced to leave the family lands to work as an indentured servant in the capital city. Her only way out is to settle for an arranged marriage through the PMA – the Prime Mating Agency. She just never expected to be paired to a grumpy, massive lizardman, and above all not to grow so fond of his scales and quirky ways.
With everything going on, the last thing Olix needs is a mate, especially a squishy, scaleless, off-worlder with strange ways, and an obsession with farming. He is a Hunter, not a dirt digger. The Seer must have been mistaken when she insisted that, for the sake of the people, he take a mate from the stars. How can such a tiny thing be their salvation? And yet, his Susan's softness is disturbingly addictive while hiding a surprising resilience.
With his ancestral lands on the line and the future of the clans threatened, could this wisp of a woman turn their fate around?
Blurb from StoryGraph.
---
I greatly enjoyed this one, much to my surprise. I'm not sure why it shocked me so much considering a book about a spider alien made it on my favorite reads of 2021 list, lol. Anyway, I enjoyed the story, loved that it wasn't an insta-love and their attraction for each other grew as they got to know one another. It was a sweet story and I'm looking forward to reading the next installment in the series 😊
Trigger warnings: arranged marriage
Heat level: 🌶🌶🌶
Rating: 4
StoryGraph | Goodreads | Amazon
Mania by Katie May
ELODIE
Everyone fears them.
Except for me.
The kings who rule Grove Academy don't scare me, not with their gentle touches, sweet words, and smiles reserved only for me. But maybe…
Maybe I should be scared.
THE KINGS
We watch her. Protect her. Love her.
There's a word for people like us—psychopaths.
But how can we be psychopaths, when we protect the one person who deserves it? Someone so sweet and innocent, she's completely oblivious to the horrors plaguing our elite town?
The cops call us serial killers.
We call ourselves hers.
This is a dark reverse harem romance with secret societies, dangerous cults, serial killers, and a sweet girl planted smack dab in the middle of it all.
Blurb from Goodreads.
---
I love Katie May's writing. She's one of my favorite indie authors and I always try to keep up to date on her new releases. This book is a little different from what she's written before and I absolutely loved it. I highly recommend this one for those who enjoy a dark, slow-burn reverse harem.
Trigger warnings: child abuse; blood; cults; gore; torture; kidnapping; stalking; death of a parent; anxiety/panic attacks/disorders
Heat level: none that I recall
Rating: 4.5
StoryGraph | Goodreads | Amazon
Rhapsodic by Laura Thalassa
Callypso Lillis is a siren with a very big problem, one that stretches up her arm and far into her past. For the last seven years she's been collecting a bracelet of black beads up her wrist, magical IOUs for favors she's received. Only death or repayment will fulfill the obligations. Only then will the beads disappear.
Everyone knows that if you need a favor, you go to the Bargainer to make it happen. He's a man who can get you anything you want… at a price. And everyone knows that sooner or later he always collects.
But for one of his clients, he's never asked for repayment. Not until now. When Callie finds the fae king of the night in her room, a grin on his lips and a twinkle in his eye, she knows things are about to change. At first it's just a chaste kiss—a single bead's worth—and a promise for more.
For the Bargainer, it's more than just a matter of rekindling an old romance. Something is happening in the Otherworld. Fae warriors are going missing one by one. Only the women are returned, each in a glass casket, a child clutched to their breast. And then there are the whispers among the slaves, whispers of an evil that's been awoken.
If the Bargainer has any hope to save his people, he'll need the help of the siren he spurned long ago. Only, his foe has a taste for exotic creatures, and Callie just happens to be one.
Description from StoryGraph.
---
I've seen this one get a bad rap on booktok, but honestly, I felt like it was somewhat unwarranted. I really enjoyed the story and didn't see it as nearly as problematic as some have, but I will say, if you feel like you're going to have a problem with it, please don't read it. Just because I didn't have any issues doesn't mean everyone will feel that way (obviously).
Anyway, I loved this book and I'm looking forward to reading the next in the series!
Trigger warnings: p*dophilia; sexual assault; m*rder; addiction; alcoholism; r*pe; abuse
Heat level: 🌶🌶🌶
Rating: 4.5
StoryGraph | Goodreads | Amazon
Headless by Aveda Vice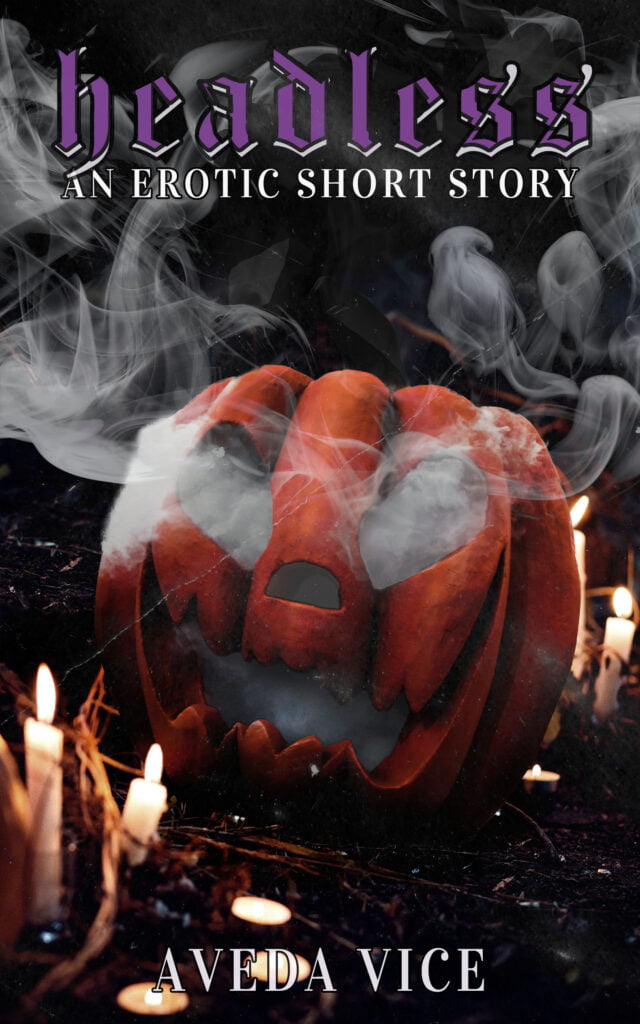 An erotic polyamorous retelling of The Legend of Sleepy Hollow.
Everyone knows the story.
The Headless Horseman rides on Halloween night, collecting the souls of the damned — until the year Brom Bones disappears, and Ichabod Crane and Katrin Van Tassel find nothing but a smashed pumpkin in his wake.
They grieve the loss until the fateful anniversary arrives again…and with it comes a visitor. Shadowed and headless, appearing in their doorway and driving them to ecstasy in their bed.
It becomes tradition: every year, they wait for him. Every year, he comes.
The one night the town fears the Horseman most is the night he rides for more than death.
Warning: This is a MMF erotic romance between Brom Bones/the Headless Horseman, Ichabod Crane, and Katrina Van Tassel. It is intended only for adult audiences.
The kinks contained within: threesome, monsterf*cking, voyeurism/exhibitionism, breathplay/choking, blowjobs, anal sex, begging, restraint
Other content warnings: death, grief
Unbridled and unconventional, this gripping short story follows the ghostly lines we cross for love.
---
So…this one is on me. I didn't like it and honestly, I should have known I wouldn't like it. I don't enjoy pure smut; I need to have a story with it. This was basically pure monsterf*cking with barely any plot. If that's what you're looking for, I say you should definitely go for it. I love the story of Sleepy Hollow, so if the author ever made a full story with these characters, I would 100% read it.
However…take my rating with a grain of salt. I basically read it to keep on theme, lol.
Trigger warnings: m*rder
Heat level: 🌶🌶🌶🌶🌶
Rating: 2
StoryGraph | Goodreads | Amazon
---
Courting Darkness by Katie May & Quinn Arthurs
My whole life has been characterized by fighting.
Fighting my family.
And fighting for my life.
Trust me—the first one is completely voluntary, and a lot of fun. The second? Not so much.
To say my family dynamic is weird is the understatement of the century. I held my first sword when I was only five years old, and I learned how to dispose of a body before I turned ten.
I may have a penchant for pink and sparkles…but that doesn't mean I don't know how to kick major ass as well.
As if my life isn't complicated enough, my body is being ravaged by a chronic, mystery illness.
Seizures? Check. Passing out? Check. Agonizing pain? Check. A host of other unexplainable ailments? Double check.
After a change in my parents' job takes us across the country, I find myself doing something I've never done before—attend an actual high school, despite my sickness.
But this school? Well…it's a little weird…
I'm always turned around, and there's something happening I just can't put my finger on.
And don't even get me started on my sexy as sin teacher and his equally as gorgeous twin brother. Or Tristan, who kind of reminds me of an energetic puppy. Or Kian, who has a harem of girls at his beck and call, despite seemingly unhappy with his entire life. Or Foster and Gage, who are revered and feared in equal measure.
With a serial killer stalking the streets of this odd, little town, my new friends and family are on high alert.
One thing becomes clear…
Humans aren't the only beings who walk this earth.
And if I don't uncover the secrets of my new school, I may be the killer's next victim.
Blurb from Goodreads.
---
Again…I love Katie May. I can't recall right off if I've read any of Quinn Aruthurs's work, but the two of them together made a great story. I enjoyed this one quite a bit. The main issue I had with this book was Tristan, lol. I found him to be super annoying…but I'm also extremely introverted and his personality type would not fit well with mine, lol. In any event, I liked this book and I'm looking forward to the second!
Trigger warnings: (I actually can't remember…definitely check trigger warnings if you're concerned)
Heat level: nada
Rating: 4
StoryGraph | Goodreads | Amazon
Witching Moon by Poppy Woods
Alandra Michaels is your everyday, run-of-the-mill, ordinary witch. She doesn't have an affinity for an element, like her sister. She can't speak to the dead, like her mother. Even her familiar–Beezelbub the moth–is a plain, non-threatening insect. Alandra is fine with that; she knows what she is and what she isn't.
Or so she thought . . .
When a spell goes wrong and a gorgeous woman shows up in her living room claiming to be the Moon, everything changes for Alandra and her magical abilities will be put to the test.
Can she reverse the spell and send Luna back to her realm?
Celestials never go to Earth anymore. When witches figured out they could harness their energy for ultimate power, celestials closed the doors to their own realms.
When a beautiful young witch accidentally summons Luna to Earth, the clock begins ticking. Can she make it home before she's sacrificed for her power?
Will she even want to?
Blurb from StoryGraph.
---
I never read F/F, but I was in the mood for something different this month, so I decided to give this book a try. I'm so glad I did. It was a great story with extremely likable characters with a couple of pretty good twists thrown in. Alandra and Luna were super cute and I loved the progression of their relationship. I will definitely be reading the next book, which follows Alandra's sister and the "sun god."
Trigger warnings: alcoholism; sexual assault; infidelity; kidnapping
Heat level: 🌶🌶🌶
Rating: 4
StoryGraph | Goodreads | Amazon
Haunted Real Estate: Where's Gary? by J.C. Valentine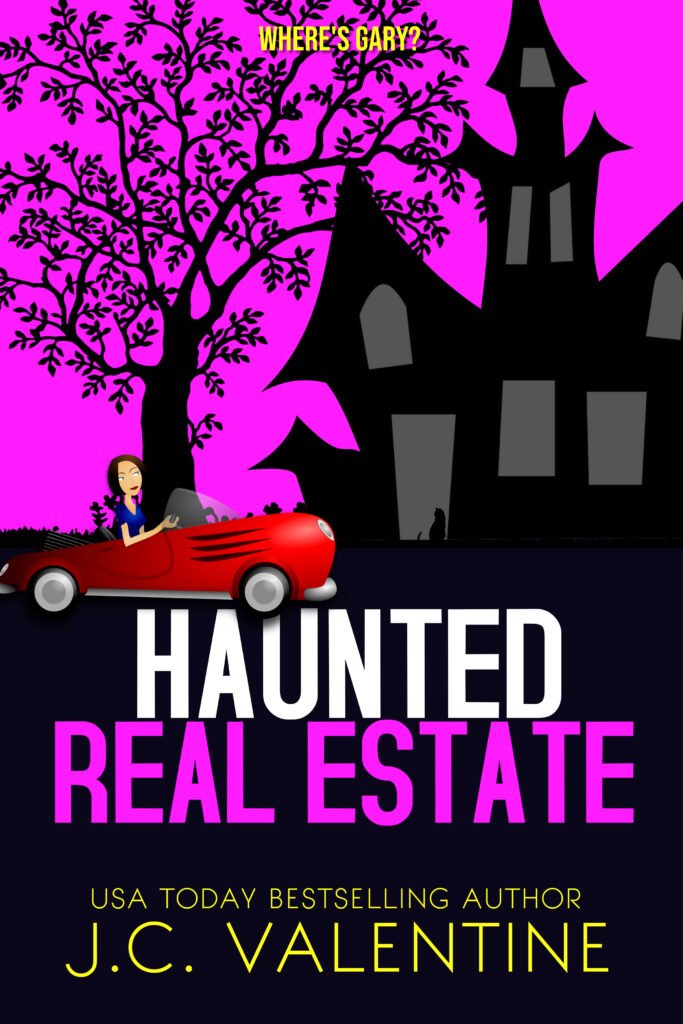 When a distant relative dies, Claire Montgomery inherits an ages old house with a storied past. Intending to flip it for profit, she travels to a quaint burrow in the middle of nowhere and becomes the talk of the town. Or maybe it has more to do with the house that everyone claims is haunted by a history that's even more mysterious than Claire could ever imagine. Can she finish the renovations and get out of Dodge before the quest for a profit kills her?
Blurb from Goodreads.
---
As you probably well know by now if you've read my blog, I love J.C. Valentine's books. This one is definitely different from her previous work, but it was no less a fantastic read–not to mention, totally perfect for Halloween. If you're looking for a book with high heat, this is definitely not the one for you; however, if you're looking for a book with a solid story, fun and relatable characters, and some mystery with a little creep-factor, then this is definitely the book for you. I loved it and I'm super excited to read the sequel!
Trigger warnings: some slightly frightening moments
Heat level: none unless you count some makeout sessions
Rating: 5
Killer Beauty by Eva Chance & Harlow King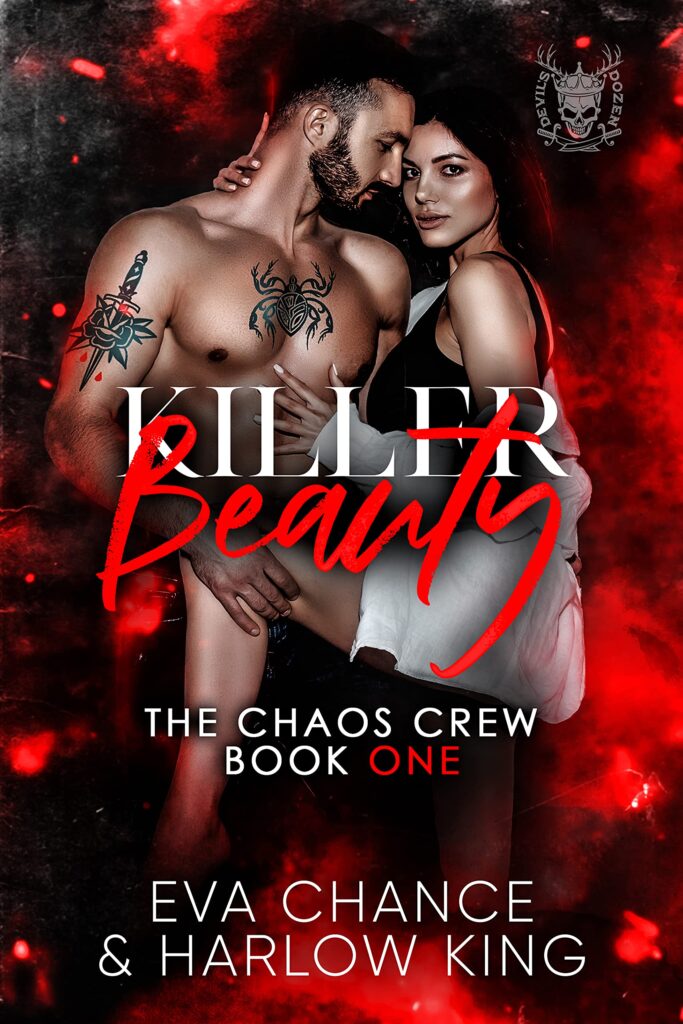 I'm the girl you'll never see coming.
Blink and you're dead, another target checked off my list.
But one night everything in my carefully ordered existence falls apart. A bloodbath and a car crash later, I find myself in the grasp of four gorgeous, intimidating men.
Are my captors cops like they claim or something far more sinister? They sure know how to bend the law. And seeing how skillfully they handle a gun or a knife, I can't help wondering what their hands would feel like all over me.
But I have vengeance to wreak, and no man, no matter how powerful, is going to keep me caged for long.
They think they've caught a wounded little mouse. How could they know they've brought a killer into their home?
I'll bide my time, learn all I can, and when I'm ready to strike…
They'll never know what hit them.
*Killer Beauty is the first in a new gritty contemporary romance series from bestselling author Eva Chase (writing as Eva Chance) and Harlow King. No major triggers, just hot murderously-inclined men, a deadly heroine out for revenge, and an enemies-to-lovers romance where the girl gets all the guys. Prepare for bloody chaos!*
Blurb from Amazon.
---
Definitely one of my favorite reads of the year, but if you'd like all my thoughts on this book, then click below 👇🏻
Trigger warnings: kidnapping; major revenge plot; murder; gore
Heat level: 🌶🌶
Rating: 5
Total read: 12
Kindle Unlimited
Most of what I read is available on Kindle Unlimited, and I'd love to share a couple of great deals with you just for first-time KU subscribers! I highly recommend KU for bookworms such as myself, and you'll want to take advantage of one of these special deals while you can, trust me! Click on whichever one sounds the most appealing to you and you'll be good to go. 😊
Kindle Unlimited: Get 2 months of digital reading for free
4 months of Kindle Unlimited for $4.99 – ends November 30
---
Like this post? Save it!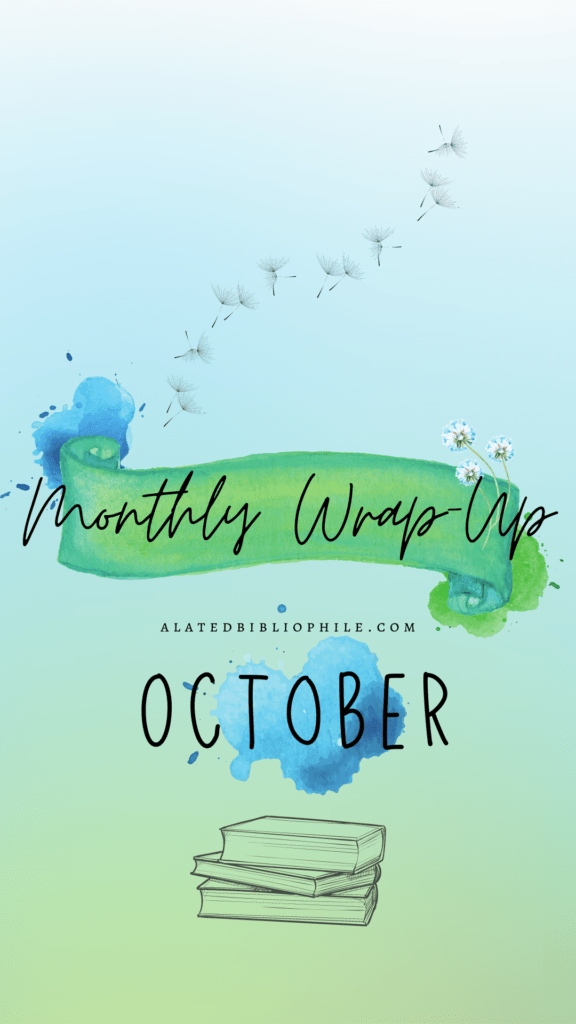 Sign up for
my newsletter
!
Become a Patron!
Check out my Amazon storefront for several book lists, including a list of freebies!:
Alated Bibliophile Storefront