disclosure: this post may contain affiliate links. please visit my disclosure policy for more details.
To be completely honest with you, I wasn't sure I was going to like this book when I started it. There are several POVs and I was a little nervous it was going to be like the book I'd read that had so many POVs, I could barely follow along with the story …
However, each point of view adds more substance to the story, and it always picked up where the last one ended–or at least they correlated with each other in some way–so I wasn't left feeling like I was getting whiplash from the varying narrations, nor was I super confused and wondering how one character's POV related to the others'. Honestly, it was extremely well done and each character is so different from the other, but not to the point where it was jarring to read. I'm always amazed when two authors can write the same story and the overall "voice" of the book is in perfect harmony, and that's exactly what I got here. I couldn't tell this book was written by two people and it baffles my mind to read something so eloquently written, but the story here was fantastic and I really do have to commend the authors for such a unique read.
As you know if you've followed any of my reviews or have read the previous ones I've written, I'm a pretty big fan of R.J. Harris and I personally think she's an extremely underrated indie author who deserves way more attention than she's received so far. If you're a fan of paranormal/urban fantasy, please give her books a read because seriously, her writing is incredible. Nissa Leder is a new author for me, but with the help of this book, I know I'll be reading more of her work.
This story follows four young adults–Ava, Darien, Finn, and Rachel–as they navigate broken hearts, new romance, newly discovered supernatural abilities and a paranormal war that thrusts them right on the frontlines. They make new friends as well as enemies, form unlikely alliances, and learn that sometimes betrayal is much closer to home than they'd ever dare to imagine.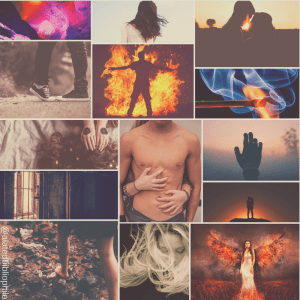 While I did think the book took a little bit to get into at first, once it started getting into the heart of the story, I was completely hooked. As with any other story–especially the first in a series–the "leading up" to the main storyline is mostly background information and explaining the setting, which is super important to the rest of the book. There are a couple of times where I wanted to shake the characters and tell them that they were being stupid, but honestly? They're teenagers who are dealing with a massive amount of pressure and stress. Being a teenager is hard enough without feeling like the weight of the world is on your shoulders. Also, I was super impressed with how each character is written because they felt real and genuine. Even if you get frustrated with some decisions one of them makes or something stupid they say, once you get inside their head, you understand more about the reasons behind said actions. I especially appreciated that; even if you don't agree with their reasoning, you get the chance to understand it.
All in all, I quite enjoyed this book and I'm looking forward to the next one. Also, I have a huge book crush on Finn and I wholeheartedly believe that he and Ava should be a thing. Just saying. ;P
Check this book out, and as always, if you do, please come back and let me know what your thoughts are!
Happy reading <3

* This post includes affiliate links, which means if you purchase anything using that link I'll make a small commission. This comes at no extra cost to you, but it helps me out a lot <3
Follow me for more book-related reviews, news, and more!