disclosure: this post may contain affiliate links. please visit my disclosure policy for more details.
This was my first read by Anna B. Doe, so I didn't fully know what to expect from her writing style. I enjoyed the story. I did feel like the characters were a bit superficial and I felt that the lack of contractions in dialogue was a little strange; I'd think teenagers would be more likely to use them–especially when talking with friends. Also, the hero called the heroine "little one," and it just drove me a little nutty. It seems like something you would call a child, so it came off as somewhat condescending and insincere to me. That's mostly just splitting hairs, but it's my two cents' worth.
Amelia is sweet, but she's incredibly shy and insecure. She's spent most of her school years being bullied–especially by the hero's best friend. After always being made fun of, she's gotten terribly withdrawn and only really spends time with her best friend, Brook. Also, may I just take a moment to say how much I love the way that name is spelled? So cool. Anyway, back to Amelia. 🙂 She's inexplicably attracted to Derek, whom she used to be friends with until his friend started making fun of her and he never stood up for her. After that, he's been off limits in her mind and she has no desire to get close to him. No matter what she feels when she's around him, her trust has been broken and her heart has been bruised, and she's not too apt to go through that again. When Max–the new guy–enters the picture as her hero one morning when her car breaks down on the way to school, she finds in him a great friend who just so happens to be sweet, funny, and none too shabby to look at. I personally would have loved to see that relationship develop a bit more, but I have a feeling the author has another plan in mind for Max.
Derek is one of the most popular guys in school. He's one of the stars of the school's hockey team and he's gained a bit of a reputation for being a player. He prefers to hook up than have relationships. But when the new guy at school starts showing interest in Amelia, he can't help but feel the need to claim the girl who's always occupied his heart. In doing so, old feelings clash with remembered hurt and broken trust, and he's finding himself acting in ways he never expected so he can be the one to win Amelia's heart–and prove that he's worth trusting again.
Of course, not everything goes according to plan and they find themselves hitting more obstacles than smooth sailing. I couldn't help but get a little upset at the situation and feel awful for the people involved. The emotions were written well and I felt like the characters reacted the way they would have if it had been real, which obviously made it more believable.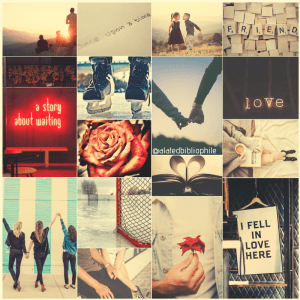 In all, I enjoyed the story. I felt like it fell a little flat in some ways, but overall, the story was really good and I'll probably follow the rest of the series. I love young adult series that follow different couples in the friends group, and I'm looking forward to seeing who ends up with whom. I have my suspicions, but I'll have to wait and see if I'm right 😉
So, if you're a fan of young adult romance, make sure you check this one out and decide what you think for yourself 🙂
Happy reading!

* This post includes affiliate links, which means if you purchase anything using that link I'll make a small commission. This comes at no extra cost to you, but it helps me out a lot <3
Follow me for more book-related reviews, news, and more!