disclosure: this post may contain affiliate links. please visit my disclosure policy for more details.
Ho-lee crap.
This freaking book was so dang good.
I have no idea how I've never heard of this book or this author before now because her writing–and this story–is phenomenal. I know I say this a lot in my reviews, but I honestly couldn't put this book down once I started it.
Ironically enough, this is the second book in a row where the heart of the story is based on Native American folklore and I'm loving it. I've always been fascinated by the Native American culture and reading paranormal stories based on this folklore is awesome. I might just be living under a rock, but I haven't read many paranormal books based on this folklore and reading something other than the stereotypical vampires, werewolves, and witches (oh my!) is pretty neat. Don't get me wrong; I love pretty much everything paranormal, so I'll read it all, but taking something unique that you don't see often and writing about it garners huge points in my book. I mean, this book has raven mockers!! I'm a major Mountain Monsters fan, so I kind of flipped when I read the blurb. There was a nice bit of creep factor added with these things, too. Normally, I'm not big on the creepiness, but I liked that little bit of chill running up my spine while reading this one. It was mild, but enough to make a point.
I don't want to say a whole lot about this book for fear of spoilers, but I honestly loved everything about this book. The character development was beautifully done; the paranormal creatures featured in this book were so clever and wonderfully well-written; the back story of the heroine and what she went through almost a year prior was compelling and heartwrenching and she was both vulnerable and strong. She wasn't annoying, either, which was a huge plus. Her love interest is so friggin' dreamy and I have a huge book crush on him *heart eyes*
Also, this may be neither here nor there for you guys, but this book is written in the third person and normally, I'm not a big fan of that narrative, but I found myself so immersed in this story that it didn't even matter. I was completely hooked and felt like I could actually visualize everything that was happening.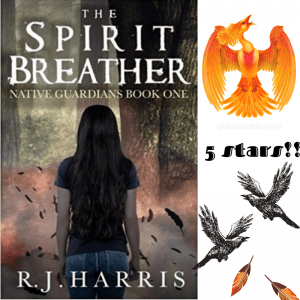 So, at the end of the day, this book is unequivocally one of my favorite reads of the year. I was completely enamored with the story and I'll recommend it to anyone who likes young adult paranormal because this is like finding a hidden gem. I'm so excited to get my hands on the next book and I'm hoping this author writes some more books because she has an incredible talent–I'm definitely filing her under my new favorite authors.
Please, do yourself a favor and go read this book!!
Happy reading!

* This post includes affiliate links, which means if you purchase anything using that link I'll make a small commission. This comes at no extra cost to you, but it helps me out a lot <3