disclosure: this post may contain affiliate links. please visit my disclosure policy for more details.
I loved the first book in this series, so I was thrilled to read the ARC for the second. The thing about reading a series is if you really enjoyed the first book, then you never know if you're going to enjoy the next one just as much or if you're essentially setting yourself up to be let down. Personally, once I'm invested in a series, I have to finish it whether I liked the next book as much as the first or not–but thankfully, I didn't have that issue here. If anything, it was even better than the first.
The intrigue was ramped up, making you wonder who Lana could trust and if her grandmother was one of the good guys or the bad. Plus the separation from her guys is taking its toll, not only on her feelings but on her magic, as well. Since the five of them have been bound by her magic, living in separate places makes it difficult for her to control her newly found magic. Plus, even more than that, she just misses being near them. Each man brings something to the relationship that she didn't realize she was missing out on until their journey began. They're her family.
Lana is faced with the same challenges she felt in the previous book, but it's filled to the brim with magical politics and prejudice. This is a new world for her; she doesn't understand the way the magical council works, nor does she particularly want to–but due to some unfortunate and unforeseen circumstances, she is thrust right smack dab in the middle of the council drama. While trying to figure out who on the council can and cannot be trusted, Lana has to deal with one of her boyfriends being treated like scum and this witch community attempting to ostracize her for having multiple suitors. As if she doesn't have enough to worry about, she has to attempt to keep the Resistance's mercurial leader, Christine–who has made it no secret that she definitely does not like Lana–in the loop with her actions and hopefully happy with the decisions she makes. Also, sidenote: I am no fan of Christine. I think her instant dislike of Lana is unwarranted and ridiculous, and even though her bitterness is somewhat explained later on in the book, it doesn't wholly eliminate her crappy attitude. But that could just be because I happen to love our heroine and am fiercely protective of her, lol.
Now, I'm not gonna lie; there was a part of me that was incredibly anxious about reading this book because I was super unhappy that she had to move in with the grandmother she didn't truly know. I didn't trust the grandmother at first … and unfortunately, [spoiler]right when I started to absolutely adore her, she was killed :'( I was SO devastated for poor Lana. Right when she finds her last living relative, right when she started to trust her, the grandma is killed off. UGH. So freakin' sad![/spoiler] The living arrangements are somewhat awkward–obviously–and the whole "Grandma being super rich" thing takes some getting used to for Lana … actually, I don't think she ever really does get used to it. What I loved about this was how she made friends with her grandmother's servants–who just so happen to be Blighted. Thankfully, while they are servants, Grandma seems to treat them pretty fairly … but they aren't treated with any amount of true respect until Lana shows up. Their gratitude is palpable and it's so sweet to watch their friendships progress.
And then … there're the sexy times. The sexiness was ratcheted up by a lot in this book. I'm not going to spoil it for you, but let's just say two of the four guys get some incredibly well-written love scenes. They were sweet, romantic, hot, and just … ugh. So. Freaking. Good. They were definitely well worth the wait, and oh. em. gee., I can't wait to see how it goes with the last two guys. I love all of them, but the next two men are the ones I've especially been looking forward to reading about her being with. <3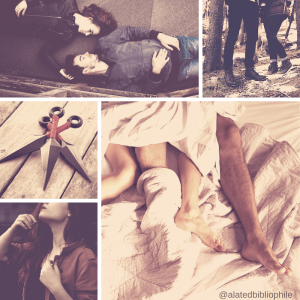 All in all, I loved this book–even more than the first one. I can't wait to see what else the author does with this series!
Happy reading!
* This post includes affiliate links, which means if you purchase anything using that link I'll make a small commission. This comes at no extra cost to you, but it helps me out a lot <3
Follow me for more book-related reviews, news, and more! 🙂