disclosure: this post may contain affiliate links. please visit my disclosure policy for more details.
This was such a cool, unique book. It was funny, sexy, sometimes actually pretty creepy, and just plain good.
Evangeline Midnight–how cool is that name?–is shocked to discover that magic, all things supernatural, and things that go bump in the night are real. Not only are they real, but she just so happens to be a witch with some pretty incredible power. She also finds out that she's inherited a mysterious mansion that won't open for anyone–and just so happens to be haunted by her late grandmother!
Along the way, she runs into a psychopomp–an ancient and powerful demon taking the form of an adorable ferret–and thus begins her journey with a group of men who have varying degrees of supernatural powers, one of whom she's had a crush on for some time. She faces some serious opposition with these guys, but they have to learn to trust each other if they're going to face their common enemy and come out on top.
I definitely enjoyed Evangeline's character. She's sarcastic and witty and isn't afraid to stick up for what she believes in. She's also brave and fiercely protects those she loves. She also came up with a really cool way of using temporary spells–a marker and clear nail polish–and while it's something that's seemingly so simple, I also felt it was incredibly clever and I thought it was a nice added touch. Evangeline has a way of thinking outside of the box with magic and it ends up saving everyone's tails several times throughout the book.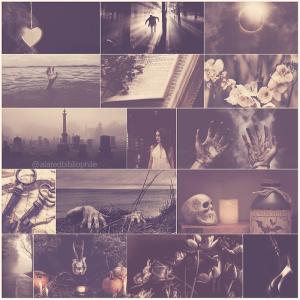 I also want to touch on the fact that this is a book that has zombies at the heart of its story. I've always had a huge thing for zombie stories, so I jumped at the chance to read a reverse harem zombie story. Turns out, the zombies are super creepy and incredibly stealthy–not the slow-moving, brainless monsters we've all come to expect. There are also even zombie werewolves in this book, which was both revolting and amazingly cool, lol.
This book went from Evangeline's perspective in the first-person to Bodhi's point of view in the third-person, so I'm wondering if the next book(s) in the series will go back and forth between her perspective and another of the guys'. In any event, it was pretty cool to get some insider information of the events with the guys that Evangeline wasn't present for. I would've preferred that Bodhi's perspective was written in the first-person as well, but it was still good.
I enjoyed this book, and I'm looking forward to reading the next one!
Happy reading!
* This post includes affiliate links, which means if you purchase anything using that link I'll make a small commission. This comes at no extra cost to you, but it helps me out a lot <3
Follow me for more book-related reviews, news, and more! 🙂