I received an advanced/review copy of this book. This does not affect my opinion of the book or the content and honesty of my review.
This book is suitable for 18+ due to mature content.
Sincerely Yours
Series:
Lots of Love #1
Evan Michaels:
Everyone thinks being a rock-star is glamorous.
They couldn't be more wrong. I've been abused, mocked, and ridiculed all in the public eye. I live for weeks on end in a smelly tour bus, my family is the worst, and all I have is my playboy manager, Christian, for company. So, I get bored and sit on social media. No big deal.
I don't think anything of it until this gorgeous, sweet man named Jordan reaches out to me. He consoles me in the sweetest messages I've ever received, and says the nicest things I've always wanted to hear. I haven't even met him yet. But one way or another, I'm going to make sure our paths cross.

Jordan Nashton:
I'm not sure what I was thinking reaching out to her on social media. Perhaps it was the unnatural desire I have to protect someone from the thing that harmed my sister. Maybe it's just because I'm a bored, lonely, broke fanboy with nothing better to do. I didn't think she'd actually read my messages.
When she shows up at my work one day, I can't believe my eyes. She's every bit as feisty and beautiful as she seems to be on stage. There's a connection between us I can't wait to explore, but love is rarely that simple. Her life is infamous, her manager is harboring a big secret from everyone and I'm not sure if I can handle it all.
I'm willing to try though, to see if I have what it takes to make Evan Michaels sincerely mine.

Possible trigger: Domestic violence is described and discussed, but not shown. Please read cautiously if these are triggering themes for you.
The (Lots of Love series is a polyamorous romance. Evan will eventually have multiple consensual love interests, and one of those interests has an interest of his own. While book one has m/f sexy time, the rest of the series may contain threesomes and maybe moresomes, m/m sexy encounters, and naughty language. This series is meant for adults only.)
Genres:
Romance
,
Contemporary
,
New Adult
,
Reverse Harem
,
Rock Star
Format:
ARC
,
eBook
,
Review Copy
disclosure: this post may contain affiliate links. please visit my disclosure policy for more details.
** This is a review for the book Infamous, part of the Infamous series, by Lizzie Fox. Even though this was before the author rebranded/retitled the story, everything on the inside is the same.
This book … wow. It was such a good read. Between the heart, the complete badassery that is Evan Michaels, and the steam, it was a great read.
Evan is a multi-faceted character with more depth than you might expect. She has been through a whole lot of crap in her life, dating all the way back to birth. I felt so bad for her once you learn of everything she had to face in her life. It's a wonder she had turned out as well as she did. Honestly, I wasn't sure I would like Evan a whole lot when I first started reading the book, but that opinion quickly changed. She's outspoken and comes off a little brash; she's also sexually confident and isn't afraid to ask for what she wants. Beneath her hardened exterior, however, is an emotionally vulnerable woman desperately wanting to be loved for who she is.
Enter Jordan Nashton. Oh, Jordan. *swoon* This guy is just the epitome of perfect book boyfriend. He's sweet, sexy, and so adorkably nerdy <3 I absolutely adored him. One of my favorite parts in this book was when he first met Evan in person. His mind was so blown, lol. I loved that he was a fan of hers before any type of romance began with them. There was also a nice realism–or at least what I assume is realistic, considering I've never been famous or around anyone famous–to Evan's life in the spotlight and Jordan's complete culture shock from the life he's used to living. There's also a pride issue where it starts to really grate on him that Evan is so much better off financially than he is. This was written exceptionally well; his emotions were believable and relatable–despite it being somewhat ridiculous in some ways.
Throughout this book, there's not only a significant amount of steaminess–seriously, you might want to sit in front of a fan while you read this book!–there's also a wonderful amount of growth from the two main characters, Evangeline (Evan) and Jordan (Nash). They go through quite a bit of shit together, and the more they go through, the deeper their bond grows. It's clear they deeply love one another, and that love is a beautiful thing to witness. I loved the way this book ended, too; it was a bit of a cliffhanger, so it makes me that much more excited for the next book, but it also felt like Ms. Fox gave us a lovely ending to such a sweet chapter of their relationship. I feel content with this ending and I couldn't be happier 🙂
In all, I greatly enjoyed this book 🙂
While this book focuses on an m/f relationship, the next books in the series will add more to the relationship as it progresses. I'm incredibly excited to see how the next books add to the relationships. <3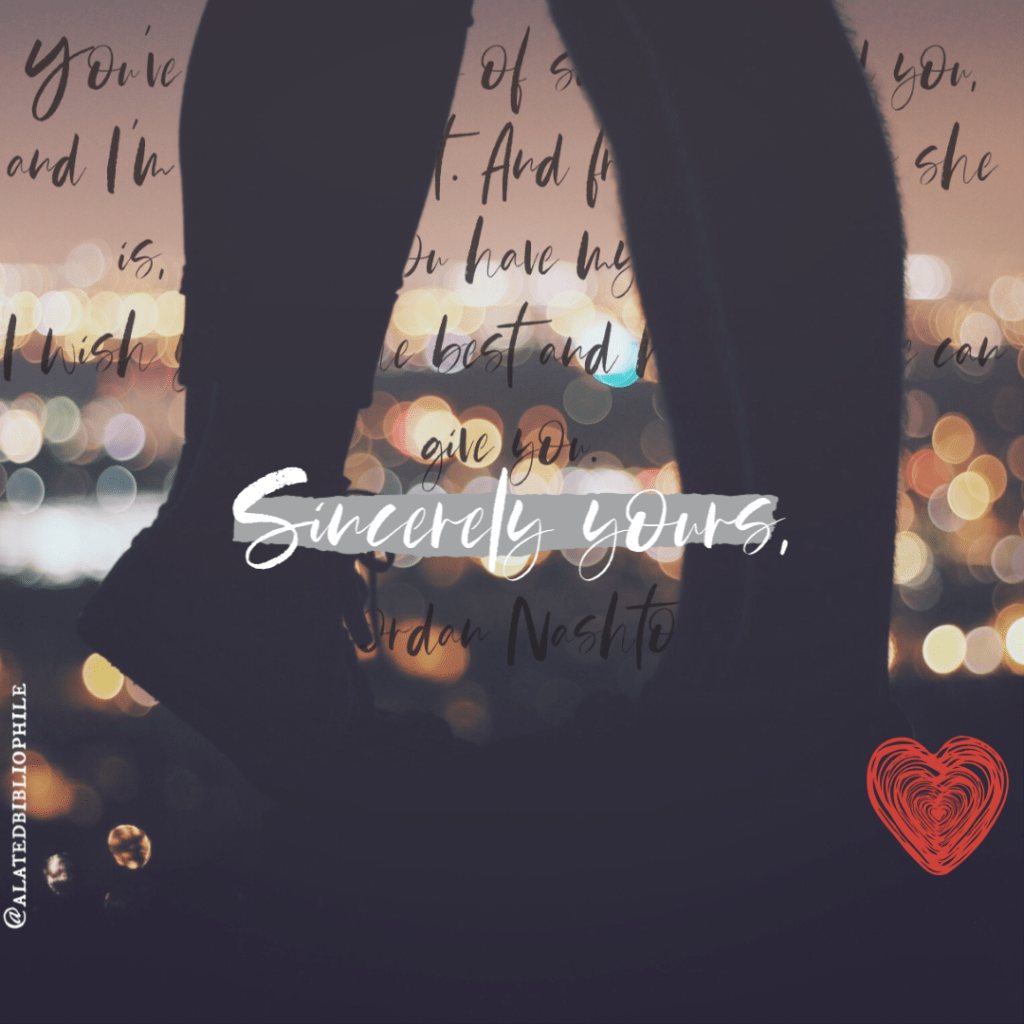 Happy reading!

Sign up for
my newsletter
!
Become a Patron!
Check out my Amazon storefront for several book lists, including a list of freebies!:
Alated Bibliophile Storefront