disclosure: this post may contain affiliate links. please visit my disclosure policy for more details.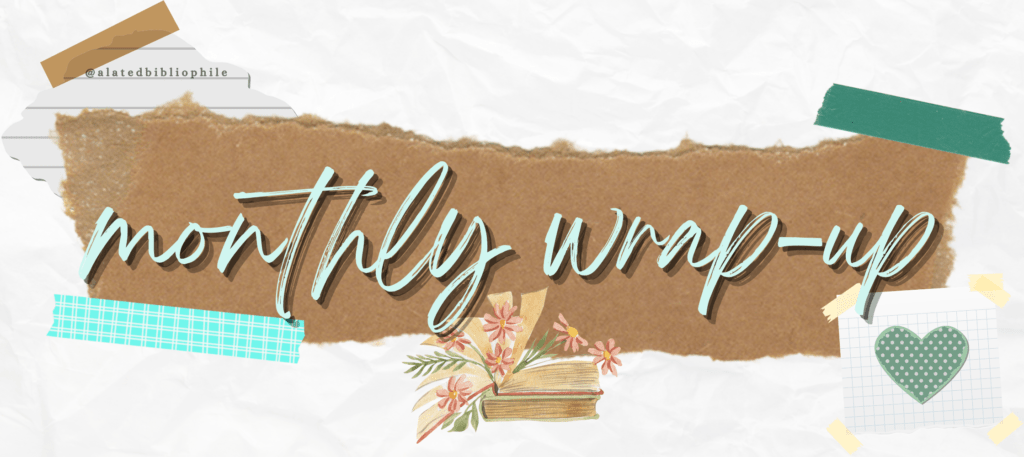 (As always — Please keep in mind that heat level and ratings are based on my own personal opinion. It's possible–and totally likely!–that you may disagree with me. Also, I try to include trigger warnings, but I may have missed some, so if you're concerned, I would encourage you to check out Trigger Warning Database and/or Book Trigger Warnings.)
Also–I definitely have the bad habit of not adding books to my posts as I'm reading, so I tend to forget TWs and heat levels, lol. I'm trying to get better about that, sorry!!
Three to Find by Kelsey Soliz
The goddess has jokes. It seems I'm at the end of her latest one. I've been notified that I have three mates I must find, and if I can't complete my circuit, it's not too big of a deal. It's just that, well, the Night might eat my soul. So, the fact that one of my mates doesn't want me, and that I don't know who the last one is, isn't too worrisome. Do I really need my soul?
The Night has jokes, too. Should I trust the bond that he created between me and his son? Or will his epic play end on his terms?
Anyone have a breathmint?
Blurb from Goodreads.
---
I've been enjoying these books and I'm loving the dynamic that The Night's son brings. I love him.
Trigger warnings:
Heat level: 🌶🌶🌶 (i think)
Rating: 4
Shadow's Kiss by T.M. Hart
A violent storm. Unending night . . . Violet Archer is running through the darkness, for her very life.
A single spark blazes, calling to her. It is her chance at salvation. It is a connection beyond any she could have ever imagined. And it leads her to a lonely cabin in the woods.
But when Violet wakes, she has no memory of how she got there. She is disturbingly ill. And a chilling evil creeps through her veins. Worse still, her host, the tall and powerful Elijah Stone, is intent on killing her. Yet a cataclysmic bond, neither can deny, stays Elijah's hand.
Radiants, immortals of the Light, have been warring with their enemies, the Shadows, for millennia. Now, twisted together by fate, the two adversaries must embark on a journey. One on which their very lives depend. Unfortunately for Violet, she does not know who she can trust, especially when it comes to her guide, Elijah.
But it turns out that Violet and Elijah are not alone on their quest. They soon realize they are being hunted along the way. It seems Violet has a dark debt to settle.
And someone very dark, indeed, is about to collect his due.
Blurb from Goodreads.
---
These books are so good, but potential warning and slight spoiler: this reminds me a lot of ACOTAR in the sense that
Trigger warnings: please check trigger warnings
Heat level: 🌶
Rating: 4
Goodreads | StoryGraph | Amazon
Shadow's Touch by T.M. Hart
Violet Archer has spent her life fighting Shadows. Now she's married to their prince. There's just one problem for the Dark Lord… His new bride is plotting to kill him.
Shadows have been attacking Radiants for millennia. They creep through the streets at night and take innocent lives, feeding from a Radiant's Light. Yet Violet is out there in the dark, fighting with an elite team to eliminate the guerrilla attacks and keep her people safe. While she's good at what she does, it isn't enough.
So when the opportunity to do something more arises, Violet takes it. But now she finds herself at the dark and dreary Shadow Court. And she slowly realizes that nothing is as she thought.
While her dark and mysterious host evades her, she finds herself unable to fight a supernatural pull she has to him. And the more time that passes at the Dark Manor, the more they find they need one another. After all . . . their lives depend on it.
Blending the best of both paranormal romance and urban fantasy, Shadow's Touch is a dark and steamy adventure full of twists and turns that will leave you wanting more!
Blurb from StoryGraph.
---
So, so good. I highly recommend this series!
Trigger warnings:
Heat level: 🌶
Rating: 4
Goodreads | StoryGraph | Amazon
Shadow's Due by T.M. Hart
Violet Archer's world is crumbling down around her. She's discovering things she never knew and there's still more to come. Determined as she is, she's rolling with the punches–and knocking out a few of her own.
She's finding herself in the middle of . . . well . . . quite a few things. And as deeply tangled as she is with two very powerful men, she can't just walk away from either.
She's also carrying a heavy burden, with the weight of two warring races on her shoulders, a prophecy to fulfill, and an item she must procure for the god of death.
And none of it will be easy. Violet is going to have to make her way through some very dark places . . . if there is any chance of finding the light.
*Adult novel. Contains mature and explicit content.
**Advisory warning for those with sensitivities or triggers to issues regarding mental health and well being.
Blurb from StoryGraph.
---
Keeps getting better. I simultaneously can't wait to read book 4 and also need a break because it is angst galore, lol
Trigger warnings:
Heat level: 🌶🌶
Rating: 4.5
Goodreads | StoryGraph | Amazon
Regrets, Presley by Autumn Reed
As Country Music's Sweetheart, I'm taking the world by storm…until my boyfriend exposes my deepest, darkest secret on national television.
Now, I'm disgraced. A liar. A fraud.
And I'm officially done.
In a desperate attempt to escape Nashville and everything about my life in the spotlight, I end up at a horse sanctuary in middle-of-nowhere Wyoming. It should be the perfect refuge, but I wasn't counting on three tempting cowboys to complicate my life further.
Clayton is a big-hearted single father who insists he's too old for me. Beckett is a fun-loving ladies' man who never fails to make me smile. And Sawyer despises me on sight but keeps showing up to defend my honor.
I might be content hiding from the world, but there's no hiding from my growing feelings for these men who have a talent for saving me. If only I could figure out how to protect them from the chaos that follows a celebrity, fallen from grace.
**Love Notes is a series of interconnected, reverse harem standalone novels.
Blurb from StoryGraph.
---
Trigger warnings:
Heat level: 🌶🌶.5
Rating: 5
Knightfall by Ann Denton
Want to kill my sister? You'll have to go through me first.
I will stop you. Even if it means I have to go back to the palace. Even if it means I have to take back the crown I left behind. Even if it means I have to face the four men I left at the altar. I will take on them and their anger. I will take on anything to save Avia.
Because the kingdom needs her.
The kingdom needs a good queen.
Not a cursed one. Not me.
If I can't save her, then the kingdom will fall. Because I can't rule.
I'm a walking death sentence for anyone who gets too close…
Blurb from Goodreads.
---
This one was just alright for me. I think it was more of a mood thing for me than a reflection of the book, though.
Trigger warnings:
Heat level:
Rating: 3
Goodreads | StoryGraph | Amazon
The Fae King's Curse by Jamie Schlosser
Kirian and I were just twelve years old when I pulled him from the icy waters of the creek behind my house. As he looked in my direction with unseeing lavender eyes, I quickly realized our age was just about the only thing we had in common. He spoke with an accent, he had pointy ears, and he was so beautiful it made my heart ache. Oh, and he claimed to be a fae prince cursed by witches who stole his sight.
I thought he was crazy from hypothermia. Turns out, he wasn't, and for some reason he keeps coming back. But a day in my world is a year in his. Every time I see him, he's older. Wiser. Hotter.
Over the past six years, I've tried not to fall in love with him because the terms of the curse are clear: If he doesn't wait for his fated mate in all ways, including an innocent (or not-so-innocent) kiss, he'll be blind forever.
So when Kirian kisses me and pulls me through the portal to his realm, I make it my mission to do some damage control. It'd be a whole lot easier if he wasn't determined to marry me… And if someone wasn't trying to murder me every step of the way.
Blurb from Goodreads.
---
I really enjoyed this one! I loved the storyline and the characters were super loveable ❤ Kirian is super sweet and the way he's completely head over heels for the heroine is so lovely. There are a lot of fun characters in this book and I'm looking forward to continuing the series!
Trigger warnings:
Heat level: 🌶
Rating: 4
Goodreads | StoryGraph | Amazon | Book Depository | Bookshop
Fate Hollow Academy: Term 1 by Lyra Winters
Welcome to Fate Hollow Academy, where supernaturals blessed by the Fates cultivate their manifested powers and master ancient magic.
Fate Hollow is the academy of the elite, where supernatural beings with special magic train for war against humans.
A big-hearted, naïve arctic fox shifter like me couldn't have prepared for the treachery lurking within the walls of the academy. Students were going missing or turning up dead on campus and rumors circulated about humans infiltrating academy grounds.
Seeds of fear bloomed within the student body. To make matters worse, the mate that rejected me was hellbent on painting a bright red target on my back with the help of his new girlfriend.
Against all odds, I found refuge with seven irresistible monsters, each one more different from the last.
Would the bond of my mates be enough to manifest my hidden power? Without it, I was vulnerable. And with a dragon cult attempting to wage war on humans, I had no choice but to fight.
Blurb from Goodreads.
---
I loved this one. It's so cute and the shifters are different and fun. I can't wait for book 2!
Trigger warnings:
Heat level: 🌶
Rating: 4.5
Goodreads | StoryGraph | Amazon | Book Depository | Bookshop
Protector's Academy: Sparking Magic by Nika Gray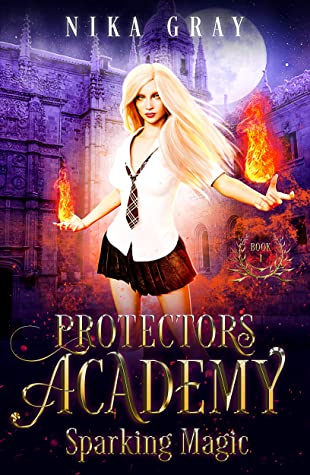 Three sexy elemental mages, a shifter and a magic freak who sparks their magic in weird ways. Yeah, what could go wrong in this scenario? Welcome to the Protectors Academy!
I don't know who I am. I don't know how I got here. But I know if I stop running, I will never be free.
When I burst from the woods into a rush of headlights and asphalt and open night sky, I think I've made it. I'm safe.
Then a blinding burst of energy explodes in front of me and the last thing I see before it all goes dark is a handsome face hovering over mine. Yay me, right?
But when I open my eyes, I find myself magicked to a hospital bed with some non-handsome guy telling me they've never seen my kind of magic before. At least, not in this world.
The way they see it, the choice is simple: enroll in their magic academy and learn to manage my power or spend the rest of my life in a cage.
And that's how I land at Protectors Academy, a cut-throat magic boarding school where the heirs of the rich and important rule while they compete for an elite position on the borderlands.
But I am not safe here, either. I'm being followed, a group of mean girls is on my case and four of the hottest guys on campus don't know what to do with me. And that's before someone comes after me and the entire school blames me for burning down my own dorm room.
All I want to do is pass their tests and get out of here. But first, I have to survive.
Reverse Harem Academy readers will want to scroll up and one-click to this action-packed, mystery-filled steamy romance.
Blurb from Goodreads.
---
I enjoyed this one. It didn't blow me away but it also wasn't bad at all.
Trigger warnings:
Heat level:
Rating: 3.5
Protector's Academy: Defense Magic by Nika Gray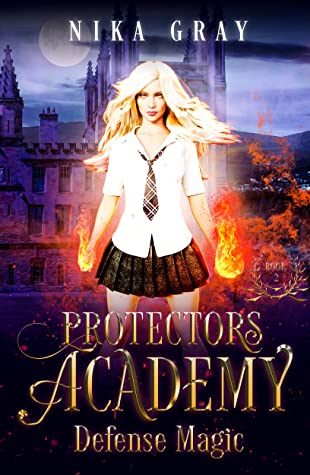 I've found allies in the unlikeliest of places…
I didn't choose the Protectors Academy, it chose me. And that's despite who and what I am. My magic has bonded with two of the most beautiful men I've ever seen and I've found friends through a secret underground group helping my kind.
Yet, I'm hunted. Keeping ahead of my pursuers is taking a toll on me and my men, who risk losing their place among the ruling families. As our magic-bonded group expands, unseen forces attempt to rip us apart.
The preparations for the first years' battle trial have begun and while training has been going well, I'm surrounded by enemies. The only thing keeping me going is the knowledge that my men and I have chosen each other and together we're going to face whatever comes. No matter what.
Reverse Harem Academy readers will want to scroll up and one-click to this action-packed, mystery-filled steamy romance.
Blurb from Goodreads.
---
Same feelings as book 1. It's a fun series though!
Trigger warnings:
Heat level:
Rating: 3.5
Checking In by Michelle Williams
"I need help."
Those three words saved Grammy Award–winning singer Michelle Williams's life. After decades of sweeping her anxiety and depression under the rug—even during her years in the spotlight with Destiny's Child—Michelle found herself planning her own funeral. Realizing that she needed immediate help and could no longer battle her anxiety and depression alone, she checked herself into a treatment facility. When she came home, she was energized and determined to check in on a regular basis with herself, God, and others.
Practical, engaging, and full of wisdom, Checking In helps us understand that
building walls around our vulnerability can hinder our healing;
we need to reject the lies of anxiety and depression and replace them with the truth of God's Word;
joy can be found when we release toxic thought patterns;
childhood wounds need to be healed;
freedom can be found when we forgive ourselves and others; and
a beautiful life comes from living honestly.
An uplifting, behind-the-scenes look at one woman's path to healing, Checking In reminds you that you are not alone, and that God is not yet finished writing your story.
Blurb from Goodreads.
---
Trigger warnings:
Heat level: n/a
Rating: 4.5
Goodreads | StoryGraph | Amazon | Book Depository | Bookshop
Dark Magic University #1 by Jenna Edon
A half blood, three sexy protectors, and a death that will ignite a supernatural war.
I never fit in at high school and now I know why. As it turns out, I'm not quite human. My guidance counselor recognizes something in me–power–and enrolls me at Marcovian University where I can master my gift.
I finally feel as though I belong even though I'm only a half blood by their estimation. Since I'm not pure, the chancellor insists on appointing protectors for my safety which is a joke. My so-called protector, Drax, clearly wants nothing to do with me and, believe me, the feeling is mutual. Trey all but balks at the notion of watching over me. And then there's Wyatt, lethal and sexy as hell, but he seems to have his mind on one thing. If I'm to survive potential threats, I need someone to focus on more than my body no matter how good it feels.
I know I should be grateful, but I start to think I may be better off on my own. I've always looked out for myself. Why stop now?
But when a student turns up dead and I'm the prime suspect, I have no choice but to rely on my protectors. I've already got a target on my back as a half breed, but if word gets out that I may have killed one of their own, it will put my life in peril.
Dark Magic University book one is a medium burn, new adult, paranormal romance about a feisty FMC and the three hot guys sworn to protect her.
Blurb from Goodreads.
---
Another "just okay" read for me.
Trigger warnings:
Heat level:
Rating: 3
Goodreads | StoryGraph | Amazon
To Kill a Fae by C.S. Wilde
Fae enjoy playing dangerous games.
In detective Mera Maurea's experience, three things motivated a murder: secrets, convenience, or passion. But none of the three can explain why the Summer King is dead.
With a tight deadline hanging over her head, Mera has to figure out who's the culprit before the frail balance that holds the nation of Tagrad together crumbles into dust.
To aid her—or turn her life into a living hell, hard to tell which—is her fae partner Sebastian Dhay, a snarky detective with a penchant for the illegal. He's a volatile wild card who will do anything to solve the murder, even if it means his doom.
The clock is ticking. And Mera is hiding a deadly secret of her own.
Blurb from Goodreads.
---
I absolutely loved this book. I couldn't put it down. Aside from the super offensive way the hero first greets the heroine ("Hey, sugar tits" is probably one of the most misogynistic things I've ever heard, but please keep reading. He's worth it), I loved this book. Fair warning, though: it's suuuuper slow burn.
Trigger warnings:
Heat level: 🌶
Rating: 4.5
Goodreads | StoryGraph | Amazon | Book Depository | Bookshop
Heart of the Fae by Emma Hamm
Beauty and the Beast meets Irish Mythology in this sweeping retelling of the beloved fairytale….
Once upon a time…
A plague sweeps across the emerald hills of Uí Néill, leaving a young midwife's father with months to live. To save her people, Sorcha makes a deal with a dangerous Fae. She must travel across the sea, through merrow and kelpie lands, to find a forgotten king on a crumbling throne.
Born king of the Seelie Fae, Eamonn fought battles unnumbered to uphold honor, duty, and freedom… until his twin brother sank a blade between his shoulders. Crystals grew from the wound, splitting open skin and bone. His people banished him to a cursed isle for his disfigurement, now king of criminals and fools.
With the help of brownies, pixies, and will-o'-the-wisps, Sorcha battles to break through his crystalline shell and persuade him to take back his stolen throne.
This determined beauty could come dangerously close to stealing his beastly heart.
Blurb from Goodreads.
---
I'm a little torn on this one. I absolutely hated the beginning of this book–to the point that I almost DNFed it, but I was so intrigued by the hero of the story that I pushed through. Now…I'm glad that I read this book, but it's not a favorite read of mine. The greatest part of this story was the description of the hero's "deformity," which are crystals that emerge from his skin when he's injured. It's so beautifully described and I adored the imagery.
Trigger warnings: graphic descriptions of a horrendous disease; prejudice; check TWs for more.
Heat level: 🌶
Rating: 3/3.5
Goodreads | StoryGraph | Amazon | Book Depository | Bookshop
Shadowblade Academy: Darkness Calls by KC Kingmaker
At Shadowblade Academy, everyone fears the shadows…
Being the ordinary sister of a supernatural powerhouse isn't fun. I live in the Crust, an outsider town for normies, while she gallivants around her top-secret academy for Abnorms.
Then everything goes sideways on my twenty-first birthday. Mediums scream at me like possessed nuns. Dudes pop out of shadows, trying to kidnap me. My dreams become very strange.
Most importantly, my sister goes missing.
I have to go looking for her, which means finding her school. Problem is, I learn the academy trains magical assassins who manipulate shadows. Badass but terrifying.
Bullies at the academy don't think I belong. Smoldering fae, vampire, and shifter men are obsessed with me for different reasons: attraction, hate, suspicion. And who the hell is the sexy ghost-man haunting my dreams?
I'm trapped in a place where I'm always looking over my shoulder, and I can't even trust my own shadow…
Blurb from Goodreads.
---
I definitely enjoyed this book and I'm super looking forward to reading book 2! Definitely recommend for anyone who enjoys paranormal reverse harem.
Trigger warnings: (check trigger warning database)
Heat level: I can't remember 😬
Rating: 4
Goodreads | StoryGraph | Amazon
Tortured Heart by Anne Hall
Stolen from a loving home as a child, my life has been a living hell since just before my third birthday. Forced to forget my birthright and the powers that come with it. My life consists of cleaning, punishments and being locked within the four walls, I'm forced to call home. Until one day a mistake forces my jailers to allow me to attend the local high school. Where I meet them. Parker, Zack, Ren, Kingston and Rowan. An invisible tether draws me to them. They are some of the only people I have had show me kindness in as long as I can remember. Which terrifies me. How am I supposed to let them into my heart when I've already been hurt by the ones that were supposed to love me the most. Just when I think that everything is going to get better, some new information comes to light and my whole life is turned upside down.
Blurb from StoryGraph.
---
This one's good, but it's incredibly difficult to read due to the graphic depictions of abuse the poor heroine faces. I would say if you have any triggers involving abuse, stay far away from this one.
Trigger warnings: child abuse; physical and emotional abuse; abuse from a parent; forced captivity; graphic torture scenes; sexual abuse
Heat level: if I recall correctly, little to none
Rating: 3.5
Goodreads | StoryGraph | Amazon
Total read: 16
---
like this post? save it!
Kindle Unlimited
Most of these books were borrowed through Kindle Unlimited, and if you've been a follower of my blog for a while, then you know just how much I love the subscription. I use it all the time and have saved so much money, lol.
If you're interested in checking KU out, then click here to see the various plans that are offered!
YouTube
I now have a YouTube channel! It's super new and pretty bare-bones at the moment, but I'd love if you would join me on this journey!
Alated Bibliophile's YouTube Channel