disclosure: this post may contain affiliate links. please visit my disclosure policy for more details.
JC freakin' Valentine, everybody.
Slow. Effing. Clap.
So, first of all, I wouldn't necessarily call this a "romance." I would call it a thriller with romantic elements. That's just my opinion and I'm honestly splitting hairs, lol. So, don't let that keep you from reading this book because trust me, it's an incredibly well-written story.
Calling the two main characters "hero" and "heroine" is a pretty big stretch, to be honest, lol. They're both flawed in the extreme and the situations they're in are pretty f*cked, to say the least. I mean, he's a hitman and she hired him to off her husband, so … if that doesn't scream dysfunctional, I think we need a different description of the word.

Declan is this interesting mix of terrifying, sexy, and completely psychotic. The whole time I was reading, I was torn between being disturbed by his actions and thought processes and hoping he gets his own happily ever after. I wouldn't say he's all bad; he definitely has a heart, but it's certainly corrupt. Still, you can't help but be impressed by his confidence and unwavering attitude. I admired his personality, even if I was a bit afraid of him, lol
He definitely crosses over into stalker territory with Faith; watching her, following her, feeling drawn to her and not understanding why. While that last one isn't necessarily a stalker quality, the way he acts after having those feelings is.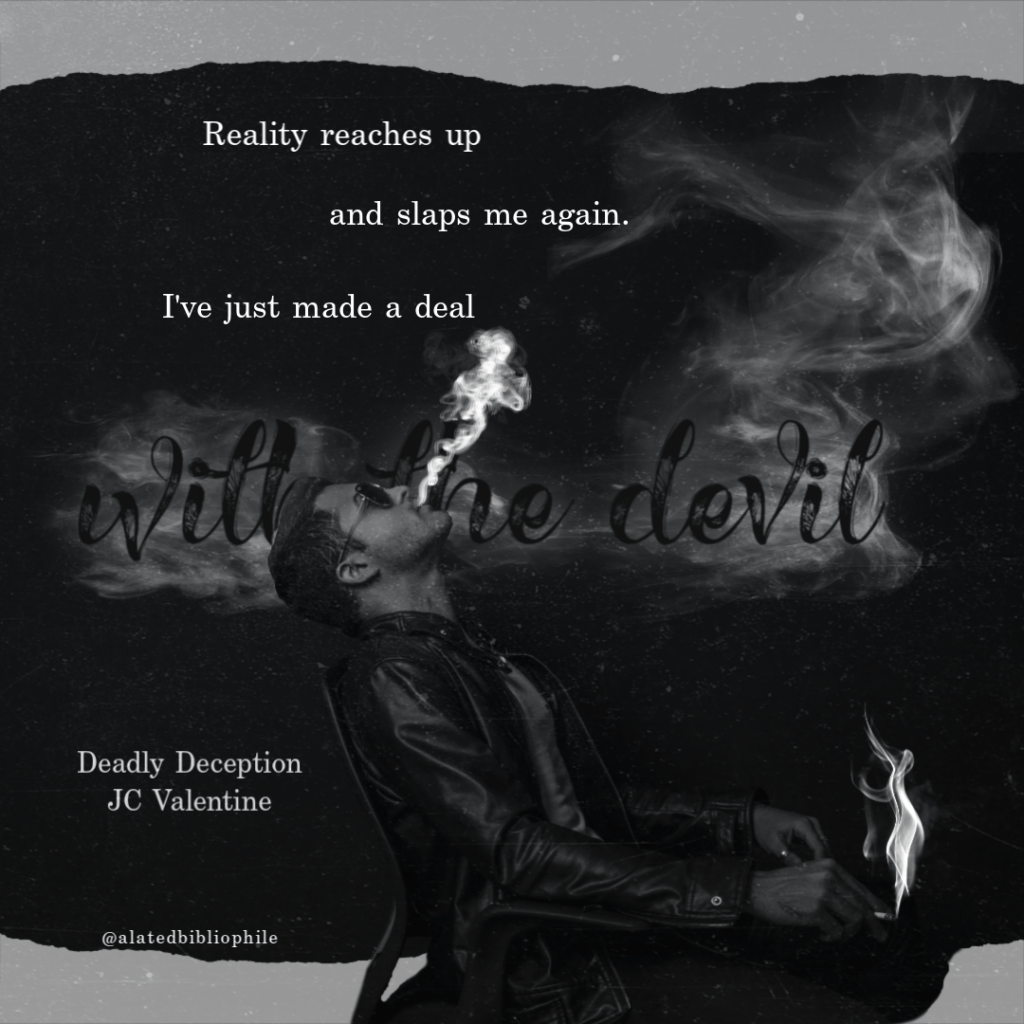 Faith is an interesting character. Obviously, considering the fact she's hired a hitman, she's not one to think super highly of, but there's also a point where you're being shown this woman who believes she's in an impossible situation. When you see this woman who's been manipulated, emotionally abused, and cheated on, it's impossible not to feel empathetic toward her–no matter how much you may disagree with her actions from that point on.
The angst she feels while waiting for the week to end–the deadline Declan chose to take her husband out–was nothing short of compelling and had my heart speeding while I read. This woman just wants to be free to start her life the way she sees fit and I found myself rooting for her in a morally messed up kind of way.
The sexual tension between Declan and Faith was a palpable thing. It was clear they wanted each other, no matter how wrong they both knew that it was. They're drawn to each other in a way neither truly understands–but Faith knows that she wants him and she's going to do just about anything to get him.
This was a brilliantly written novel with compelling characters and a story that kept me guessing up until the bitter end. If you're a fan of romantic suspense and/or thrillers, do yourself a huge favor and read this book. I would also recommend this book for fans of You by Caroline Kepnes. There were some definite parallels between the stories–while still remaining totally different–and I loved it.
This was a different read from my norm, but I certainly wasn't disappointed. JC Valentine is one of my favorite authors and I was ecstatic to read her first venture into dark romance. Get ready for some breathtaking twists and chemistry that is off the charts!
Happy reading!
I now have a store on Teespring! I only have two designs right now, but stay tuned for more to come <3
You can check that out here:
Sign up for my newsletter!
Check out my Amazon storefront and shop all my favorites (plus get some exclusive deals!) here!