disclosure: this post may contain affiliate links. please visit my disclosure policy for more details.
This was my first read by Lynsey M. Stewart. I tend to enjoy angst-filled stories, so I was immediately drawn to the blurb when I read it.
In this story, we have two completely different people dealing with their personal grief in vastly different ways. Honestly, these two individuals couldn't be any more different if they tried.
First, we have Nat–a woman who has decided to stop pursuing her dream of becoming a famous dancer and instead goes back to the town she grew up in to take over her grandmother's dance studio. After years of being away from her hometown after the tragic deaths of her mom and younger sister, she's bombarded with memories–both good and bad–and is doing her best to honor her family's memories while continuously moving forward with her life. Nat has never wondered how to keep living; she just does. She's confident in her grieving process and she seems to know how to handle it in a healthy and cathartic way.
Then there's Alex; a widower with a young daughter, still grieving the death of his wife as though she had died just yesterday. He's so blinded by his grief that he's forgotten who he is without it constantly hanging over his head. He can't even process his own emotions, let alone those of his daughter's. Alex's pain comes out in a brash and abrasive attitude, cutting words, and a deeply embedded scowl. In essence, he's bitter and jaded and has a huge chip on his shoulder. He has no idea how to handle his emotions or how to get beyond the turmoil he's been living with for years, so rather than figure out how to deal with all his suppressed feelings, he's built an impenetrable wall around his heart.
And I can't write a review about this book without mentioning Eli (Elise), Alex's precocious and sweet little girl. She was so much fun to read about; her joy is palpable and infectious and the connection she and Nat have from their first meeting is so adorable. <3
Alex and Nat certainly didn't expect what they find in each other. Like recognizes like, and grief is no exception. In one another, they find comfort and solace; strength and renewed faith in love. However, just like any other good love story, the road isn't easy and they face several challenges and hurdles they must overcome, should they desire to hold on to their relationship.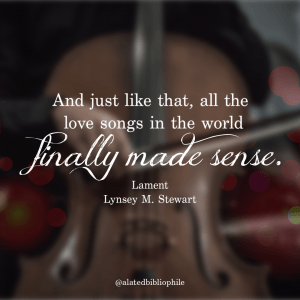 This book is at times incredibly frustrating–I actually didn't like Alex one bit at first, but once he started to thaw, he grew on me–sometimes sweet, incredibly sexy, and filled with little surprises. It was a beautifully written story all about overcoming the sometimes all-consuming heartbreak of grief and learning how to open your heart up and love again. While the first part of the story was somewhat difficult for me to get through (though, to be honest, I think that has much more to do with things going on in my personal life than the story itself), the second half was completely the opposite and I found myself glued to the pages, needing to know if Alex and Nat get their happily ever after. All in all, I enjoyed this book and I would gladly read another story from this author <3
Happy reading!
* This post includes an affiliate link, which means if you purchase anything using that link I'll make a small commission. This comes at no extra cost to you, but it helps me out a lot <3
If you'd like to keep up with my reviews and various book-related news, follow me here:
Sign up for my newsletter!
Also, if you liked my review, may I ask you to pin my graphic? Your support goes a long way, and I couldn't be more thankful!