disclosure: this post may contain affiliate links. please visit my disclosure policy for more details.
(Please keep in mind that heat level and ratings are based on my own personal opinion. It's possible–and totally likely!–that you may disagree with me. Also, I try to include trigger warnings, but I may have missed some, so if you're concerned, I would encourage you to check out Trigger Warning Database and/or Book Trigger Warnings.)
A Court of Wings and Ruin by Sarah J. Maas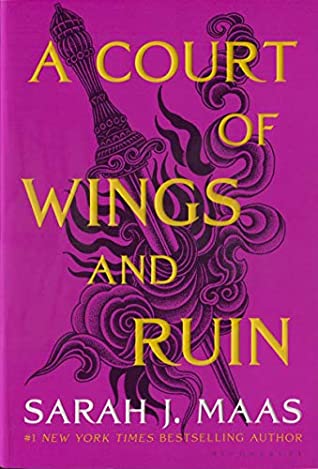 FEYRE WILL BRING VENGEANCE.
She has left the Night Court – and her High Lord – and is playing a deadly game of deceit. In the Spring Court, Tamlin is making deals with the invading king threatening to bring Prythian to its knees, and Feyre is determined to uncover his plans. But to do so she must weave a web of lies, and one slip may spell doom not only for Feyre, but for her world as well.
As mighty armies grapple for power, Feyre must decide who to trust amongst the dazzling and lethal High Lords – and hunt for allies in unexpected places.
BUT WHILE WAR RAGES, IT IS HER HEART THAT WILL FACE THE GREATEST BATTLE.
Blurb from Goodreads.
---
Trigger warnings: blood; death; violence; emotionally abusive relationship (past); r*pe (past); violence; war (from Book Trigger Warnings)
Heat level: 🌶🌶
Rating: 5
Goodreads | StoryGraph | Amazon | Book Depository | Bookshop
A Court of Frost and Starlight by Sarah J. Maas
Hope warms the coldest night.
Feyre, Rhys, and their close-knit circle of friends are still busy rebuilding the Night Court and the vastly changed world beyond. But Winter Solstice is finally near, and, with it, a hard-earned reprieve.
Yet even the festive atmosphere can't keep the shadows of the past from looming. As Feyre navigates her first Winter Solstice as High Lady, she finds that those dearest to her have more wounds than she anticipated—scars that will have a far-reaching impact on the future of their court.
Narrated by Feyre and Rhysand, this wondrous tale of hope and promise picks up after A Court of Wings and Ruin and sets the stage for the thrilling events in the future books.
Blurb from Goodreads.
---
Trigger warnings:
Heat level: 🌶🌶
Rating: 4.5
Goodreads | StoryGraph | Amazon | Book Depository | Bookshop
Mad as a Hatter by Kendra Moreno
Descend into Madness…
Clara spent her whole life fighting in courtrooms for the downtrodden, the strange ones, the abused. It's only natural that when a man with rabbit ears on his head comes to see her, she doesn't blink an eye…
…until he opens a portal and drags her to Wonderland.
But this isn't the world she's read about at home. This world has been twisted, poisoned by none other than the Red Queen.
There's a prophecy, the only chance Wonderland has of survival. Clara is foretold to defeat the Knave and claim the Hatter's heart. But there's a problem. The Hatter is insane and Wonderland is full of unspeakable horrors. Death waits behind every tree. If the Beezles don't get you, the Bandersnatch will.
Can Clara embrace the madness and her destiny, or will the reign of the Red Queen continue?
This isn't the Wonderland you know…
Blurb from Goodreads.
---
Trigger warnings: gore; death (I can't think of any others right now, so definitely do some checking for yourself if you're at all concerned)
Heat level: 🌶🌶 (I think)
Rating: 4
Goodreads | StoryGraph | Amazon
The Vampires Will Save You by Rebecca F. Kenney
So… I didn't handle the zombie apocalypse well.
I used to be a third-grade teacher, but since the Gorging, my life has been…kinda rotten. I lost my group to the undead, became indebted to one of the gangs, and now I've been sold as a blood-slave.
My new owner is Atlan, one of the vampire warriors who guard Blue City's walls and defend us from the zombies. The vampires are like celebrities around here. It's my job to provide Atlan with a clean blood source and any other services he needs.
I keep telling myself I'm one of the lucky ones. But with the zombie hordes moaning on the other side of the wall, and the human-shaped monsters roaming Blue City, I'm not so sure anymore.
Blurb from Goodreads.
---
Trigger warnings: human sl*very; human trafficking; some abuse
Heat level: 🌶.5/🌶🌶
Rating: 4.5
Goodreads | StoryGraph | Amazon | Book Depository | Bookshop
Kiss by Tana Rose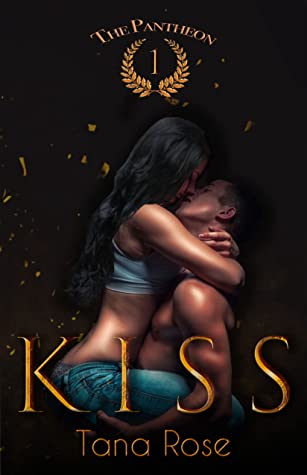 Sometimes you have to seek monsters to escape a monster
My mom and I, we have a secret. For the last two years, we've been on the run from someone far worse than Ares, Hades and Vulcan. We're tired of running. What better place to hide than behind the walls of Olympus? The home of The Pantheon, the mafia that controls East Haven?
When we arrive three dangerous men take an unlikely interest in me, despite my efforts to keep them at a distance.
Vulcan: The sweet, flirty tech wizard
Hades: The assassin with eyes so blue it hurts
Ares: The heir to it all with an attitude to match
The men of The Pantheon think they are the baddest of the bad, that living with them is a danger to my body, my soul and my virtue. I'm here for one reason and one reason only: Security. Their ten foot walls and cameras. Their guards and guns.
But they want to give me more.
They want to take more too.
Blurb from Goodreads.
---
Trigger warnings: definitely do some checking because I know there are some, but I can't recall them right off
Heat level: 🌶🌶.5-ish
Rating: 3.5
Empire of Desire Rina Kent
My forbidden husband.
I kissed my father's best friend and it kind of didn't go well.
Not only because he's eighteen years older than me-but he also didn't like it.
Not one bit.
In my defense, I didn't mean to fall for him. It just happened.
Nathaniel Weaver is the most attractive man I've ever seen with enough charisma to blind the sun.
He's bigger than the world, owns half of it and conquered the other half.
He was forbidden.
Wrong.
So I totally got over him. Or so I told myself.
Until we're forced to get married.
Now I'm trapped.
But maybe he's trapped too.
Because we're both reaching for that forbidden fruit dangling between us.
Empire of Desire is a complete STANDALONE. No other books should be read prior to this.
Blurb from StoryGraph.
---
Trigger warning: slightly taboo storyline (father's best friend)
Heat level: 🌶🌶.5
Rating: 4
Goodreads | StoryGraph | Amazon | Book Depository | Bookshop
Destiny by D.D. Larsen
Book 1 of the Academy Series begins with Destiny, a thrilling fantasy story with magical creatures and sizzling romance.
Despondent after a failed career move, Jamie returns to her remote hometown to rekindle old relationships and hopefully rediscover her life's purpose. While visiting the local coffee shop , she meets the rugged stranger Wren, who works as a park ranger and always seems to be around when she needs him. But he also appears to have a strange connection to the mysterious wolf residing in the forest.
As Jamie grows closer to Wren, she stumbles into a paranormal world of dark magic, shapeshifters, and deep, supernatural connections. At the same time, Jamie discovers the mysterious powers that have lain dormant within her for years.
A paranormal story about shape-shifting wolf, a fantasy about a young woman with special powers, and a sexy romance with a mysterious stranger, Destiny heralds the arrival of a talented new voice in contemporary fantasy and romance.
Blurb from Goodreads
---
Trigger warning: light cheating (the h and the H aren't "technically" in a relationship at the time, but they may as well be, honestly. At least imho.)
Heat level: 🌶.5
Rating: 2.5/3
Goodreads | StoryGraph | Amazon
Moon Touched by Elizabeth Briggs
My fated mate rejected me—and now I've been captured by someone even worse.
As the half-human outcast of the Cancer pack, I've been beaten and bullied my whole life. Gaining my wolf form and my fated mate is my only chance to change packs and hope for a better life.
Except when my fated mate is revealed, he's the future alpha of the Leo pack—our worst enemies. He rejects me in front of everyone, just before the Leos slaughter my entire pack and murder my family.
I manage to escape, but then I'm kidnapped by a far greater threat: the alpha of the mysterious lost pack. The 13th sign was banished from the Zodiac Wolves years ago, and I thought they were just a myth.
They're real. They're holding me captive. And the dark, dangerous alpha is offering me something I can't refuse—revenge.
Blurb from Goodreads.
---
Trigger warnings: death; confinement; bullying; (check for others)
Heat level: 🌶.5
Rating: 4
Goodreads | StoryGraph | Amazon | Book Depository | Bookshop
Total read: 8
Kindle Unlimited
If you've followed any of my wrap-ups and/or reviews, then you know that most of what I read is available on Kindle Unlimited. I always recommend KU, especially if you tend to read a lot (like I do!) and don't want to spend a whole lot of $. If you're at all interested in KU, click on the link below:
Kindle Unlimited Membership Plans
---
YouTube
I now have a YouTube channel! I'm super new, so I only have one video up so far, but I plan on making a lot more 😊
If you'd like to join me on my journey, check me out here: Alated Bibliophile YouTube
---
Like this post? Save it!