disclosure: this post may contain affiliate links. please visit my disclosure policy for more details.
*This post was edited on 2/24/2023*
Oh, Lana and her men in their final installment … *happy sigh*
In the last book, Game of Lies, Lana has been betrayed by someone she trusted and respected, she's taken as prisoner for a horrendous reason (not that there's ever truly a good reason for being taken prisoner …), and to top it all off, her magic has been rendered temporarily useless. There's so much that happens in the first few chapters alone that made me keep reading, desperate to discover how she would make it out of this.
Everything really comes to a head here. In the time Lana is away, she's become the symbol of fighting back, of hope, and of justice. She doesn't want to be, but her men work hard to convince her that she's exactly what everyone has been needing. They need a symbol of hope and a reason to feel like they're truly fighting for something. It was obviously much better stated in the book than my quick little attempt at summing it up, but it was wonderfully stated. In a lot of ways, it reminded me of Katniss's progression in The Hunger Games and how she was this unwilling symbol of hope and perseverance.
The fight scenes in this book were so intense, and they were so incredibly written that I felt like I was seeing them play out in front of me. There are a few close calls and some twists and turns I wasn't sure would be salvageable, but Ms. Moss expertly pulls them off. It was super nerve-wracking when all the Blighted joined in the fray and I was somewhat concerned how they would hold up against the magic users, but wow, did they ever hold their own. These people were sick of being treated like they somehow mattered less simply because they had no magic, and it was certainly a mistake for anyone to underestimate them. Because they didn't have magic, they had to be a little more creative with their ways of fighting, and it was pretty impressive to read about.
Then there's Lana and her four men. These five work together seamlessly; the four guys had been a team for quite a while and the addition of Lana brought even more skills and energy to the team. It's clear the guys love each other like brothers and they're each so in love with her–and vice versa–and that love definitely helps create a nearly flawless team of individuals who are definitely able to hold their own, but who work together even better. The main showdown between the "big bad" and his minions had my heart racing as I was trying to figure out how everyone would come out of it alive. Not only do you grow attached to the five main characters, but there are some side characters you really grow to love as well, so it was difficult reading through that and wondering how the author would bring everything together. Even with the way the battle finally comes to an end, I had my thoughts on how I figured the fight would go, but it still didn't end quite like I expected–which is a good thing. And even Ivy joined in on the fight! She proved to be pretty useful, also. I loved getting a little more of her in this book; she's such a fun character.
Then, of course, at the heart of this series is the immense love these guys and their woman share. Akio takes some time to come around and finally–finally!!–admit his feelings, but once he does, it's amazing. That was one of my favorite parts of the entire series. I knew there was something more to his story than what we'd seen already, but his confession and finally learning to accept her love was absolutely everything I was hoping it would be.
And then Jae … oh, sweet, emotionally aloof, super sexy Jae … You find out all of Jae's baggage in this book. It's absolutely, one hundred percent heartbreaking, and completely explains why he's been so distant with her. The scene where they're finally intimate with one another is both devastating and so beautifully heartwarming that it actually brought a tear to my eye. And the absolute love and adoration he has for her is just … ugh. It's so sweet and romantic and made my fricken heart melt.
There are more steamy scenes than the two I've just mentioned, but these are the ones that stuck out to me the most. I thought Akio's scene with her would be my undoing, but it turns out it was Jae's, simply for the pure emotional aspect of it. Though like I've said several times in my RH reviews … I'm so glad I don't *actually* have to choose, because really, it's impossible to between these four. They're all so different but they each bring out a different side to Lana that she wouldn't have if she were only with one of them. Hashtag: WhyChoose, amirite?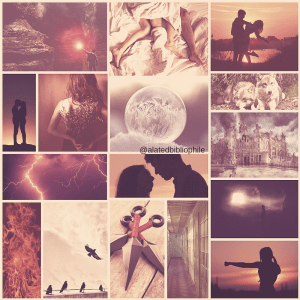 Anyway, all of this rambling to say–I adored this book. I'm not surprised in the least that it was amazing, but sometimes you have certain expectations for the final book in a series and it doesn't always measure up, you know? Well, that certainly wasn't the case here. All of the questions that have been plaguing me from the very beginning are answered, there weren't any pesky plot holes, and the effing characters … it's rare to read a book that has not just one, but multiple characters that you feel like you can really connect with, and that's how I felt reading this series. I connected with the heroine; she was a perfect blend of vulnerable, weary, strong, badass, loving, caring, takes-no-shit, and bows down to nobody. She also never once went back on her belief that the Blighted are just as important as any magic users, which I thought was extremely commendable. She could have easily let the fortune and fancy dresses and parties get to her head, but instead of turning her back on everything she believed in, she used her new powers to continue to do whatever she could to change the way the Blighted community was looked upon. It was awesome.
And I still managed to add something else to my ramblings 😉 Sorry not sorry, I hardcore loved this series and I know it's going to be one that I reread again and again. I highly, highly recommend it and I only hope my reviews have done the series justice. If you're interested in the reverse harem and paranormal/urban fantasy genres, please check out this series! And as always, if you do, come back here and let me know what you thought 🙂
Happy reading!

* This post includes affiliate links, which means if you purchase anything using that link I'll make a small commission. This comes at no extra cost to you, but it helps me out a lot <3
My reviews of the other two books in the series:
Follow me for more book-related reviews, news, and more! 🙂