disclosure: this post may contain affiliate links. please visit my disclosure policy for more details.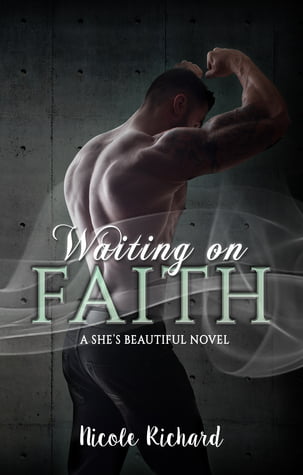 BLURB
She's a woman running from her past.
He's a man with a fractured heart.
Natalie Brentwood is determined to
escape a life of betrayal and abuse. She vows to live
the life she knows she deserves, despite the one
she's endured.
Cy Davis is no stranger to lies and deceit.
He's harbored a ten-year grudge that could quite
possibly ruin his chances with a woman who blindly
captured his heart.
But when two people are brought together by fate,
can they be the light that the other needs? Or will a secret
and past insecurity be a test of their love and faith.
A story of love and hate and the depths one will go to bury
heartbreak that runs deep.
(Picture and blurb taken from GoodReads)

Wow.

To say this book gutted me could be quite an understatement. Nicole is a new author to me, but after reading Waiting on Faith, she has become a new favorite.

This book is angsty, heart-wrenching, and full of truth and honesty. One of my favorite things about this book was how it showed the hero's insecurities. Usually, the books only delve into the heroine's insecurities while the hero is nothing but strong and masculine, but this book shows the hero's problems with insecurities and how he battles them every day of his life while still being the macho man.

I'm not sure how she did it, but Nicole managed to give him a layer of insecurity without making him appear weak, which can be quite the feat. Cy didn't come across as whiny or trying to overcompensate, he just is what he is. He's battling his demons while still managing to be the man that Natalie needs. Sure, they go through their rough patches, but I think those rough patches were necessary for their relationship.

Okay, I'm going to stop before I give too much away 🙂 Please, just trust me when I say this book is fantastic. If you're looking for a romance with a slightly different hero/heroine relationship than what you will normally find, then look no further! And make sure you come back and let me know what you think 😉

Happy reading!
Sign up for
my newsletter
!
Become a Patron!
Check out my Amazon storefront for several book lists, including a list of freebies!:
Alated Bibliophile Storefront