disclosure: this post may contain affiliate links. please visit my disclosure policy for more details.
(Please keep in mind that heat level and ratings are based on my own personal opinion. It's possible–and totally likely!–that you may disagree with me. Also, I try to include trigger warnings, but I may have missed some, so if you're concerned, I would encourage you to check out Trigger Warning Database and/or Book Trigger Warnings.)
Crooked Crows by Elena Lawson
Unapologetically f*cked up. Heartlessly cruel. Broken beyond repair.
Corvus, Rook, and Grey – The Crows.
Bred in a world of gang wars, violence, and secrets, they rule the bloody town of Thorn Valley and all the people in it…too bad for me I've never been good at kissing ass or keeping quiet.
Even if their savage spirits awaken something inside of me I thought was long dead, I can't break. I won't.
They think they scare me, that I'll run and hide, but the joke's on them. The Crows aren't the first monsters I've faced, and they won't be the last. There are worse evils out there waiting to take their stab at Ava Jade Mason.
I say let them try. I'm tired of running. Tired of holding back my darkness. Thorn Valley isn't ready for a new boogie man. Too bad I'm already here.
Crooked Crows is a dark enemies-to-lovers reverse harem romance, meaning the main character will have more than one love interest.
Warning: This series contains foul language, explicit sexual content, graphic depictions of gang violence, and jealous/possessive themes. Recommended for readers aged eighteen and up. Please read responsibly.
Blurb from Goodreads.
---
I definitely enjoyed this one! There's certainly a high level of violence and some bullying, so if that's an issue for you, steer clear. I quite enjoyed this book and I'm looking forward to reading the second one!
Trigger warnings: violence; jealousy; bullying
Heat level: (I can't remember)
Rating: 4
StoryGraph | Goodreads | Amazon
Broken Trust by R.A. Smyth
My name is Hadley Parker, and today is the first day of the rest of my life.
Today I start school at Pacific Prep. This is my new lease on life, and I won't be wasting it.
I need this, now, more than ever. I need the education, the promise of a future that I wouldn't get anywhere else.
These rich kids don't like me though.
When Hawk Davenport decides he doesn't want me here, his friends back him.
Along with Hawk, Westley Warren, Cam Rutherford, and Mason Hayes rule this school and nobody dares go against them.
They don't know the real me. I won't back down.
Blurb from Goodreads.
---
Fantastic story! Hadley is a damaged but strong character and the guys are all awful in their own right, but it also makes their characters interesting, lol. There's so much tension and push and pull between them and Hadley–plus, the story is compelling and the way the guys run the school is so effed up, lol, I couldn't put it down once I started. I will say, if you read this, be prepared to be frustrated! But it's all worth it in the end.
Trigger warnings: bullying; mentions of past abuse
Heat level: (can't remember)
Rating: 4.5
StoryGraph | Goodreads | Amazon
Brutal Lies by R.A. Smyth
This was not part of my plan.
Enrolling at Pacific Prep was supposed to gain me freedom and a feeling of control over my life. Buried truths are being revealed, and my goals are becoming less clear by the day.
My entire life, I've wanted a family; wanted to know if I had one out there. I've craved answers and now that I'm getting them, I don't know if I'm ready.
I have a brother, a family.
Sadly, the knowledge of that isn't comforting, because I can't trust them.
The same distrust extends to the guys that are invading every aspect of my life. Suddenly, they're everywhere, demanding the truth from my lips and tugging at a heart that's been cold for far too long.
Will the truth set me free, or rip me apart?
Blurb from Goodreads.
---
Some secrets are revealed, relationships are formed, and Hadley shakes up the school. Everything gets more complicated and frustrating, but things start heating up with the guys too. Definitely a great follow-up from the first book!
Trigger warnings: references to self-harm; mention of assault; dub-con; bullying
Heat level: 🌶🌶🌶
Rating: 4
StoryGraph | Goodreads | Amazon
Blood & Ruin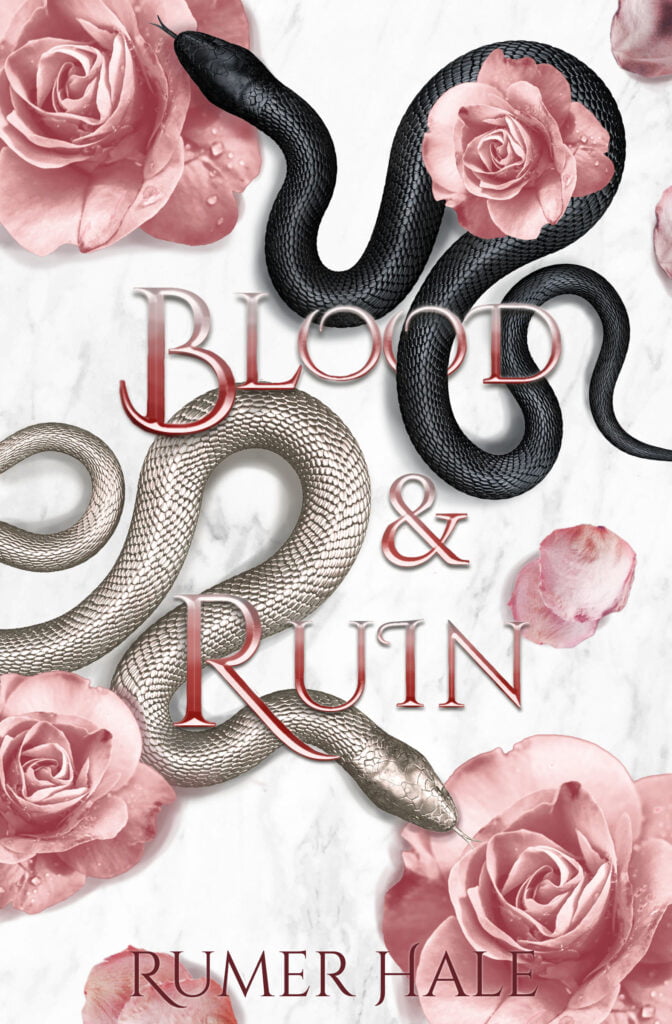 Six years ago, my world was ripped from under me, and I was taken to Cardinal Three. A place where pain has been my endless companion.
Witches, demons, shifters and humans all live under one rule.
King's.
What he says goes.
So, trying to get the hell out of here hasn't been easy.
No one leaves without his permission.
In fact, no one leaves at all…That is, alive.
But I have a plan.
One chance to get out of this nightmare once and for all.
One month is all I need.
One month to stay off King's radar and get the last few items needed for the spell I've been working on.
Shouldn't be that hard…right?
But turns out King has his own plan. One that involves trading me off to the five alphas of Manhattan.
With King's ultimatum, I have no choice but to go through with it. But I'm still getting out of here, no matter what.
Or so I thought.
Turns out the five alphas are my mates…
And also, the boys I left behind six years ago.
Blurb from Goodreads.
---
This is an odd one to review. There were some things that fell a little flat, and omg, the miscommunication drove me insane. I wish she would've just TOLD THEM that she didn't have a choice to leave when she was young, but of course, then we'd have a much shorter story, lol. I do want to say that the writing was great and I can't believe this was a debut novel. Also, the cliffhanger should be illegal, lol.
And as a side note: how AMAZING is this cover?!
Trigger warnings: severe abuse; murder; torture
Heat level: I think there's only making out in this one
Rating: 3
StoryGraph | Goodreads | Amazon
Monsters Under My Bed by M.J. Masters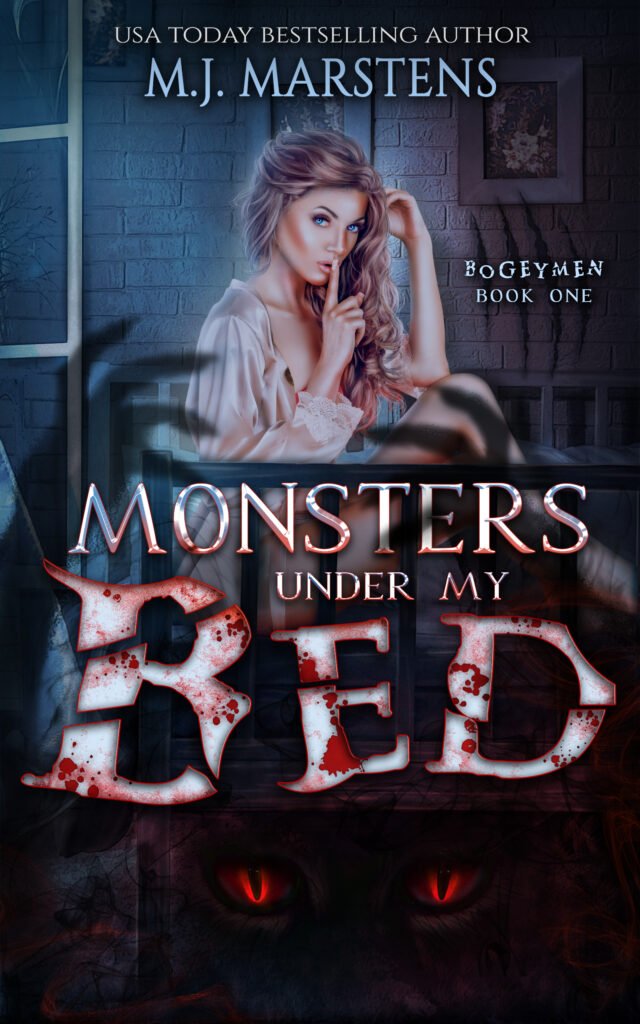 BEWARE THE BOGEYMEN…
Monsters are real.
I've seen them.
Felt them.
Fled from them.
Fifteen years later and I still have nightmares of the things that used to live under my bed—the diabolical ringleader with fiery red eyes who brought his friends to torment me. Crazy and unhinged, but nothing compared to the one with blazing yellow eyes who pretended to be my friend. And the worst of them all, the one with relucent green eyes, who was silent but always watching.
Waiting to strike.
I traveled halfway around the world to outrun my demons. My last memory of them is their taunting laughter filling my ears. Except, they're waiting for me. Forced to return home to help my dying father, I have nowhere to hide. My monsters won't leave me alone unless I give them what they want.
They're hungry—starving—but now that I'm grown up, they don't want to eat me.
They want to breed me.
Fifteen years ago, I wanted nothing more than to escape them.
But now…
A part of me wants to join them—submit to them.
Will I ever vanquish my night terrors, or will I just become another notch on their bedpost?
Blurb from Goodreads.
---
I loved this book. If you've read any of my reviews before, you know that I like monster books where the monster(s) is/are something different than the norm. Here, we have bogeymen. It was such an interesting and unique concept and I loved it! The only thing I really hated was how her dad got so sick. My mom almost died this year, so it was just a hair too close to home and I actually had to take a step back from the book for a bit before getting back into it. Once getting past that part, I definitely enjoyed the story.
Trigger warnings: talk of mental illness; death of a parent
Heat level: 🌶🌶🌶.5
Rating: 4
StoryGraph | Goodreads | Amazon
Within Obsession and Lies by Stacy Jones & Harper Wylde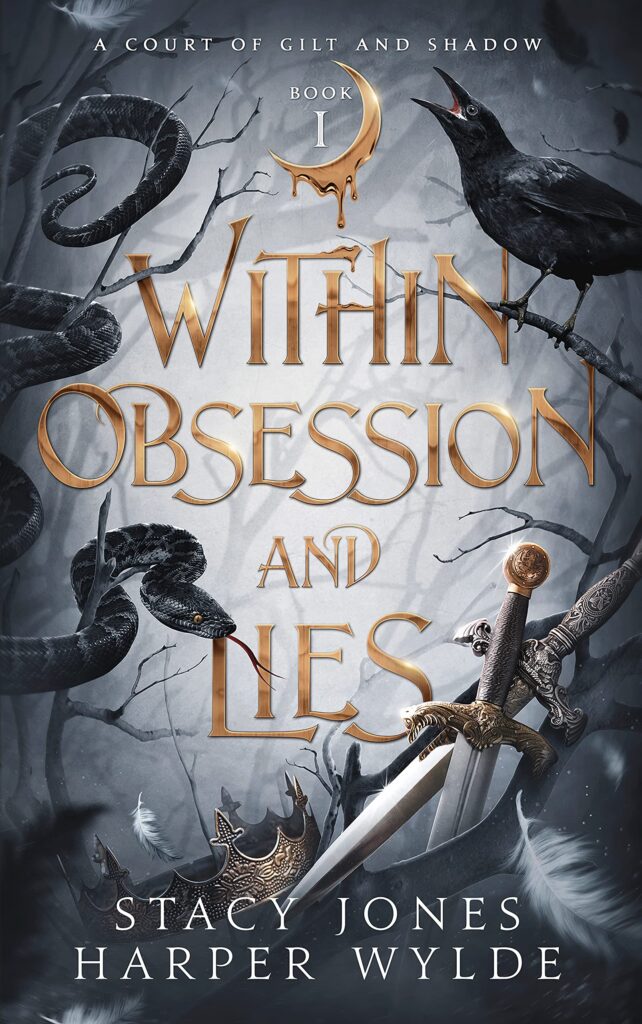 Within Obsession and Lies is the sexy, action-packed first book in A Court of Gilt and Shadow Series by bestselling authors Stacy Jones and Harper Wylde.
Other people dream of being special. They wouldn't, if they knew what a nightmare it is.
Arawyn would give anything to be ordinary and rid herself of the power that lives inside her. Dangerous and alluring, it's caused nothing but pain and horror, making her the dark obsession of anyone who gets too close.
After years of barely containing it, Arawyn thought she had control… until the night it bursts free and pulses like a beacon.
As threats emerge from the shadows, each one more fixated on her than the last, she finds her life infiltrated by three mysterious men.
A mafia boss, a psychopath, and a killer.
Rathe, Viper, and Fear are much more than they seem. They taste of power and feel impossibly familiar. They call to her soul in a way she's never experienced and might have answers to questions she's been asking her entire life.
But darkness and secrets surround them, ones covered in blood and mire.
When the monsters stalking her endanger not only her power but her life, she'll have to make a decision: take a risk and let these dangerous men in, or do what she's always done—walk away and try to survive on her own.
Trusting them would be a mistake. Yet, she may not have a choice.
The monsters hunting her aren't human and they're out for blood. Rathe, Viper, and Fear might be her only chance of making it through this alive.
There's only one problem. They aren't human either…
From bestselling authors, Stacy Jones and Harper Wylde, comes a darkly seductive new series that blends romance, danger, and the supernatural into an unforgettable read.
Blurb from StoryGraph.
---
This book is so good. I had high expectations for this book and was not let down in the least. This was an interesting take on the glamour/siren-like qualities I've read previously, and I loved it. The characters are all super loveable in their own right, plus the hilarious addition of the FMC's cat, Asshole–and yes, that really is his name, lol. Please read this book. It's so, so good.
I can't wait to read book 2!
Trigger warnings: can't remember; check for trigger warnings
Heat level: I don't think there was any
Rating: 4
StoryGraph | Goodreads | Amazon
Obsession by Cassie Hargrove & Story Brooks
This is our town. We are the ones who ultimately decide whether you live or die, so be careful what sins you commit.
We're the Deadly Seven, the rejects of this town and we represent death to anyone who crosses a line we deem unacceptable.
When she shows up in our town like some innocent avenging Angel, we don't know what to think…so we watch. And the more we watch, the more obsessed we become.
***
I've been on the run for the past four years. My Dad has done everything in his power to keep me hidden from the man who wants to destroy me, but you can only run for so long before you have to stop.
Officially in Witness Protection, this is supposed to be my chance to finally have a normal life…but nothing is ever foolproof.
If you think it is, you're naive.
I know I'm being watched. I can feel eyes on me every second of every day. I don't think I'm as safe here as they want us to believe…
Blurb from Goodreads.
---
I really hate writing reviews for books I don't care for, so I'm going to try not to spend too much time on this one… Let me just start by saying the premise was great and there was so much potential, but I just didn't feel like it was executed the way it should've been. One of the most glaring issues in this book is the dad's name. The author(s) kept going back and forth between what was his real name and what was his witness protection name and it was so distracting.
Another issue was the agent and the FMC having insta-love and immediately beginning to date. It just felt so inauthentic that he didn't question his attraction to her and I would've preferred a little more push-and-pull. Also, these guys are all so uber-protective of her, yet there's a scene where one of them basically sexually assaults her and it's pretty much blown off as no big deal because that's "just how he is." I don't know, that just seemed so odd to me.
Anyway, there are other things that didn't impress me with this book, but I'd rather not spend any more time on the books I don't much care for, so I'm going to end this review here. Please keep in mind that this is only my opinion and if you want to read this book, don't let my review sway you otherwise.
Trigger warnings: dub-con; non-con; attempted r*pe; murder; torture
Heat level: 🌶🌶🌶
Rating: 2/2.5
StoryGraph | Goodreads | Amazon





Sign up for
my newsletter
!
Become a Patron!
Check out my Amazon storefront for several book lists, including a list of freebies!:
Alated Bibliophile Storefront