disclosure: this post may contain affiliate links. please visit my disclosure policy for more details.
The last wrap-up of 2021! Happy new year and happy reading <3
(Please keep in mind that heat level and ratings are based on my own personal opinion. It's possible–and totally likely!–that you may disagree with me. Also, I try to include trigger warnings, but I may have missed some, so if you're concerned, I would encourage you to check out Trigger Warning Database and/or Book Trigger Warnings.)
Teddy's Boys by E.J. Frost
Three boys.
Two murders.
One terrible choice.
Twelve years ago, my mother climbed into a limo with a fae stranger and left without looking back. Seven years ago, my magic came in, marking me as an Earth-witch, the Element most feared by other mages. One month ago, my father exiled me to college in another country.
I may be a stranger in a strange land, but no one will keep me down.
Charlie, Gabe, and Darwin.
Three boys who are more than my match.
My best friend. My new love. My worst enemy.
Are they also killers?
When a fellow student is murdered, the finger of suspicion points at my boys.
Can I prove their innocence?
Or will I be their next victim?
Meet the Bad Boys of Bevington …
Publisher's Note: Teddy's Boys is a college-aged, MMFM, reverse harem romance. Book 1 ends on a cliffhanger. This book contains elements of power-exchange and is intended for mature readers only.
Blurb from Goodreads.
---
I definitely enjoyed this book. I've wanted a good story with an earth elemental and this is everything I've been looking for. It's different from any other kind of earth magic; exactly what I've always wanted to read and I'm thrilled to finally have this story. I will say, there's a lot of British slang in this book, so if you're not obsessed with British pop culture like I am, then there's a really good chance you'll struggle a little. There's a glossary in the back of the book, but honestly, context will pretty much explain it for you.
Trigger warnings: violence; severe abuse; some bullying; slight dub-con
Heat level: (I don't remember)
Rating: 4
Beyond Vengeance by R.A. Smyth
I know better. I know better than to be complacent.
Finding my family was supposed to be a dream come true, but it's only brought more questions, more secrets and forced family responsibilities. Surprisingly, Hawk is by my side while dealing with the utter ridiculousness our parents keep pushing on me. I'm learning how to have a brother and I think we might actually like each other?
Mason, West, and Beck have been my saving grace, patient and kind. Still distant, Cam and I are trying to navigate a way to be around each other.
But just when I start to feel like I have a life worth living with my guys and my new friends, my deepest fear comes back to haunt me.
He knows. He knows the truth and where to find me.
My walls are coming down and I'm learning to love, but my past may ruin it all.
This is a new adult, dark contemporary romance with four hot guys and one girl. It is intended for 18+ readers. A full list of trigger warnings can be found at the front of the book and include bullying, violent scenes and references to past trauma.
Blurb from StoryGraph.
---
Fantastic series. I'm still enjoying it, despite the horrific trauma.
Trigger warnings: violence; references to past trauma; bullying
Heat level: 🌶🌶🌶
Rating: 4
StoryGraph | Goodreads | Amazon
Hateful Regent by Helen Scott & Zoey Shelby
Finding out who murdered my sister was supposed to be easy…
The Boys of Ascendance Bay are more complicated than I ever imagined. Between what Jude told me and the creepy notes that I've found in my room I'm beginning to wonder if there's more to my sister's death than I first thought.
Melody is pushing harder for me to find the evidence we need to take our revenge. Add to that pledging Pi Ep and the Regents taking an interest in me, and my already full plate is starting to overflow.
It doesn't help that my icy cold heart is trying to beat again for two of the guys we suspect had a hand in our sister's murder.
I'm too damaged, too lost in my father's web to fall for them though. If I did it would start a war between our families the likes of which has never been seen before, and who knows if we would survive the fallout?
Blurb from Goodreads.
---
Full review coming soon.
Trigger warnings: violence; non-con; abuse; bullying
Heat level: 🌶🌶
Rating: 4.5
The Stalking Dead by Eva Chase
Kinda dead. Straight-up psycho. Totally obsessed with her.
I did a bad, bad thing.
Thanks to a blank in my memory, I'm not sure what that thing was, but it was horrible enough to get me locked up in the mental ward for seven years. Horrible enough that my little sister won't even speak to me.
But when I'm released back into a town determined to rub my unknown sins in my face, the past isn't the only thing that's haunting me. The four "imaginary" friends who made my childhood bearable barge into my life in a very real way.
They're crude, criminally inclined, and more than a little unstable after ages trapped in afterlife limbo. All they want is to protect me. Worship me. Avenge me.
So they'll bludgeon, maim, eviscerate—tear a strip of havoc right through this sleepy town.
Even rise from the dead.
Maybe I'm still not all that sane either, because part of me finds them strangely appealing. In ways very different from how I felt as a kid. And that's not the only strangeness stirring inside me…
I promised myself I'd stick to the straight and narrow from here on. But what if the only way to set things right is to get a little ghoulish?
*The Stalking Dead is the first in a darkly humorous new paranormal romance series by bestselling author Eva Chase. If you love sarcastic heroines with unexpected powers, obsessive supernatural men who'll do anything to defend their woman, and plenty of mystery and mayhem, dive right in!*
Blurb from Goodreads.
---
Such a unique concept! I love all the guys and the FMC is so interesting and endearing. She's actually the type of person I'd love to be friends with–strange paranormal quirks and all, lol.
Trigger warnings: violence; possession; mental illness
Heat level: 🌶
Rating: 4
Wendy, Darling by Rebecca F. Kenney
A grown-up and depressed Peter Pan is fighting to protect Neverland from the realm-conquering Commodore Hook. When Peter's runaway shadow shows up at Wendy's workplace, she's eager for the chance to visit Neverland again, to help protect it–and sure, to see the Fae man she's been in love with for ten years. But Neverland is far different than Wendy remembers, with monsters both literal and human-shaped threatening everything Peter has tried to build.
Adult romance, mild-to-medium heat, cliffhanger ending with HEA in Part 2
---
Oh. My. Gosh. I absolutely adored this book! This skyrocketed to my top 3, if not number one, read(s) of the year. If you know me at all, you know that I love fairy-tale retellings and this is one I didn't realize I needed until this book. Peter quickly became one of my all-time favorite book boyfriends and the love he shares with Wendy is epic. Everything about this book was wonderful and I'm already itching to re-read it!
Trigger warnings: slight bullying in the beginning
Heat level: 🌶
Rating: 5
Captain Pan by Rebecca F. Kenney
Wendy has been kidnapped and taken to Hook, which escalates tensions between Hook and Peter. As Wendy plans her own escape, Peter tries to figure out where she's being held and how he can rescue her without losing his friends, his allies, and Neverland itself.
---
Honestly, words can't express how much I loved this book. I love the way this was written and the happy ending that Peter and Wendy finally get. So, so good 😍
Trigger warnings: non-consensual touching and kissing; violence; threats of r*pe
Heat level: 🌶🌶.5
Rating: 5
Jack Frost by Rebecca F. Kenney
When I get separated from the other members of my Antarctic expedition, I meet a strange, pale, beautiful man who saves me from freezing to death. He says he's the actual Jack Frost, and he's pretty much an ice god, which totally messes with my scientific worldview. I'm all too happy to leave his fine frosty ass at the South Pole and head back to the States where things are messy but not magical.
Too bad the charming ice god follows me home. Guess he likes me, or he's magically attracted to me or something? Jack is the last thing I need now, right when I'm starting a new job; but I can't help being curious about his powers and his ongoing war with the fire goddess Auxesia.
Too bad my association with Jack puts us both in more danger.
(Standalone adult romance based on the legend of Jack Frost, with holiday vibes, mild-to-medium heat, and a guaranteed HEA!)
---
Okay…so, I'm exposing myself a little bit here, but when I read the blurb, my first thought was, "ugh, I do not want to read a book preaching about global warming." BUT. This was extremely well-written and while there were informative parts, it didn't feel like the topic of climate control was being shoved down my throat, which I appreciated. Also, Jack is uber hot and the relationship he has with the FMC is awesome.
Trigger warnings: attempted assault
Heat level: 🌶🌶.5
Rating: 4.5
StoryGraph | Goodreads | Amazon
The Gargoyle Prince by Rebecca F. Kinney
THE GARGOYLE PRINCE is a steamy romance set in alternate-history steampunk France during a magical civil war.
When Noémie, Third Princess of Normandy, is forced to accept a gargoyle as her bodyguard, she is determined to hate him. But a series of assassination attempts brings the pair closer together, and she begins to realize that there is much more to her bodyguard than stone and bat-wings and magic. Together, Noémie and Gideon begin to process the grief and loss that each of them has endured. Slowly they unravel the mystery of his origins and uncover secrets that could affect the outcome of the war.
This romance is told in dual point-of-view and includes an HEA ending, along with some favorite tropes and scenarios.
---
I didn't enjoy this one as much as the other four of hers I read this month, but take that with a grain of salt because I still definitely liked it. The storyline was unique and the romance was awesome.
Trigger warnings: (I can't remember)
Heat level: 🌶🌶
Rating: 4.5
Hades by Rebecca F. Kenney
Let's get one thing straight. I never wanted Persephone to live in the Underworld.
But I owed Peter Pan a favor, and even I don't want to screw over an influential Fae like him. So when he asked me to take Persephone to the Realm of the Dead with me, for her protection, I had to say yes. Persephone was in the Neverland realm for decades, living as a child among the Lost Kids, hiding from people who crave her abilities.
Now she's here in the Underworld, with a new adult body to match her true inner age, and I'm starting to regret my decision to let her live in my palace–because not only is she temptingly gorgeous, she's also far more powerful than I realized.
Maybe even more powerful than I am.
I've never met anyone like her. And I'm not sure I can resist her.
This Hades & Persephone retelling is told in dual point-of-view with a guaranteed happy ending. It is set in the Immortal Warriors universe. While it can be read as a standalone, it will make more sense if you read "Wendy, Darling" and "Captain Pan" first.
For fans of Scarlett St. Clair, Emma Hamm, Eliza Raine, and Rose Wilson.
[Trigger/Content Warnings: –mild age/consent/innocence issues that are resolved; mention of self-harm and suicide ideation; parental abuse]
---
I love Hades and Persephone retellings and this one has quickly become one of my favorites. At this point, I'm pretty much convinced Rebecca can write anything. I'm so excited to keep reading her backlog while waiting for Apollo's story!
Trigger warnings: torture; mind control; parental abuse; mentions of self-harm and suicidal ideation
Heat level: 🌶🌶
Rating: 5
A Court of Thorns and Roses by Sarah J. Maas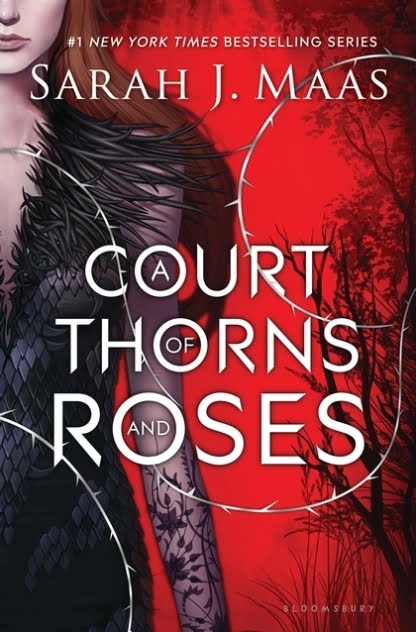 THE INSTANT NEW YORK TIMES BESTSELLER
Perfect for fans of Kristin Cashore and George R.R. Martin, this first book in a sexy and action-packed new series is impossible to put down
When nineteen-year-old huntress Feyre kills a wolf in the woods, a beast-like creature arrives to demand retribution for it. Dragged to a treacherous magical land she only knows about from legends, Feyre discovers that her captor is not an animal, but Tamlin–one of the lethal, immortal faeries who once ruled their world.
As she dwells on his estate, her feelings for Tamlin transform from icy hostility into a fiery passion that burns through every lie and warning she's been told about the beautiful, dangerous world of the Fae. But an ancient, wicked shadow over the faerie lands is growing, and Feyre must find a way to stop it . . . or doom Tamlin–and his world–forever.
Blurb from StoryGraph.
---
I know, I know; I'm one of the few readers left who hadn't read this book, but man, am I glad I finally picked it up. I did my best to tweet my reactions, so if you're interested in that Twitter thread, check it out here:
Trigger warnings: violence; sexual content; death
Heat level: 🌶
Rating: 4.5
StoryGraph | Goodreads | Amazon
A Court of Mist and Fury by Sarah J. Maas
Feyre survived Amarantha's clutches to return to the Spring Court—but at a steep cost. Though she now has the powers of the High Fae, her heart remains human, and it can't forget the terrible deeds she performed to save Tamlin's people.
Nor has Feyre forgotten her bargain with Rhysand, High Lord of the feared Night Court. As Feyre navigates its dark web of politics, passion, and dazzling power, a greater evil looms—and she might be key to stopping it. But only if she can harness her harrowing gifts, heal her fractured soul, and decide how she wishes to shape her future—and the future of a world cleaved in two.
With more than a million copies sold of her beloved Throne of Glass series, Sarah J. Maas's masterful storytelling brings this second book in her seductive and action-packed series to new heights.
Blurb from Goodreads.
---
SO FREAKING GOOD. I actually liked this one better than the first, partly because, Rhysand > Tamlin all day, every day. I absolutely adore Rhys and the way he loves Feyre is just so beautiful. I loved the enemies-to-lovers, slow-burn romance. I also continued my Twitter reactions, so if you're interested in that thread, check it out here:
Trigger warnings: forced sex work; child abuse; sexual assault; physical and emotional assault; arranged marriage; murder; torture
Heat level: 🌶🌶
Rating: 5
StoryGraph | Goodreads | Amazon
Total read: 11
Kindle Unlimited
If you've followed any of my wrap-ups and/or reviews, then you know that most of what I read is available on Kindle Unlimited. I always recommend KU, especially if you tend to read a lot (like I do!) and don't want to spend a whole lot of $. If you're at all interested in KU, click on the link below:
Kindle Unlimited Membership Plans
YouTube
I now have a YouTube channel! I'm super new, so I only have one video up so far, but I plan on making a lot more 🙂 If you'd like to join me on my journey, check me out here: Alated Bibliophile YouTube
---
Like this post? Save it!





Sign up for
my newsletter
!
Become a Patron!
Check out my Amazon storefront for several book lists, including a list of freebies!:
Alated Bibliophile Storefront