disclosure: this post may contain affiliate links. please visit my disclosure policy for more details.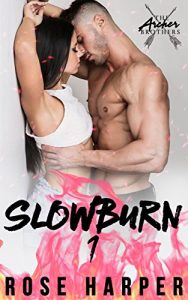 BLURB
Declan
She's a rare rose no beast like me should touch.
A fine wine that quenches the thirst of a dying man.
She's a little bird, yearning to spread her wings and fly.
While I'm the cage that keeps her firmly within my grasp.
Sparrow has always been innocent … until she wasn't.
Now, the only thing I see—instead of the perfect, timid creature before me …
… is a liar … a deceiver …
A woman I still love more than anything.
Sparrow
He's a bad boy from the wrong side of the tracks.
A temptation no woman can resist.
He's a fierce, dominant, yet innocent bird handler.
And I'm the one that gave him the key to my cage at eighteen.
Declan has always been the one I couldn't resist.
Now, the only thing I see—instead of the loyal, protective man before me …
… is a jerk … a stranger …
A man that can still cause a slow burn to encompass me.
Author's note – Slow Burn is a serial in the Archer Brother's Series. Due to strong language and sexual content, this book is not intended for readers under the age of 18. Does end in a cliffhanger. Part two will be available on preorder soon!
Congratulations, Rose Harper!!