disclosure: this post may contain affiliate links. please visit my disclosure policy for more details.
Let me just preface this by saying, as a teenager, young adult fantasy was my jam. J. K. Rowling, Holly Black, Stephenie Meyer, Cornelia Funke, Libba Bray (and so on and so forth) … if the book said it was fantasy, I snatched it up and read it–usually in one sitting.
Thing is, though; I never grew out of my love of young adult fantasy. Add a bit of romance in there, and that's just a bonus. So when the opportunity to review this book by an author I hadn't read before, I knew I wanted to expand my horizons, so to speak, and take a chance on her. The things I noticed first were the cover and the title–I mean, seriously, The Confectioner's Guild? If you're a fan of fantasy and that title doesn't intrigue you, either you're lying to yourself or just don't want to take a chance on a unique story–and then there's that blurb. My little inner fifteen-year-old self jumped for joy.
The last young adult fantasy I read a review copy for didn't work out so well (for me), so I had slight trepidation, but I just couldn't pass up a story that sounded so unlike anything I had ever read before.
So, without further adieu …
This book starts right out with the action. I think it's just the second chapter when Wren is accused of murdering the guild master–whom she just met mere minutes prior–or maybe it was the third. In any event, Wren is working in a bakery at the book's opening when in walks the surly right-hand man to the guild master, taking her away to the guild where she learns that magic is not only real, but she has a powerful form of it that manifests in her baking.
Wren is left reeling in a state of shock. She explores her new living quarters, then decides to go back to the guild master to try to talk a little more about her abilities and everything that's entailed, only to find him foaming at the mouth and choking. Several men surround him, attempting to help him, but it's of no use; he dies with Wren watching in horror. Immediately, fingers are pointed at her as the killer–after all, it was her cupcake he had last eaten before he died–and until proven innocent, she is viewed as 100% guilty. This makes her life at the guild hall absolutely miserable and she's filled with a renewed sense of urgency to prove her innocence.
So enter a few new friends who believe her plight and vow to help her, along with the handsome inquisitor who vouches for her innocence, and they begin their own investigation.
I tell you what–this book had me guessing right up to the very end. Right when you think you know without a doubt who the killer is, the evidence points in another direction. There was a nice balance of mystery and romance, as well as just being a wholesome coming of age story where you're rooting for the heroine every step of the way. Wren is strong and clever and watching her character grow throughout the book was so fun.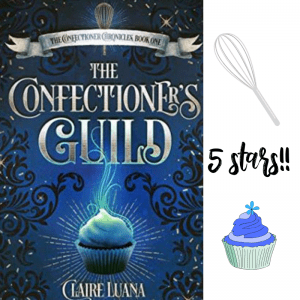 Those authors I mentioned at the beginning of my post? Ms. Luana has fully cemented herself in that group, as far as I'm concerned. I was glued to this book in a way I haven't been with any other young adult fantasy in a very long time. I absolutely cannot wait for the next book in this series!
If you're a fan of young adult and fantasy, do yourself a favor and read this book when it comes out in October. You won't regret it. 🙂
Happy reading!
* This post includes affiliate links, which means if you purchase anything using that link I'll make a small commission. This comes at no extra cost to you, but it helps me out a lot <3
Follow me for more book-related news, reviews, and more!