by
Lizzie Fox
,
Sariah Skye
disclosure: this post may contain affiliate links. please visit my disclosure policy for more details.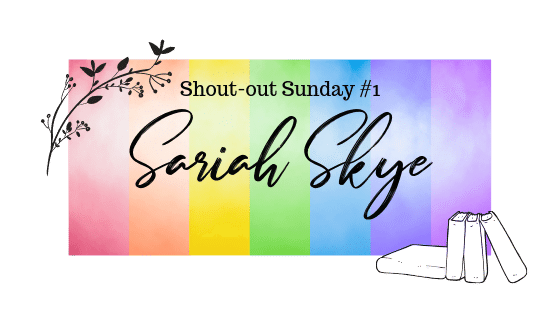 I'm going to try a new thing on my blog called Shout-out Sunday. This is where I'm going to be featuring a favorite author of mine by explaining how I was first introduced to their work; sharing links to their pages and books, and just providing a spotlight to hopefully give them a bit more of an audience.
Sariah Skye has been a favorite author of mine for a while now. One of the first reverse harem series I read was her Curse of Avalon series and I've been following her ever since. Now, the Curse of Avalon series is finished, she has another penname and several other series in the works. Her books feature strong-willed, snarky, sarcastic heroines with hearts of gold and the sexy, sweet, sometimes asshole men who love them. She's also delving into the M/M and F/F subgenres, so if either of those are your thing, make sure you follow her so you don't miss out!
If you like the idea of unconventional romance, or if you're a fan of rock stars, paranormal, or contemporary, chances are Sariah Skye has a book you'll enjoy.
Books Under Sariah Skye
The Fated Saga
The Curse of Avalon
Books Under Lizzie Fox
Be Yours Trilogy
Infamous Series
Author Bio
Sariah Skye physically resides with her family in southern Minnesota but mentally everyone is pretty sure she's from Uranus. She's a typical quirky Aquarian that swears too much, loves wine, shiny objects, and hates sarcasm and never, ever uses it.
She also loves Star Trek, Doctor Who, '90s reruns, and Imagine Dragons (probably a little too much).
In addition to all this oddity she's an unprofessional obsessive fangirl, loves reading, hates anything domestic, and loves her pretty pink straitjacket. Oh, and she loves to chat with her unwilling kidnappees—err, "fans", online at various places, like Facebook, Twitter, and Instagram .Or drop her an email at sariahskyeauthor@gmail.com or private message her on Facebook.
She also has a private group called the Shenanigan Squad for anyone who might possibly want to follow her works, progress, or just share a silly meme war (though she really doesn't understand why anyone is there, she loves them all nevertheless). If you want to join, you're more than welcome:
 https://www.facebook.com/groups/1181871955189542
You can also sign up for her newsletter, and maybe she'll actually remember to send one out one of these days: http://eepurl.com/cqSJWD
Author Links
Facebook: https://www.facebook.com/SariahSkye
Facebook Page: https://www.facebook.com/SariahSkyeauthor
Facebook Group: https://www.facebook.com/groups/1181871955189542
Twitter: https://www.twitter.com/SariahSkyeFox
Instagram: https://www.instagram.com/sariahskye.fox
Goodreads: https://www.goodreads.com/author/show/15486869.Sariah_Skye