disclosure: this post may contain affiliate links. please visit my disclosure policy for more details.
Synopsis
Penny for Your Thoughts
Book 1 of the Welcome to Fate's Landing series
Penny Michaels has a gift. At least that's what her mother has told her since she was a child. With sharp intuition and the ability to see people for who they really are, she is her fortune telling mother's daughter. It's a gift she didn't want until she completely turned her back on it.
Forced to return to the sleepy town of Fate's Landing after ignoring the signs of disaster that always seemed to flash around her marriage, she makes a vow to stop ignoring her abilities. Even if that means never falling in love again.
A.J. Murphy has a lot going for him–great job, gorgeous girlfriend, and a very promising payout if he can convince the people of this nowhere town to get on board with building a resort in their backyard. Everything is going according to plan until he steps foot into the new age shop with the neon psychic sign in the window.
She wants to save him from the heartache she wished she'd avoided. He wants to get in and get out of town and back his regularly scheduled life. What neither of them sees coming is a chance at love that was written in the stars.
This is the first book in the sweet, sexy, small town series, Welcome to Fate's Landing.
Extended Teaser
"How do you know about all of this stuff?" I followed her from room to room.
"My mother mostly. She's always been into the new age, holistic, psychic lifestyle. I've been around it all my life. She's always said we have gypsies and witches in the family," she paused and turned to face me. "I've never really believed all of that, but I can't deny that there's something different about my mother." She hesitated. "About me. Something that has always made us extra sensitive to people's emotions, fears, desires…"
Oh shit. Could she tell my desires?
"… I fought it for a long time, but decided it was better to just accept it."
"Might as well," I told her. "I'd say it's working out for you now."
"Got a new friend out of the deal."
Ouch. Friend?
Is that the desire I'd been giving off? The desire to be her friend? That couldn't be further from what I thought when I was around her.
"So my dad taught me about building permits while your mom taught you how to read palms?" I kept talking, trying not to think about how every time she turned around I checked out her ass. Or how on more than one occasion, I'd imagined what her lips tasted like.
"Pretty much." She nodded.
"We've led incredibly different lives." I walked over to where she knelt down. She carefully tapped the burning ends of the smudge stick on a piece of scrap metal that laid on the floor among the rest of the debris that had scattered in over the years of abandonment.
"We have." She finished extinguishing the burning ends.
I reached out a hand to help her to her feet. It took everything in me not to pull her close to me when she reached her feet. I could smell a hint of her perfume or shampoo drift around me—an earthy, sexy scent that threatened to wrap me up in her even more.
Say what you want.
Her own words urged me on. It was time to put the proverbial kibosh on this whole friend thing.
"You know we're not friends, right?" I asked as I held onto her hand. I took a step toward her, closing the gap between us. Realizing that we were still hand in hand, I intertwined my fingers between hers, not wanting her to slip away. The feel of her hand in mine was nice. Better than nice.
I watched as her blue eyes danced nervously around the question and my sudden advancement. It was the first time that I knew there were no interruptions coming—no friends popping by or cars driving down the street. We were alone and I wanted to take full advantage of it.
"What do you mean?" She eyed me curiously as I moved our bodies the few feet toward the wall she'd just been running her fingers across. I watched her shiver as the skin of her bare back rested up against the cool brick and again when I raised our hands above her head and leaned into her.
"We're well passed the friends point of this relationship," I said before touching my lips just below her ear. She took in a deep breath as I trailed them lightly over her skin. "I don't have friendly thoughts about you, Gypsy." I pulled back to look into her eyes. I drew my free hand up to her cheek. "Tell me you don't feel the same way and I'll stop," I promised, knowing I'd be completely gutted if she denied me.
When she didn't speak, I reminded myself that patience was a virtue. If she needed a few seconds to think about what I was asking her for, I'd give it to her. When she placed her free hand on my chest, I saw a flicker in her eyes and the hint of a smile. She slowly clenched a fist around my t-shirt and pulled me toward her. I saw the caution slip from her stare as our lips came together for the first time.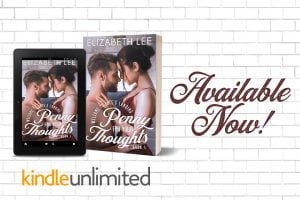 BUY LINK – Universal Amazon: books2read.com/u/4Xap0v
Goodreads Link: https://www.goodreads.com/book/show/45018072-penny-for-your-thoughts
Elizabeth's Social Links
www.elizabethleewrites.com
www.instagram.com/elwrites
www.facebook.com/elizabethleewrites
Subscribe to EL's mailing list for a chance at a $25 Amazon Gift Card! Winner will be announced in the July newsletter! https://mailchi.mp/09338be023a4/elnewslettersignup