Royal Prick

by J.L. Beck
Series: A Stepbrother Romance #2


Genres: Romance, New Adult, Stepbrother Romance
Format: eBook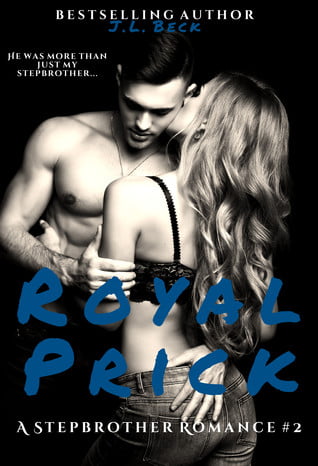 BLURB
Royal is a prick. 
A sexy as hell prick. 
The I need and want to screw you right now kind of prick.

The arrogant, I can do and f*ck whoever I want to type.

He's so self-entitled that I want to punch him in the face, yet kiss him at the same time. 
I hate him but at the same time, still want him.

A darkness surrounds him. He has secerts [sic].

For instance where he sneaks off to almost every night.

He'll break my heart and my headboard if let him.

I wanted Royal, but could I handle his darkness?



Royal Prick had a good premise. I tend to be a sucker for bad-boy-turns-better-for-the-girl-he-loves kind of stories, so I was really intrigued by Royal and Noelle's relationship.
There were aspects of the book that I enjoyed, and there were some things I didn't care for. The premise of the seemingly perfect little rich girl getting together with the damaged, rough and mean poor boy is a bit overdone, but I still like these kinds of stories, so I'll keep reading them. Once Royal and Noelle finally figure out what they want their relationship to be, it's pretty awesome to see how in love he is with her and the lengths he'll go to protect her.
Now…while I mostly enjoyed this story, I did find myself feeling like I had to keep pushing through by the time I reached the halfway point. I'm not sure what the status of editing was when this book was published, but it needs either a proper edit, or a re-edit. I can usually look over most typos, but there were so many mistakes in this story that I found it to be distracting. There was also a bit of over explanation in some places where the amount of "wordiness" didn't seem necessary to me.
All in all, the storyline is good and the book has some real potential, but I didn't feel like I could fully enjoy it because of these mistakes. I could just be a little too picky and I would encourage you to decide for yourself if you are interested in reading it.
To purchase, click here.
Intended for readers 18+.